South Sudan: Juba, Beijing reignite relations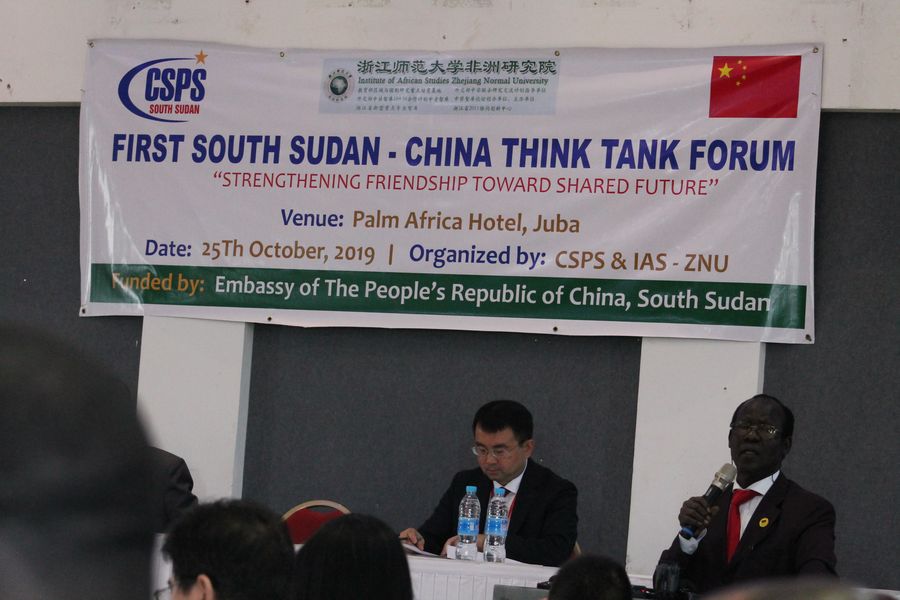 By Deng Machol
Juba – The first-ever South Sudan and China think tank forum held in Juba on last Friday aimed at reconnoitering paths to strengthen relations and cooperation between Juba and Beijing.
The one-day forum was organized by the Centre for Strategic Policy Studies, a Juba-based think tank and the Institute of African Studies at Zhejiang Normal University.
The event, supported by the Chinese Embassy in South Sudan, focuses on key areas namely; politics, economy, governance, education, media, and humanitarian implications.
It brought together South Sudanese and Chinese scholars, researchers, experts, politicians and civil society leaders to discuss opportunities that the Juba and Beijing can climb into to achieve sustainable cooperation and development.
South Sudan, oil – rich country secured independence from north Sudan in 2011 after decades of a scorched – earth civil war that has killed two million lives but descended into its own political conflict in late 2013 after president Kiir sacked Dr. Machar as vice president.
But the oilfields in the east Africa country are being operated by the Greater Pioneer Operating Company or GPOC – is an oil consortium owned by China's National Petroleum Corporation -an oil and gas company which has shareholders of four namely Malaysians, Chinese, Indians' ONGC Videsh and Nilepet of South Sudan's government – rule Nile Petroleum Corporation.
South Sudan's Vice president James Wani Igga said the forum would help the two countries to explore more investment and development opportunities and also come up with solutions for challenges facing the bilateral cooperation between China and South Sudan.
"This forum is very important in the history of our two countries. It is our wish that the two sisterly countries continue in the future to host this kind of forums to address our existing and unforeseen challenges," said Igga.
Meanwhile, Hua Ning, Chinese Ambassador to South Sudan, said the forum came at a right time when South Sudan is recovering from conflict and would boost relations between Juba and Beijing.
"Our friendship will get more strengthen toward a share – future for our people and government,' said Deng.
He said this will contribute a lot further to deepen China and the East Africa country relations in term of economy, political and development aspects.
"We believe that for the nearest future, the oil industry still the only product of South Sudanese economic as the China's economy," said Amb. Ning, at the closing remarks, adding that the cooperation between China and South Sudan is an unending thing despite the media's implications on China activities.
South Sudan is one of a beneficiaries of Africa's countries from the China through oil companies, trade or business, education scholarships, among others.
Deng Dau, South Sudan's Deputy Foreign Affairs Minister, said this forum will strengthen friendship toward share-future between South Sudan and China.
"This unique opportunity will add great value to see Africa cooperation and friendship give a special mutual – understanding and growth with a win-win status. Surely, this has raised a bar for revitalize prospect for equal partnership in complex global interaction and cooperation countries," said Deng.
"Today, we have been greatly impressed by the opportunities that are being presented to us in South Sudan by the 70 years of China – Africa relations. This made us to count more on China as we move together through develop and road initiative of Chairman Xi Jinping," he added.
Samson Wasara, Director of the Institute of Peace, Development and Security Studies at the University of Juba said China's engagement have been critical in areas of humanitarian assistance and peacekeeping operations since the country gained her independence, something he says it has saved lives.
"Most Chinese humanitarian outreach contribution activities to peace and security take many forms. China deploys engineers to contribute the peace and reconstruction in this country, China also supports the health sector in various forms," said Wasara.
Both China and South Sudan got their independences or countries through serious liberation or struggle for the just course against colonial oppression.
Deputy Minister Deng said they have learnt a lot the informative presentations and discussions from the Chinese think tanks.
The think tank forum focused on the 70 years of China – Africa relations review and prospect; China – Africa cooperation and its impact on Africa's development; historical overview on China and South Sudan media; State-building of South Sudan and implications of Chinese experience; China – South Sudan education cooperation; China – South Sudan youth cooperation and people to people exchange; China humanitarian and it contribution toward peace and security in South Sudan and then China involvement in development of oil, gas and agriculture in South Sudan.
Both Chinese and South Sudanese experts say increased engagement between Juba and Beijing is fairly significant for South Sudan's political, economic and infrastructural development prospects.