Sierra Leone:UNDP launches Accelerator Lab
By Ishmael Sallieu Koroma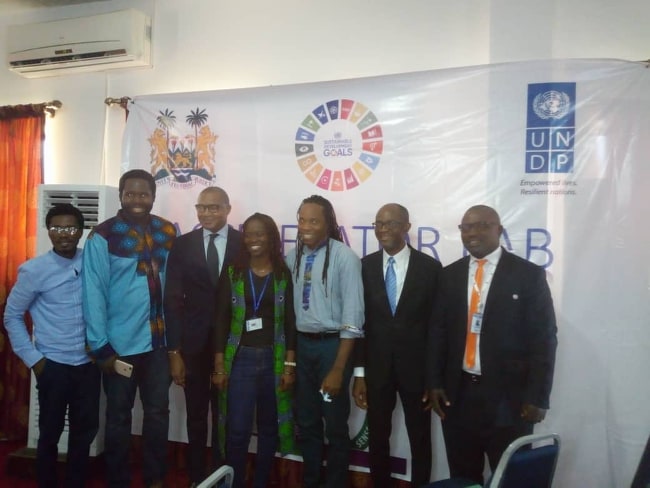 The United Nations Development Programme (UNDP) has on Thursday 10th October launched the Accelerator Lab at the Golden Tulip , Hotel, Aberdeen in Freetown.
The Accelerator Lab established by the UNDP in Sierra Leone is part of 60 Accelerator Labs serving 78 countries in Africa, Eastern Europe, Asia and the Pacific, Latin America and the Caribbean to build the largest and fastest global learning network to address the many increasingly complex and dynamic development challenges.
Speaking at the launching of the Accelerator Lab, UN Resident Coordinator Mr. Sunil Saigal, said the world has eleven years left to achieve the 17 global Sustainable Development Goals (SDGs) adding that is what leaders have committed to.
"At the same time, scientists tell us that it is now even more urgent than we knew before to address the changing climate if we are to prevent the effects of it from becoming irreversible. The 2030 Agenda for Sustainable Development and the accompanying SDGs represented a paradigm shift for development when they were introduced in 2015. Building on the earlier Millennium Development Goals, the 2030 Agenda represent a greater recognition of the interconnectedness and the interdependence of the Goals, and it recognizes that the development challenges of today are fundamentally different in terms of complexity and the speed with which they emerge from what we have known earlier,'' he said.
He said the world must respond to development differently today from how they have done it earlier thus stating , we must not only worry about eliminating poverty in all its forms, but we must also ensure that people do not fall back into it.
''we must work to reduce inequalities within and between countries, to decarbonize economies, and to change the way we produce and consume; and we must work to build peaceful and inclusive societies at a time of growing polarization and alienation. But time is running short. We must act!,'' Sunil Saigal stressed.
Sunil Saigal further stressed that the world must therefore take a fresh look at development practices, at what works and what does not, sharing best practices across regions and countries, and indeed within countries and communities, to identify what truly adds value for people.
The UN Rep went to say given these imperatives, the UN system promotes innovation in a multitude of ways across its agencies and programmes adding that every UN entity engaged in sustainable development is looking to find new ways of becoming more effective in what it does and more efficient in how it does it.
''The Acceleration Lab, which UNDP has now established in Sierra Leone, and which is one of 60 laboratories being established worldwide, inscribes itself in this framework and it is part of this drive to find new and better ways of achieving sustainable development. Its establishment recognizes that the UN must be at the forefront of innovation in turn to help enable the Government to lead the national development process''
In his statement, the UNDP Resident Representative Dr. Samuel Doe said, as part of the organisation strategic plan 2018-2021 which embraces the complexity of development, the UNDP commits itself to helping countries find faster, more durable solutions to achieve Agenda 2030 adding that UNDP has an exciting opportunity to transform collective approach by introducing new protocols, backed by evidence and practice, which accelerate the testing and dissemination of solutions within and across countries.
''This will enable the global community to collectively learn from local knowledge and ingenuity at a speed and at a scale that our societies and planet requires. To achieve this, UNDP has established a network of 60 Accelerator Labs serving 78 countries in Africa, Eastern Europe, Asia and the Pacific, Latin America and the Caribbean. These 60 labs are established to build the largest and fastest global learning network to address the many increasingly complex and dynamic development challenges. The network will surface and reinforce locally sourced solutions at scale while mobilizing a wide and dynamic partnership of actors contributing knowledge, resources and experience,'' he said.
He said the Laboratory cycle of the network is built around five (5) protocols, Analysis of the relevance of interventions, exploration experimentation and development or scaling up stating this cycle is not linear but allows and offer the possibility of testing one of the protocols according to the need, opportunities, and the type of problems and challenges.
"The need for UNDP to invest in grass root solutions through the accelerator Lab
in Sierra Leone is clear. The emerging demands from Government and partners show both the changing nature of issues they must grapple with and the need to go beyond incremental or sector-specific approaches. Examples of such demand in Sierra Leone include but not limited to poverty, technology, clean and safe drinking water, hygiene, waste management, gender, education, unemployment, recycling, agriculture, and climate change,'' he said , adding that these demands are still emergent and are soon to lead to a strategic relevance gap between what UNDP has traditionally delivered and the changing nature of development policy and programming needs.
The UNDP Resident Representative went to say they strongly believed that in a world of increasing demand to accelerate solution, a single individual, person or organization does not possess the specialized skills to develop and commercialize a complex innovation from conception to implementation thus everyone needs to rely on other actors in their innovation to build an ecosystem-wide value of proposition that materializes when the individual contributions of different actors are combined.
''For this reason, the UNDP Accelerator Lab in Sierra Leone will work with government, development partners and the private sector to reimagine development for the 21st century. Distinguished Ladies and Gentlemen, the imagination of development for which the Accelerator Lab is launched today will be achieved by: Building on locally-sourced solutions, finding things that work and expanding on them; Rapid testing and iteration to implement what works and go beyond the obvious solutions; Combining the best understanding, ideas and expertise to generate collective knowledge; Accelerating progress by bringing expertise, creativity and collective intelligence to bear''.
On his part, the deputy Representative United Nations Children's Fund (UNICEF) Wilberforce Tengey, applaud UNDP for the bold step of placing innovation at the centrepiece of development work and for finding innovative solutions to the evolving challenges in the development field stressing that the focus on innovation strategies to enable achievement of all the 17 SDGs.
"Distinguished guests , At UNICEF, we have seen the value of adopting innovative ways to support our work in Sierra Leone during times of emergencies and in regular programming. When Ebola struck in 2014, we used U-Report-our social messaging tool-to not only provide live saving information to people and communities but also generated important data that were useful in supporting the response,'' he said.
He added that through the U- Report they were also able to support the Ministry of Education with relevant data on over 3,000 schools across the country on their preparedness for the re-opening of schools stating that this helped the Government and development partners in responding to emerging needs in time for the re-opening of schools.
"Distinguished guests , with the establishment of a Directorate of Science and Technology (DSTI) at State House and the unprecedented level of investment in education , UNICEF is proud to be a key partner of government in driving innovation solutions for women and children in Sierra Leone, particularly in the education and health sectors. Today some of our work with DSTI include Data for Decision Making and Drone for Social Good,'' Wilberforce Tengey said.
Head of the Directorate of Science Technology and Innovation (DSTI) Dr. David Sengeh on his part said the time is now for innovation and that Sierra Leone is the right place and in the right state of mind to innovate thus calling on Sierra Leoneans to be an evangelist that the country is ready to take up innovation.
''Innovation is essential for development, and it represent the SDG's , you know always the President always talks about feed your mind and take care of your body and feed your tummy very body has heard that before. what he is saying to the development partners is everybody care about food security ,and quality education, ''he said, adding that the president has created the Directorate of industry and infrastructure , and the Directorate of Science Technology and innovation within in the office of the President thus stating that this level of vision and commitment gives hope to the country.
The DSTI boss said, the Directorate has two goals which is to support the National Development Plan to support government implement the education for development in addition to support the innovation and entrepreneurial eco-system adding that one way they are doing this is by supporting working with UNDP.
"It is tremendous pleasure, and I would like other people to join me in congratulating our UNDP Sierra Leone again ; because it is not a coincident that Sierra Leone is one of 60 countries in the world. There are not 60 countries in the world ,there are more than 190 countries in the world and Sierra Leone is one of 60. It is precisely because of the leadership UNDP Sierra Leone and the readiness of Sierra Leone ,'' Dr. David Sengeh said.