Gambia:Scorpions Head Of Delegation BK Jammeh Sounds Optimistic
By Bakary Ceesay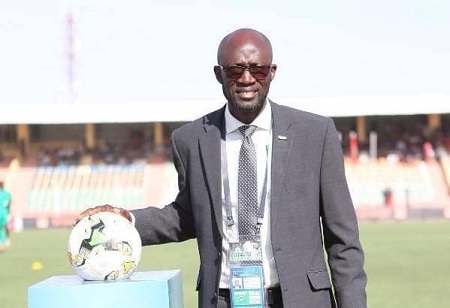 Gambia National Team (Scorpions ) have finally arrived in Djibouti on Monday night and reports from the team Head of delegation Gambia Football Federation (GFF) 1st Vice President Alhagie Bakary K Jammeh confirms that the Scorpions are in good spirit and shape ahead of their first leg in the AFCON qualifiers scheduled for Wednesday 9th October at 19:00hrs.
Speaking from his Sheraton Hotel in Djibouti City at the banks of the Red Sea where the team is been lodged, Mr Jammeh said all essential logistics within the framework of the Gambia vs Djibouti engagement have been provided for by the hosts.
"We have a reciprocal arrangement with the Djibouti FA and they have provided us with the necessary logistics upon our arrival since yesterday". He informed this medium that Team Head Coach Tom Saintfiet and his back room staff have held their traditional technical meeting all meant to put heads together for the success of the match ahead.
'We are scheduled for training at the main bowl of the Stade Gouled in the city later in the evening as at the scheduled time for tomorrow's match". Jammeh said the mood and spirits at the Scorpions camp are high.
Commenting on the vitality of the game, GFF number 2 noted with emphasis that the team is very much aware of the importance attached to the engagement and as such all avenues would be exploited to come out victorious of the first leg.
"We are aware of the importance of the game. I don't think a game could come bigger than this which is shared by the Coach, Technicians and players and we're all going to do everything possible to make the country proud".
He said the main preoccupation of the team is currently to work on the Djibouti double header away and home ties which according to him is also the main talking point of the players across the corridors and hotel rooms.
"We will have an early sleep tonight for match day preparations on Wednesday at 7:00 local time (4pm Gambian Time).
Asked about the team's return to Banjul in readiness for the home and final leg, Jammeh said the route arrangements done by the Ministry Of Youth and Sports and the National Sports Council is such that the team will fly back home the same night after the game via Doha (Qatar) where they will connect to Cassablanca (Morocco) and ahead to Banjul. Its a very long haul because you know Djibouti is far away from our part of Africa but at the level of the MoYS and the GFF, we will endeavor to do everything possible to the comfort of the players". he posited.
The Gambia's game with Djibouti will be one of many matches across the continent for the beginning of Afcon 2021 preliminary Qualifiers. The winner of the double legged tie will join Angola, DR Congo and Gabon in group D of the Qualifiers proper.