Fire destroys 70 hectares of Kenya's forest
By Samuel Ouma |@journalist_27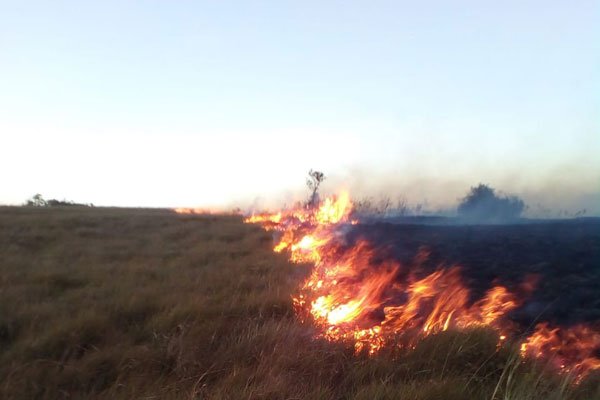 Fierce fire suspected to have been initiated by poachers or illegitimate in Aberdare Forest has devastated 70 hectares of bamboo in the central Kenya's woodland.
Kenya Wildlife Services (KWS) officers are grappling to contain the inferno which began on Sunday evening. KWS Mt. Kenya manager Mr. Bajila Kofa disclosed that the multiagency team is working day and night to ensure the fire does not consume the whole forest.
"The fire started at around 6pm on Sunday, it was fierce fire. We sent 45 KWS officers to battle it that night but the number was increased on Monday morning," said Mr. Kofa.
The operation to put out the blaze was delayed since the officers find it difficult to locate its location according to the area police boss.
"We spotted the plumes of smoke but we were unable to trace the real location. We also have a communication challenge due to poor network connectivity in the Aberdare Forest, but we dispatched enough multiagency teams and members of the public to assist," said the police boss.
Mr. Kofa put poachers on notice noting that officers have been deployed to flash them out without mercy.
"We have identified some tracks left behind by strangers in the forest who we suspect to be rhino poachers. We are pursuing the strangers to establish their motive; they might have started the fire to make it easy for their poaching mission. The rhino poachers also have a habit of lighting the fire so that they can kill the animal as we concentrate on firefighting, but they will not succeed," he added.