Cameroon: Major National Dialogue ongoing as Anglophone separatists pull out
Separatists skip talks calling for international mediation to resolve the crisis
By Boris Esono Nwenfor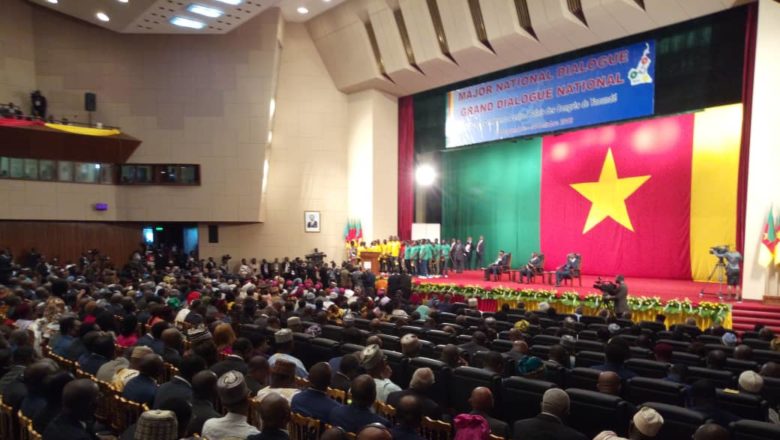 Discussions are continuing in Cameroon's political capital Yaounde in the Major National Dialogue convene by the Head of State as the country seeks solutions to the Anglophone crisis rocking the North West and South West Regions. The dialogue has however been dealt a severe blow with separatist leaders in the Diaspora boycotting the dialogue.
The Prime Minister Head of Government Chief Dr Joseph Dion Ngute has on his part challenged participants to seek lasting solutions so as to bring back peace to the crisis-hit North West and South West regions.
Addressing participants, he said, "I appreciate the historical responsibility we have toward our children, our grandchildren and future generations. By deciding to invite Cameroon's constructive force to this Major National dialogue, President Biya makes each of us fully responsible for the fate of our country."
He added, "The gravity of the situation in the North West and South West regions must challenge and concern us but above all oblige us all individually and collectively, regardless of our regions, origin, our political or religious conviction, to achieve a result, that is, to restore peace and tranquillity in these two regions."
In a report published last week, the International Crisis Group (ICG) estimated that around 3,000 people have been killed by separatist violence and the military crackdown.
The ICG said the talks do not include separatists or Anglophone leaders who support more federalist solutions. "It thus risks further frustrating Anglophones widening the gulf between the two sides and empowering hardliners," the group said. "The government should make greater space for Anglophones, particularly federalists who are willing to attend. It should also seek a neutral facilitator."
Even before the Major National Dialogue began, it ran into trouble with many activists arrested and experts voicing scepticism that it would yield tangible results. Mark Bareta, one of the separatist leaders very active on social media announced that he was pulling out, saying that "the only way to have real negotiations is to hold them on neutral territory."
"Some of us were even lenient to say ok you have called for dialogue in Yaoundé and we can come and say we are for independence but we can do that through our leadership in jail. But till now, Biya has not taken any step…", Eric Tataw said to TRT World while adding that "The US government wants dialogue and we think that we should go for dialogue but Paul Biya cannot tell us that we are insulting Cameroon because we are not Cameroonians. We are two separate countries, he knows that and the world knows that."
"We are not forming our own country; we are just restoring our country. The right to self-determination is just what we are asking. We want the world to assist us in carrying out decolonization of southern Cameroon.
Of the 16 separatist leaders invited, those heading armed groups such as Ebenezer Akwanga and Cho Ayaba are also snubbing the talks. Akwanga told AFP that the event was a "smokescreen for the international community rather than an attempt to secure a complete and lasting solution … to the annexation of our country, Southern Cameroons."
The leaders have expressed willingness to hold talks with the government but in the presence of an international mediator and in a foreign country with the terms for secession the main item on the agenda, according to the ICG.