Cameroon: Bamenda Gov't Delegate beg for peace to return to NW, SW
By Boris Esono Nwenfor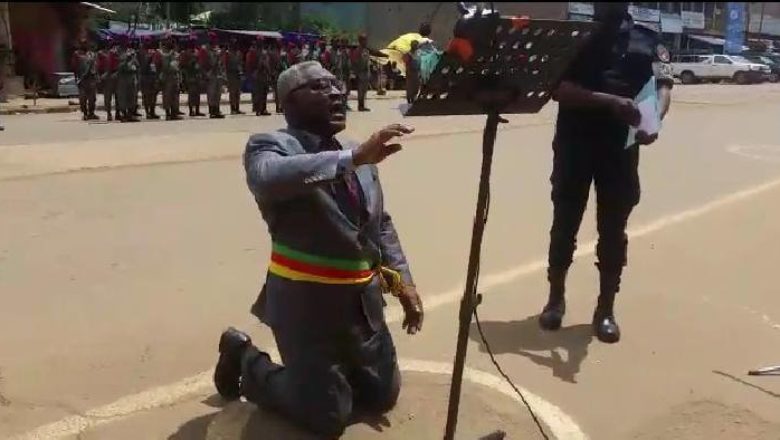 The Government Delegate to the Bamenda City Council, in the restive North West Region of Cameroon, has begged for peace to return to the South West and North West Region of Cameroon that is presently witnessing violence. Vincent Ndumu Nji pleaded with the populations of the Anglophone regions to stop carrying out atrocities on their brothers and sisters and work towards a return to normalcy.
Speaking at the installation ceremony of the newly appointed Senior Divisional Officer for the Mezam Division, Vincent Ndumu went on his knees and lamented that the crisis in the said regions has had untold sufferings on the population.
"I go on my knees and I beg on the population, our brothers from the North West and South West, we have killed our own children, we have suffered, we have deprived our children of going to school, we have burnt many houses. What so ever be the issue, let's think about us as human beings" Vincent Ndumu said in Pidgin English.
Vincent Ndumu made a flashback on the atmosphere that prevailed in the region before the crisis started in a bid to persuade the population to strive for peace. "Remember what we used to do three years ago, here in the North West. Our children used to remove sand from Wum and feed their families, some were involved in trading…Today the case is different. It has become impossible for one to get to Ndop, Bambui, Fundong, Nkambe…"
"The time has come for us to put God in our hearts and forget about all these problems, the Government will solve the problems, even if they don't solve all, it is not enough reasons for us to kill ourselves, kill human beings as though they were cows en route for the slaughterhouse…" Vincent Ndumu continued.
Since the escalation of the Anglophone crisis, thousands of people have been killed, many internally displaced, while others have become refugees in neighbouring Nigeria. Schools in these regions have been the ones hard hit due to the crisis. Teachers and school administrators have suffered the most in this crisis. Several teachers have been murdered, maimed and kidnapped in the past weeks as education comes under increasing attack in the English speaking regions of Cameroon. Over 30 schools have been the targets of violence.
In a recent outing, the European Union The frowned at the fact that the violence in Anglophone Cameroon has caused enormous damages; rendering about 530, 0000 persons internally displaced, and about 42,000 others as refugees in neighbouring Nigeria. According to the report, the EU says it will remain committed to addressing the humanitarian needs of the populations affected and reiterates the importance of ensuring safe and unhindered humanitarian access to the entire country.