AU Trade Commissioner Muchanga on the Game Changing Prospects of the AfCFTA
–Unprecedented Political Will Across Africa To See AfCFTA Succeed
By Ajong Mbapndah L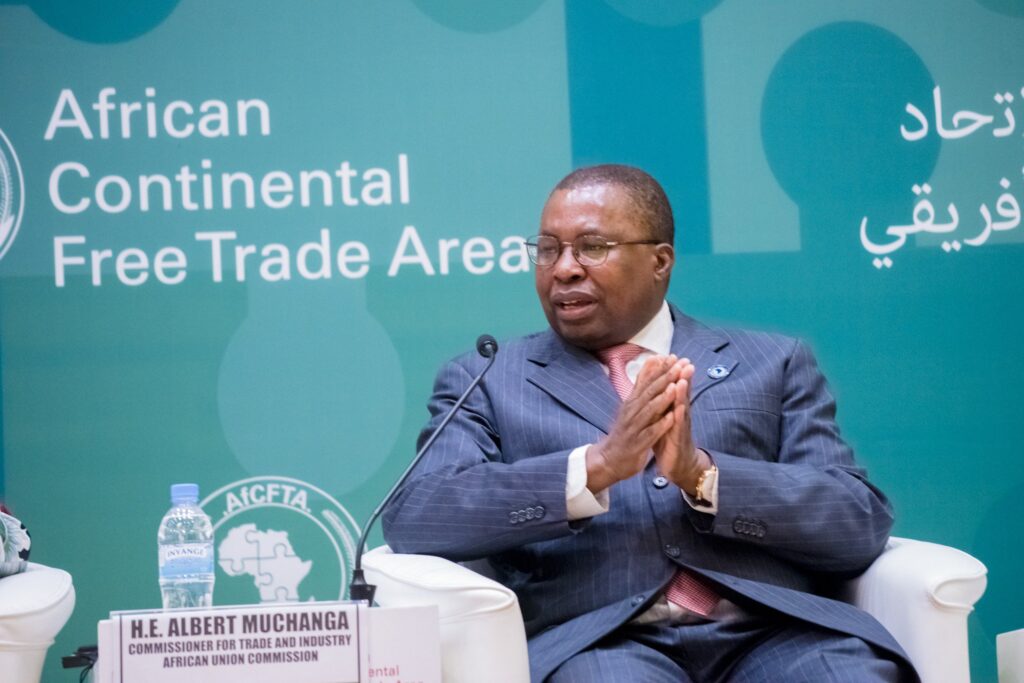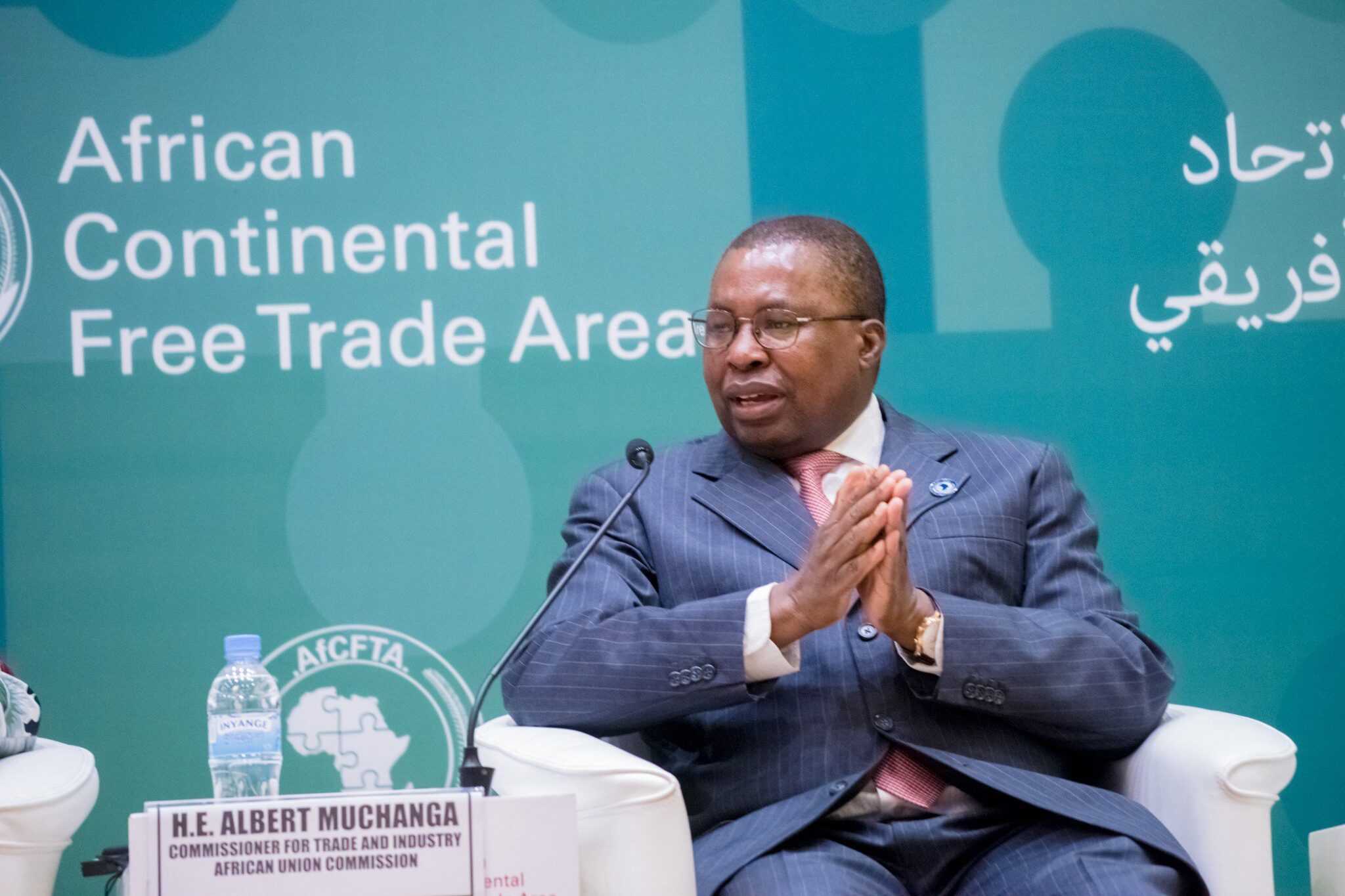 The AU could not have sent a better person to the USA to discuss the African Continental Free Trade Agreement with the diaspora. The schedule was hectic, at every stop, and at each event, Trade and Industry Commissioner Albert Muchanga had an infectious smile on his face. He listened attentively, addressed concerns, and responded to questions as best he could.
With its wealth of knowledge, networking, and finance, the African diaspora has a huge role to play in the African Continental Free Trade area, says Commissioner Muchanga. Speaking with confidence, Commissioner Muchanga indicated that things were on track for the market to go operational by July of 2020.
When reminded that the problem of Africa has never been in the treaties or projects but rather implementation, Mr. Muchanga said things are different this time around. The political will is so strong and the leaders, and people across Africa are keenly aware of the stakes, he said. The rapidity with which countries signed and ratified the AfCFTA gives every reason to hope for the best, Commissioner Muchanga said.
You attended the Making African Trade Easy event. How did the event go? And what message did you bring to the African Diaspora from the AU?
Commissioner Muchanga: The event went on very well. Basically, the key issues were on the emerging developments in the African continent and the diaspora are very happy because they see a role for themselves. We are saying that for us to implement the agreement we need all stakeholders to play their part – the African Diaspora needs to play their part, they are a source of knowledge, networking, and finance, so they can organize themselves to see how they can contribute to the success of the African Continental Free Trade Area. It is the biggest and most ambitious development program so far. It lays the foundation for present and future generations to develop an Africa they want.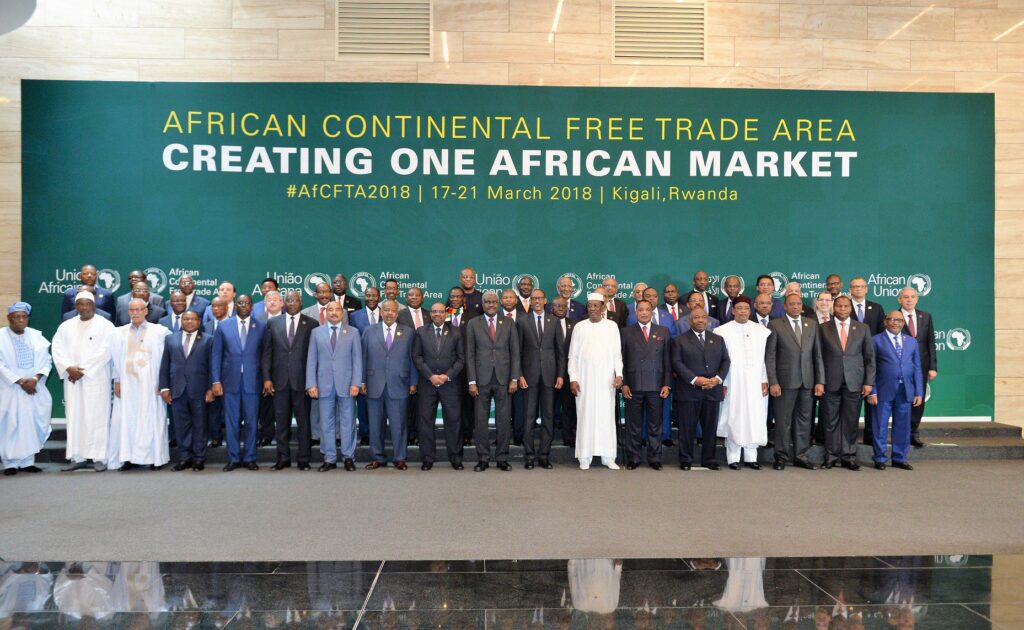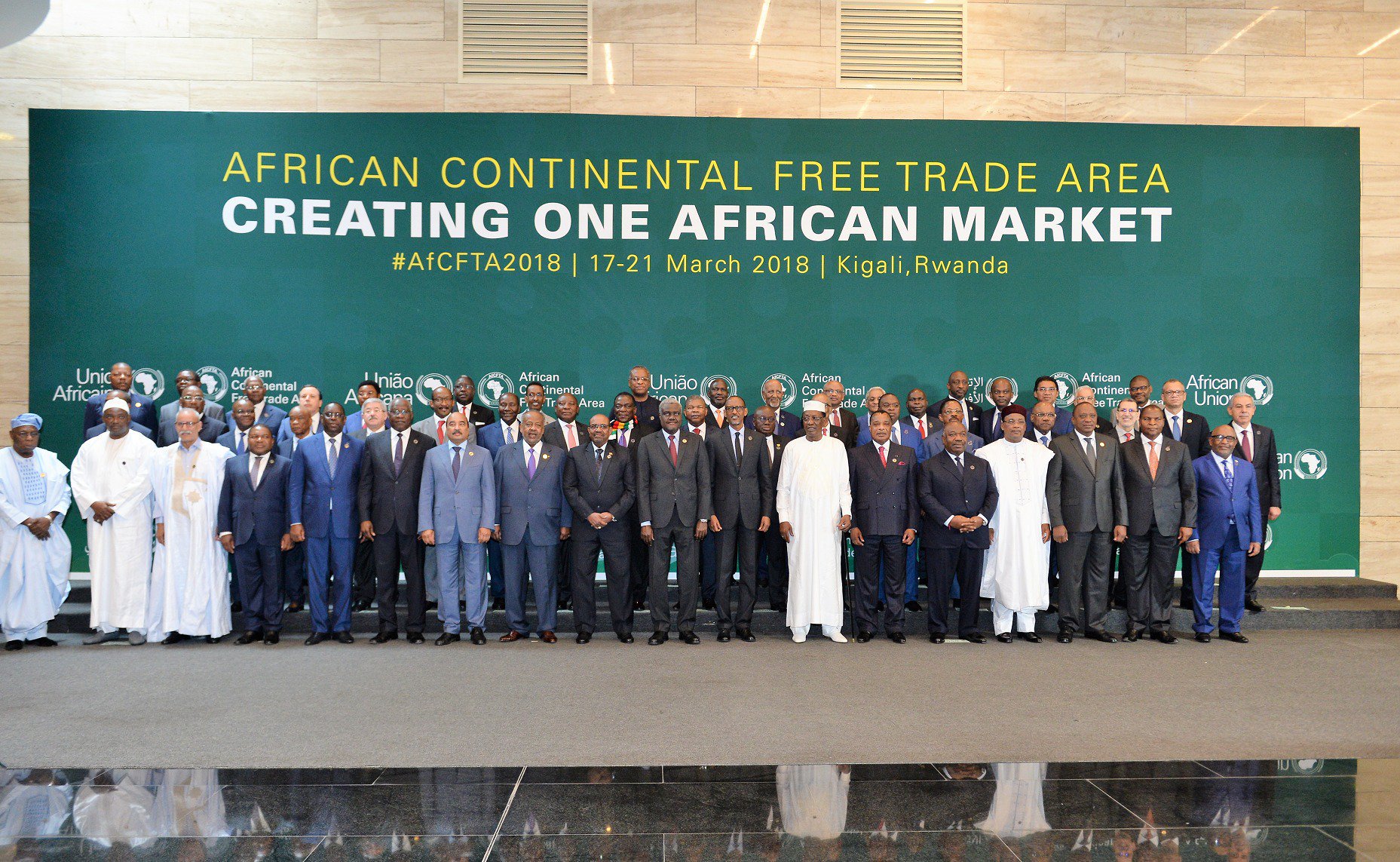 Specifically, with the Continental Free Trade Area, where are we at this point?
Commissioner Muchanga: Our target is to start trading on 1st July 2020, and we are going to hit that target. At the national level, countries are producing trading documents which are going to be distributed to all the corners where there will be trading. We are sensitizing the business communities in their respective countries to be ready for the market. At the level of the African Continental Free Trade Area as a target we are finalizing work on tariffs schedules, land tariffs monetary systems, and the African Trade Observatory. We are also engaging the regional economic communities so that we collaborate effectively on all matters on facilitating trade across all Africa. We are very confident that come 1st July 2020, the market will start operating.
Expectations are so high; it has been billed as a game changer. Can you tell us about the potential, and what it will take for this Free Trade Agreement to make the desired impact you want to see on the continent?
Commissioner Muchanga: First requirement is that each and every African country should become a state party to the agreement. 54 countries have signed, and we are left with one which is Eritrea and we are sure they will sign. 28 countries have already posted the instruments of ratification and we are remaining with 28 including Eritrea, and we are in discussion with all these 28 countries and we are confident that come July 1, 2020, all of them will sign and ratify the agreement. So, the first requirement is that we create one African market by having all the 55 African countries be part of it.
Secondly, it is a task involving many stakeholders, the African governments are involved (they are coming up with the legal frameworks, the legal documents and policies), the African private sector also has a role to play (we want investments from them so they can supply the huge market we are creating), the academia also have a role to play (they need to come up with educational materials at appropriate levels so that all Africans from kindergarten to Universities ,everybody is involved with the AfCFTA), the CSOs have a role to play. The AfCFTA must filter down to the lowest level.
You are confident that Africa will succeed but Africa has not had a shortage of ideas, or projects, but there seems to be a problem with implementation. What makes you confident that the Continental Free Trade Agreement will work?
Commissioner Muchanga: First and foremost, there is a huge political will for the AfCFTA. When we started negotiations a lot of people expected the negotiations to take a minimum of six years but we were able to complete negotiations within two years which shows the huge political will. When the agreement was opened for signature, we were told it takes another five years for an AU legal instrument to be ratified, but with the support of member states we did our work in advocating for early ratification – within a period of one year we were able to get a minimum of 22 ratifications. The governments said we cannot end here and let us open the operational phase and they agreed that it should be July 1, 2020. They have said on the day we launch the operational phase it will be called the African Integration Day which is 7 July each year.
We are also working on a Secretariat which will be given enough resources- human and financial to be able to capture the whole of Africa. That inspectorate will collaborate with the regional economic community. We are coming up with a framework of collaborations so that there is alignment of operations, transparency, and confidence with each other.
What mechanisms are there to make sure that smaller countries do not get swallowed up by big ones?
Commissioner Muchanga: The first one is political. We are bringing to the attention of leaders that as we build the AfCFTA there should be a shift in the mindset. The new domestic market for Africa is the AfCFTA, the national market is receding, and all of us should work around the AfCFTA. When the mindset is changed, the issue of working in isolation will no longer work. One of the earliest steps we took was to come up with a protocol which is undergoing signatures so that we create a common African identity so that we ensure that Africans move in the continent without any restrictions. We are also creating an adjustment facility. It will take some time to come up with a fully fledge functional institutional arrangement. We are also working with the Afreximbank – they have put aside $2.5 billion for five regions in Africa – East, Central, Southern, Western, and Northern. Each one of them is going to be allocated $500 million so that companies that want to scale up productions will be able to produce to the scale of the AfCFTA. We are putting enough things to achieve win-win outcomes.
With the advent of the Continental Free Trade, what impact will it have on trade with external partners?
Commissioner Muchanga: We are going to transform African trading with external partners. Historically Africa has always been a trader of raw materials. Now we are going to add value to the ones already in Africa with the development of value added chains. When we do that, there are two things that will be involved – the products will have greater values and the companies that invest in value addition are going to produce to the scale of the AfCFTA. With that huge scale, they will be in a better position to be able to export to the world, and Africa is going to emerge as an exporter of manufactured goods to the rest of the world.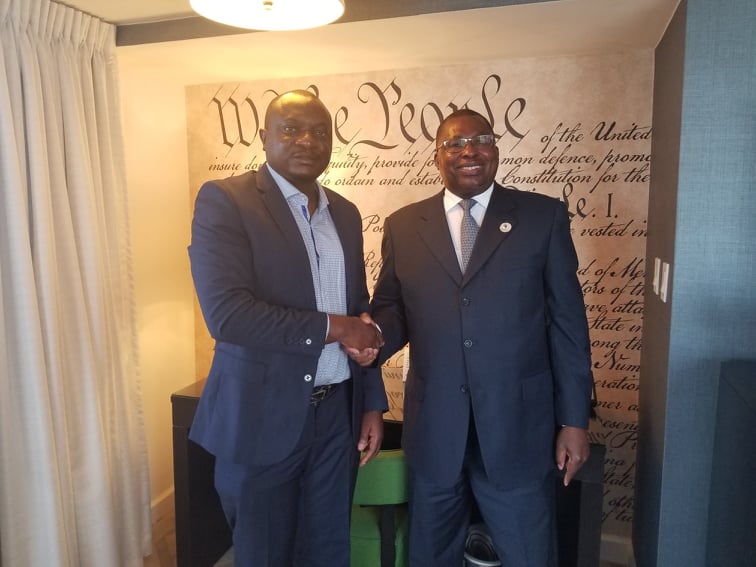 When you look at AGOA, there are two key problems that are faced in Africa. One is the standard (but a lot of Africa countries have not been able to meet that standard) and the other is the scale (quite a number of producers in Africa have not been able to satisfied the big US market). All of these are going to be resolved by creating the AfCFTA.
You travel the continent regularly; do you really think that African leaders and Africans get it and are willing to put in their all to make AfCFTA work?
Commissioner Muchanga: They are willing to make it work. One of the biggest problems we have in Africa is youth unemployment and Africa has a young population and the minimum age is about 19 years. Each leader knows that for them to create credibility in the eyes of the young population they should deliver decent lives to the people. It is not just about creating jobs but engaging the youths to really be entrepreneurs in their own rights. The youths are very knowledgeable with ICTs and each and every country should come up with incentives and structures to bring foreign investment to the continent.
Your boss the AU chairman was giving a Diaspora award. How much support are you getting from him?
Commissioner Muchanga: I have a very positive relationship with the chairman. Whenever I need support, I go to him and he has never said no. when the award came, he said he won't be able to make it but said I would be able to represent him. When I get back, I am going to his office to present the award to him not just in his honor but the AU commission he heads. It is recognition from the Diaspora that our African body is producing good results. We are a Commission with 10 elected officials, and I also have a good working relationship with the other officials. Trade is about creating industries, it is about agro processing. One of the first things I did before coming from Nigeria was producing a matrix of the functional relationship between the Secretariat of the AfCFTA and all the departments of the AU so that they are going to see how we work. So, we are working as a team.
What expectations do you have from Nigeria and South Africa which are supposed to be leaders of the continent, Nigeria joined the AfCFTA late, and recently South Africa had this wave of xenophobic attacks, are the two continental giants playing their role?
Commissioner Muchanga: Nigeria said they needed to take a very broad-based stakeholder consultation. They went to the federal states, businesspeople, academia, youths and several people so it took them a while to undertake the process. After that they were caught up with elections and when they were ready, they signed and hopefully they are going to ratify in no distant time. With the case of South Africa, I said authorities needed to arrest the perpetrators and prosecute them so people do not think they can do anything they want. The issue is not just about foreigners as even South Africans were attacked.
Looking at everything, at what point should the everyday Africans expect to start getting the benefits of the AfCFTA?
Commissioner Muchanga: My vision is very clear. Come day one which is July 1. 2020, I will like to see a very active market and when that market is very active people should be able to say I am buying a product from country X. When they buy those products there should be two things the price is lower and the quality is very high. I also expect the business community to respond heavily by ensuring that they invest to produce to the scale of the AfCFTA. Without the investment of the private sector, we will achieve nothing. According to the International Chamber of Commerce, only 12 per cent of investment across Africa is accounted for by the African private sector. They need to scale up. Once we do that, we are on our way to creating the market that we want.
Any particular events surrounding the launch in 2020?
Commissioner Muchanga: I am meeting the Ministers this October where they are going to guide me on how the event will look like. I think there will be a symbolic launch.