African Diaspora Endorses the Continental Free Trade Agreement
By Ajong Mbapndah L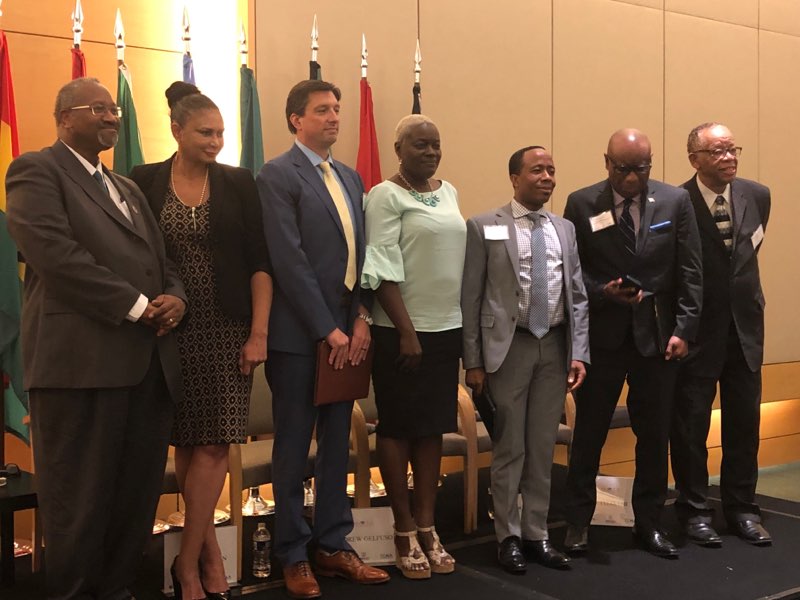 A major outcome of the recent Making African Trade Easy Forum in Washington, DC was the resounding endorsement from the African Diaspora towards both the Prosper Africa initiative and the African Continental Free Trade Agreement (AFCTA).
At the heavily attended event, policy experts, trade professionals, government officials, and other participants agreed that with its enormous potentials, much was still needed for Africa to enjoy the game changing benefits of trade. In this light, the groundbreaking development in the creation and rapid ratification of the African Continental Trade Agreement was hailed as a harbinger of hope for the future.
Speaking at the event, African Union Trade and Industry Commissioner Albert Muchanga said Africa means business in every sense of the word with the AFCFTA. Typically, agreements like the AFCFTA take about five years to ratify, but within a year of its creation, a majority of African countries have ratified it with the exception of Eritrea which is still working on doing so. Commissioner Muchanga harped on the great work that has been put in, and the myriad of benefits that effective implementation could have on the people of Africa. Speaking with great optimism, Mr Muchanga said political will from the leaders was strong, and there was overwhelming support from Africans across the continent for the AFCFTA. With its Secretariat in Ghana, Mr Muchanga lauded the partnership of institutions like the African Development Bank and financial institutions like the Afrexim Bank, a cosponsor of MATE 2019, which are helping to put the AFCFTA on the right path.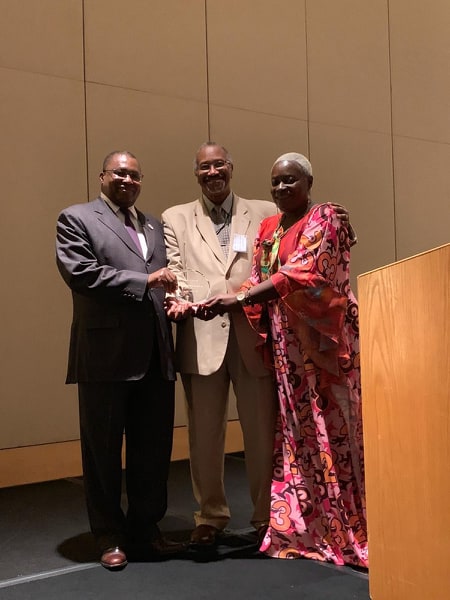 In appreciation and salute of the progress and renewed optimism that the AFCFTA is bringing to the continent, the African Diaspora represented by Angelle Kwemo Founder and President of Believe in Africa Foundation expressed satisfaction,and encouraged African leaders to do all to ensure that the AFCFTA lives up to its game changing potentials for the continent. 
A seasoned international Trade Professional and Chair of the organizing committee of MATE 2019, Angelle Kwemo presented an award to African Union President Moussa Faki in recognition of the great work that he and his team have put in towards making free trade a reality in Africa. The African diaspora with all its potential will throw its weight behind the AFCFTA and do its part to ensure that it works for the benefit of Africa and its partners,said Angelle Kwemo. 
Accepting the award on behalf of AU President Moussa Faki, Trade and Industry Commissioner Muchanga expressed gratitude for the recognition. The leadership of AUC Faki has been instrumental in facilitating progress made by the AFCFTA, and the award will spur them to keep up the hard work, Commissioner Muchanga said. All hands must be on deck for the AFCFTA to succeed, and the diaspora remains one of the most important partners Commissioner said Commissioner Muchanga.
Equally recognized with awards were prominent business leader 'Samba Bathily, founder of ADS Group who received the "Pan-African Award for his investments across the continent, and Dr Gloria Herndon, Founder GH Global Group with the Africa Diaspora Award.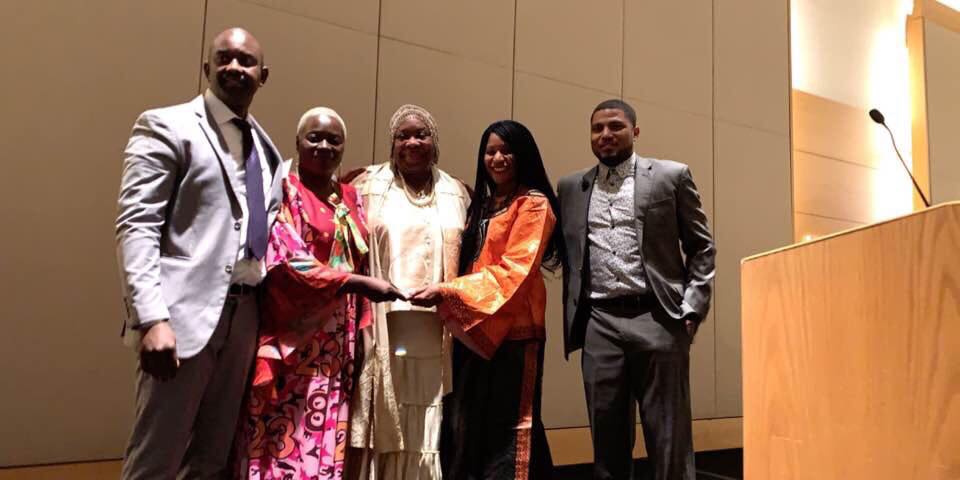 While Samba Bathily represents the upcoming generation of dynamic young Africans transforming the continent with daring investments, in Gloria Herndon, the award was in recognition of decades of strong, and sustained attachment to Africa. Dr Herndon regaled the audience with humor laced tales of her vast experiences across the continent.My love affair with Africa is far from ended Dr Herndon said, as she accepted her honor.
Organized to coincide with the 5th anniversary of Believe in Africa Foundation, the Making African Trade Easy Forum was organized in partnership with USAID and Ronald Reagan Building and International Trade Center to promote Prosper Africa and the AfCFTA. MATE was opened by Andrew Gelfuso, VP of the Ronald Reagan Building and International Trade Center, Ian Steff, Director Global Market Bureau at U.S. Department of Commerce with the keynote from Ramsey Day, Senior Deputy Assistant Administrator for Africa, USAID.  They all recognized the importance of the Diaspora in fostering trade with Africa.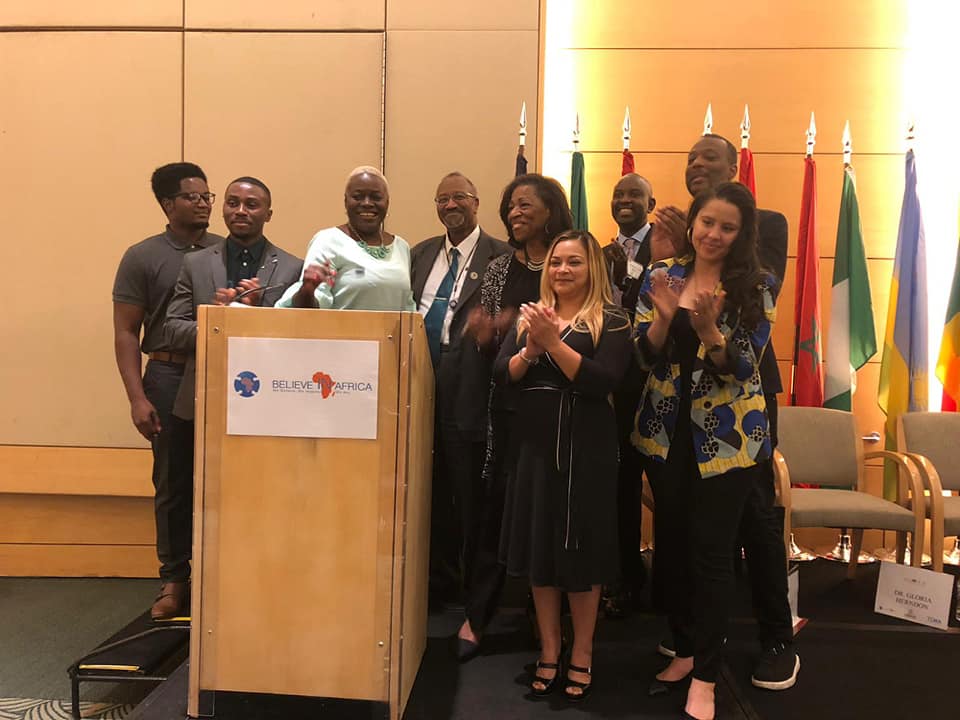 It was two full days of intense panel discussions and exhibitions.From panels on African Economic Outlook, to Building Africa's Manufacturing Sector, the African Continental Free Trade area, Facilitating Finance in Africa, Investing and building Africa's health industry, Building Diaspora Trade and Innovation, Making the African Digital Revolution a reality, Investing in Africa, Growing Sustainable jobs under AGOA, Democratizing Africa's energy sector,and Growing Africa's Agricultural Industry, participants had more than a full dose of potentials, realities , challenges , and what must be done to improve doing trade in and with Africa.
Led by Capitol Hill Veterans Angelle Kwemo, Founder and President of Believe in Africa Foundation and Gregory Simpkins, Senior Advisor at USAID the MATE Forum brought together the crème de la crème of African trade and advocacy professionals in the USA including Matthiew Rees, Coordinator, Prosper Africa, David Weld, Senior Director for Africa, MCC, Jeremy Streatfield, Director for Africa at USTR, Heather Lannigan, Regio9nal Director for SubSahara Africa at TDA, C.D. Glin, President and CEO, USADF, Dr. Albert Zeufack, Chief Economist for Africa, The World Bank Group, Leila Ndiaye, President and CEO, IGD, Flori Liser, President & CEO, CCA, Dr. Menna Demessie, Secretary, Ethiopian Diaspora Trust Fund, Jeannine Scott, Board Chair, CFA, Dr. Sharon Freeman, President & CEO, Gems of Wisdom Consulting, Mariama Camara, Mariama Fashion Production Dr. Mima Nedelcovith, Partner, Africa Global, Maureen Umeh, Fox5 news,  Oren Wyche-Shw, Deputy Assistant Administrator at USAID, Alison Germack, Director of Corporate Development, International Development Finance Corporation, Prof. Landry Signe, Fellow Brooklings institutions, Yousuf Daya, Senior Director Trade policy, market Access, Reseach and International Cooperatio, Afrexim Bank, Steve Lande, VP, Manchester Trade, Tamra Raye Stevenson, CEO, WANDA, Kimberley Brown, Amethyst Technologies, Betty Adera, Betty Adera Foundation, Ollowo-N'Djo Tchalla, CEO Alafia, Salma Seetaroo-Bonnafoux, Ivoirienne de Noix de Cajou, Rahama Wright, Shea Yeleen Katie Auth, Acting Deputy Coordinator, Power Africa, and delegations from many African countries.