A Lifeline for African and International Students In MPower Financing
By Ajong Mbapndah L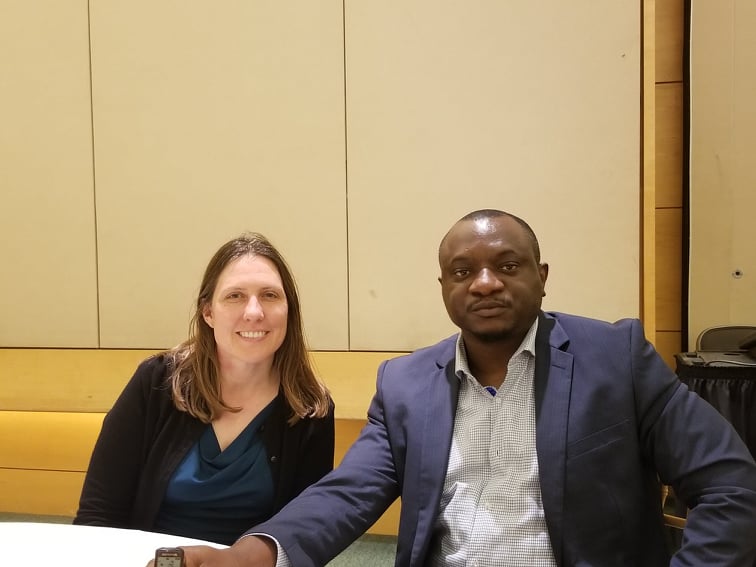 For international students, and those who aspire to study in the USA and Canada, one of the biggest challenges remains how to secure funds. Traditional student loans end up been very costly and eligibility conditions are often stringent for them. In MPower Financing, international students and those from Africa aspiring to study in Canada and the USA now have a partner to help them live their dreams.
From the application, to eligibility criteria, and repayment, MPower Financing  is shaping up to be a dependable vehicle for them to fulfil their dreams of quality education.
"Any student from any African country except Sudan is eligible to apply provided that they go to one of our 350 schools in the US and Canada," says Maureen Klovers, Director of Social Impact with MPower Financing. Interviewed in Washington,DC, Maureen Klovers said MPower is gaining grounds in countries like Nigeria, Ghana, Malawi, Kenya and Cameroon . Our motto is "when the borrower succeeds, we succeed," said Maureen Klovers as she expressed the hope to see more African students benefit from  the unique services offered by MPower Financing.
You are Director of Social Impact with MPower Financing. What is MPower Financing and what do you do?
Maureen Klovers: We are the world's only lender that provides fix rate education loans to international students from all over the world without requiring a US collateral or a US credit history. That is very unique and Nigeria is our second biggest market while Ghana is rising in the ranks- I think our 6th largest. So Africa is really important to us and we are happy to talk to you.
Do you provide funding for students only in the US or do you also provide funding to students in Africa who are in need of funding?
Maureen Klovers: Most of our students are based in Africa and other parts of the world and are coming to the US for graduate degrees. So 80% of our students are pursuing graduate degrees. We can make loans to students pursuing graduate degrees or students in their last two years of undergraduate. We do have some students from the Diaspora who are permanent or are already working here who also get loans.
What is the cap or limit students can get?
Maureen Klovers: We can loan up to $25K at one time and $50K overall for any student.
What are the criteria for students to benefit from the loans?
Maureen Klovers: You first need to be eligible and we have very broad criteria. So any student from any African country except Sudan is eligible to apply provided that they go to one of our 350 schools in the US and Canada. You need to be within two years of graduation and for an MBA that is fine as it is a two year degree. For any kind of two year degree it will cover that and then if you are at your last two years of your undergraduate. Very simple and eligibility criteria and you can do a 30sec eligibility check on our website and it will tell you if you are eligible or not. It is just 3 questions and they will ask you about the cost of your degrees, where you are going and what you are studying. What is really unique about us is that we do not make our credit decision base on your family's income or asset and so it is not a collateral loan. We make our decision base on your future earning potential so we are looking at your past earning history, your past professional experience, the school you are going to, the degree you are going to get and so if you are going to get an MBA degree, or an Engineering degree we are confident that you are going to get a good earning potential and be able to pay us back.
How different are you from the other loan structures that are out there?
Maureen Klovers: Very different because most Africans right now are either using funding from their families which mean we are talking about wealthy individuals or while other lenders will ask you to mortgage your home for example. What is unique about us is that we do not require you to mortgage or to rely on your parents. Again, we are focusing on the future earning potential.
Any idea of the number of African students you currently have?
Maureen Klovers: We have roughly 500 at the moment. Our biggest market is India but our second biggest market is Nigeria. Our 6th biggest market right now is Ghana, and other African countries include South Africa Egypt, Ethiopia, Kenya and Cameroon.
With regards to loan payments, at what point do you require students to start repaying?
Maureen Klovers: Our loan product is unique in that students pay interests while they are in school interest only and then for 6 months after graduation. A lot of our students get like an on campus job to help make those small payments. The benefit is that you are not paying interest on interest so people do not realize that if you do not pay while you are in school it accrues and you end up paying more and the other thing is that it allows you to build your US credit history so that when you graduate you can get a credit card, car loan and pass a credit check for employment. After that 6 months grace period, there is a ten year repayment period where you repay the interest in principle.
With the experience that you have had, how prompt is the repayment process? How flexible are you when it comes to these repayments?
Maureen Klovers: We try to be really flexible because we are a social benefit corporation which means we are for profit, we are not a non-profit organization but we have social point objectives and our motto is. So what we do is that when a student gets into trouble, we can put them on forbearance for up to 24 months so we can put their payments on pause and we can also offer them a $25 credit billing option where they make $25 payment a month and we continue to report the loan current to the credit bureau. So we can do a variety of things and we also have a path to success initiative where we can do a free review of the student's resume; how to ace an interview and those are for international students.
With regards to the students who live Africa and come here, do you help them with visa application?
Maureen Klovers: Thanks for asking. We provide visa support and the processes is that you go through most of our loan process and we conditionally approve you then we will provide you a letter to take to the US Embassy that says yes, this student has enough funds to be in the US. The process to get a student visa is that you need to show you have sufficient financial support, so we will provide a letter that we are providing loans and together with other savings and amounts that should be sufficient.
What are you doing to broaden your outreach in Africa since you have been in existence for five years now?
Maureen Klovers: This interview is a start and we are also trying to bring more of our Nigerian borrowers and scholarship winners to raise our profile. We have a lot of scholarship programs but honestly Africans have dominated the winner's list. We have had winners from Nigeria, Malawi, and Kenya and so through our scholarship program we are getting the word out there. We started a new Facebook group, and Africans are by far the number one demographics in that group and we have also been doing focus groups through our consulting firm to better understand the challenges facing African students and women. Only 35 per cent of our borrowers from Nigeria are females, so that is what we have been focusing on. In terms of overcoming the barriers for women in Africa we have recently partnered with the Malala Fund and we are going to be donating $25 from each of our loans to them to support access to secondary education for girls in India, Nigeria and other places around the world.
Which fields of study will easily make students to meet your eligibility criteria?
Maureen Klovers: Actually we do not have any limit in the fields of study, you could be in any degree program but you are more likely to be approved at least for more money if you are in an MBA program or any STEM (Science, Technology, Engineering and Mathematics) degree just because your future earning potential is that much better. But I do not want to dissuade anyone from applying because even if you are a communications major or in the Arts or in some other field you can still get funding. But it is just more likely if you are in a business or STEM field.
In the course of your studies maybe the cost becomes more than you anticipated, are there prospects for applying for additional loans?
Maureen Klovers: Our lifetime cap for borrowers is $50K. A typical borrower borrows 31K, so they are below that. So, let us say you borrow 30K and you have a shortfall, you could apply to borrow another $20K and we see that a lot. We have some students like in one of our scholarship we have people like Fulbright scholars, and they get a hundred per cent scholarship and they can get a loan from us like $20K to cover their lodging, food and everything.
*For more information visit Mpower Financing