Zimbabwe: Hit and Hide, Mouse and Cat Relationship, ED Mnangagwa versus Tim Olkonnen
By Nevson Mpofu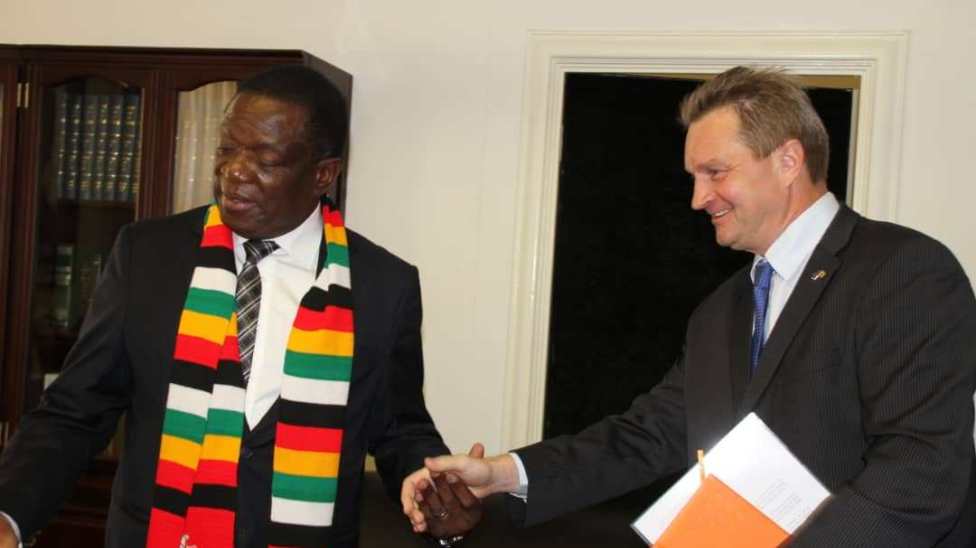 Harare—Stealth tempers are flaring in Zimbabwean Politics between President Emmerson Mnangagwa and EU Ambassador Head of Delegation to Zimbabwe Tim Olkonnen . The EU Ambassador has over the past days encouraged President Mnangagwa to exercise Human Rights.
The Head of Delegation in Zimbabwe last week challenged the new Regime to prove it had moved away from the Robert Mugabe old days.
''We are witnessing these days several developments that put constitutionalism and the rule of Law in question. A number of abductions have been witnessed in the country. The new regime must move away from the past act of doing. Zimbabwe should show it genuinely it has made a break from the past.'' Olkkonen was quoted by Journalists in Harare.
In evidence to show the flare of vented anger in a cat and mouse relationship, President Mnangagwa responded;
''The rule of Law Observance is not needed for the purpose of pleasing other countries. We need it because it is proper for ourselves''.
Another wave of political acrimony has burst with the avail of the information from a source who spoke to Pan-African –Visions Journalist early this week. The gathered information is that the police is training soldiers in a bid to thwart any opposition head-way towards initiation of political violence.
Several Army personnel confirmed the clandestine trainings in the country. The only grip of fear is that they are not feeling comfortable if caught suspected to have divulged the information.
''The Army will work with the police in a new strategy that is harmless to the public. This is not for the first time. In January this year, Army helped police. Now its vice-verse.
''A number of Army officers have been trained. Actually, this is the Third Batch. The training is that they are trained to play the game smart and smooth. They are trained to manage large crowds without using guns or any military weapon. Thus why it is police training the military'', he took a strong breath.
Asked to comment, an MDC official who gave a short comment said they are a number of demonstrations in planning with opposition. He pointed out that the opposition party is moving into ZANU PF strongholds.
'' Nevson , Just tell them and know we have a spate of planned demonstrations in our mind . We do it , we win it because people are suffering. We have plans as well to move around the country in towns and cities. I think these people are in panicky mode '' he concludes.
The source from MDC denied any knowledge about military trainings by the police .
Known sources to the Pan-African Visions took it a hide and locked their phones after realisation that there were calls in question. A source from the Civil Society Elston Chitombo said that is the reason why military is being trained because the past aborted demonstrations left scars of anger in MDC. He also commented that the Government wanted to follow International standards of human rights observation.
''They are afraid of MDC. A number of demonstrations were expected but Central Intelligence and police kept awoke. The Government fears Western powers over abuse of human rights. They now want to act well.
''It seems and looks like there is nasty secret hit and hide between Mnangagwa and the EU and America. This is so because EU Head of Delegation to Zimbabwe called for Zimbabwe's observation of Human Rights in the country. Lastly USA Ambassador to Zimbabwe Brian Nichols visited some victims of abduction and torture. One victim's legs were broken by eight men who abducted him. This is a hit and hide relationship   , Mnangagwa versa EU and USA'', He concludes.