President Mnangagwa Faces Embarrassment Over Disputed Burial Decision of Robert Mugabe
By Nevson Mpofu Munhumutapa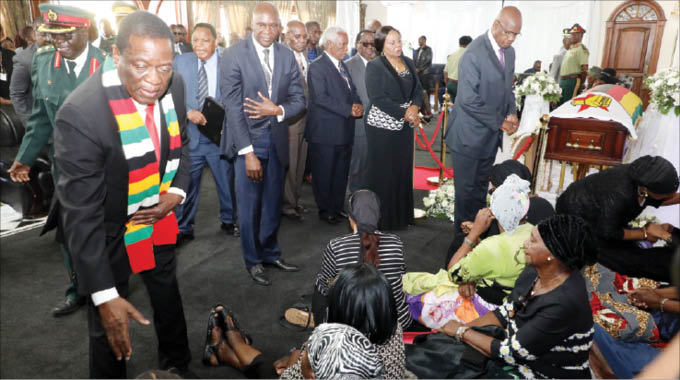 Harare-There are strong signs of fears come Sunday end of this week if it is finally decided that the late nonagenarian Robert Mugabe will be finally buried in Zvimba Rural his home area, 60 kilometres west out of Harare. An atmosphere of nasty animosity grips the Mugabe family versus the Government of Zimbabwe over the burial place of the purported founding Father of Zimbabwe.
This, the Pan-African-Visions Journalist confirms with whole-hearted truth that the President of Zimbabwe Emmerson Mnangagwa may face remorseful embarrassment if the former President gets buried in Zvimba  his home of vestige. There has been growing nasty symptoms of misanthropy between President Mnangagwa and Mugabe family since the former President was ousted of power in 2017 on 21 November.
A close top source in Government contacted for comment took it up that there has been mistrust between the Mugabe family and the current Government leaders who removed Mugabe out of power. The source was caught hold of for comment late yesterday sun-set time after Robert Mugabe's body had arrived.
''There are fears that President Mnangagwa may be embarrassed. There is a vibrant wave of mistrust, hatred and lack of faith in each other between the family and the Government led by Mnangagwa .
''Leading to the death of the former Leader last week on Friday in Singapore at Glen-Eagles Hospital , there have been spate of meetings about the burial of the former Leader who had announced a month before that he does not want to be buried at the Heroes Acre .
''The  Government obviously says the former President must be buried at the National shrine but this is against family members and relatives .There has been bad blood between two fighting groups ever since .
''There have not agreed yet. You will receive communication about the final decision in terms of burial. There is likelihood that there could be more nasty fears concerning burial place of the former Leader''.
Mugabe's Body Arrives..
His body arrived yesterday around 3pm in a Chartered plane. Grace Mugabe former First Lady was accompanied by Sydney Sekeramayi Former Minister of State Security, Ednah Madzongwe the former Senate President and Vice President Kembo Mohadi .
There was tense atmosphere of mistrust between two factions created by the nature of ZANU PF politics. There were groups of supporters on the side of Mugabe family and the other on President Mnangagwa's side.
Grace Mugabe who kept on weeping bitterly according to sources who were at the airport was in black clothes, sad funeral regalia colours, with a face covered. President Mnangagwa later addressed people before the body was taken to his home at the blue roof in Borrowdale.
''We are here gathered to give homage to the Founding Father of our country. He is the man who led Zimbabwe to Independence. He has been our Leader since time memorial when we were fighting for black rule. He is a Pan-Africanist , said Mnangagwa at the Airport .
''We shall announce to you about burial arrangements but for now the body will proceed to his home in Borrowdale. I kindly urge you to attend in big number to pay your last respect to the icon of Zimbabwe's Independence'', he said .