MAKING AFRICA TRADE EASY (MATE) "The African Diaspora linking U.S. and African businesses" HIGH LEVEL DIALOGUE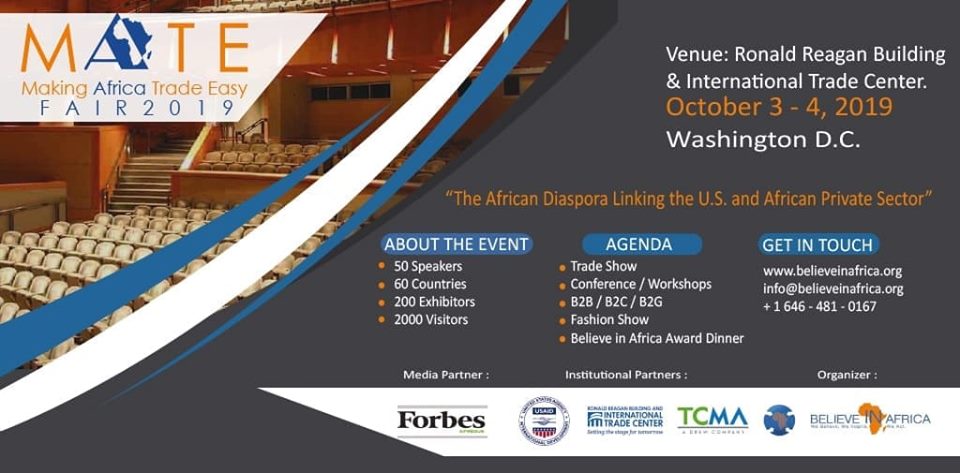 Washington, D.C.)- September 26, 2019–BELIEVE IN AFRICA (BIA) is honored to announce its first and largest African diaspora gathering conference called "Making Africa Trade Easy" (MATE) scheduled from October 3rd to 4th, 2019 at the prestigious Ronald Reagan Building & International Trade Center located at 1300 Pennsylvania Ave NE in Washington, DC 20004, USA.
"MATE is a collaborative and nonpartisan effort between the U.S. Agency for International Development and the Ronald Reagan Building and International Trade Center and Believe in Africa to unleash the African Diaspora potential as a catalyst for trade between the U.S. and African economies. This first edition aims at promoting the new U.S. Africa strategy "Prosper Africa" as well as advancing Africa's economic integration," said Mrs. Angelle Kwemo, Founder and Chair of Believe in Africa.
She added: "It is more importantly a platform that will allow two-way trade between African businesses and their U.S. counterparts, and therefore help strengthen mutually beneficial partnerships that create wealth, prosperity and lasting jobs on both continents."
MATE's program comprises a two-day trade fair, high level discussions, workshops on how to do business with U.S. agencies, a fashion show and cultural activities. We are expecting 200 selected high-level delegates from the U.S. and Africa, dozens of speakers and exhibitors and 1,000 visitors.
This year Award Ceremony will be hosted by Maureen Umeh, TV Host.
2019 Believe in Africa Awardees are:
H.E. Moussa Faki Mahamat, Chairperson, African Union Commission
Aisha Babangida, Chairperson Betterlife for Rural Women,
Samba Bathily, Founder, AED Group and
Dr. Gloria Herdon, CEO GH Global Group.
This years speakers included:
Hon. Ramsey Day, Senior Deputy Assistant Administrator for Africa, US Agency for International Development, Matthew Rees, Prosper Africa Coordinator, David Weld, Senior director, Africa, Millennium Challenge Corporation, Constance Hamilton, Assistant U.S. Trade Representative for Africa, Oren Wyche-Shaw, Deputy Assistant Administrator, US Agency for International Development, Alison Germack, Director of Corporate Development, International Development finance corporation, Heather Lannigan, Regional director for sub-Saharan Africa, US Trade Development Agency – Access Africa, Katie Auth, Acting deputy Coordinator, Power Africa, CD Glin, President & CEO, US Africa Development Foundation, Gregory Simpkins, Senior Advisor, US Agency for International Development, Martin Ezemma, Director of International Business, Prince Georges's County Economic Development corporation

African government Officials
Hon. Lesego Makgothi, Minister of Foreign Affairs and International Relations, Kingdom of Lesotho, His Excellency Albert M. Muchanga, African Union Commissioner of Trade and Industry, His Excellency Ambassador Fitsum Arega, Hicham Boudraa, Morrocan Agency for Development and Export, MADIE, H.E. DHR Sergio Akiemboto, Minister of Mines and Natural Resources, Suriname.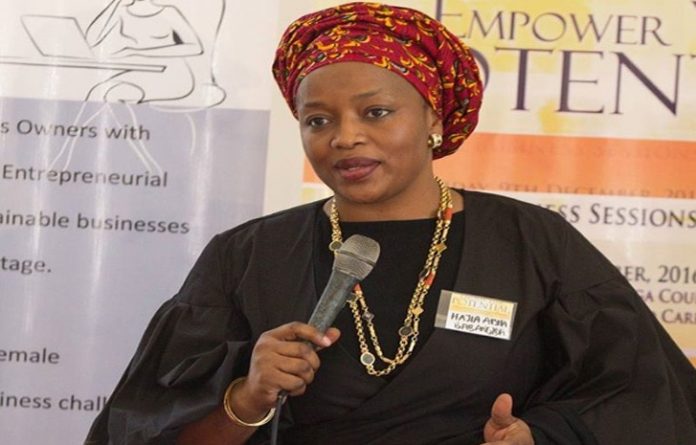 Actors in the Private sector:
Angelle Kwemo, Founder & President, Believe in Africa, Andrew Gelfuso, Vice president, Ronald Reagan building international trade center, Dr. Aurele Houngbedji, senior risk management officer, international monetary fund, Jeannine Scott, Board Chair, Constituency for Africa, Leila Ndiaye, President & CEO, Institute for Global Development, Flori Liser, president & CEO, Corporate Council on Africa, Scott Eisner*, president, Africa Business Council, US Chamber of Commerce, Samba Bathily, Founder ADS Group, Prof. Landry Signe, David M. Rubenstein Fellow in the Global Economy and Development Program, Brookings Institution, Yusuf Daya, senior manager, Afrexim Bank, Dr. Edem Adzogenu, chair, executive committee, the afrochampions initiative, Wilmot Allen, ceo, VentureLift Africa, Simon Tiemtore, chairman, Lilium capital &vista bank, Reda Rami, chairman, winvestment, Mohammed Ibrahim Jega, Chief Business Development Officer, CEO Vogue Pay, Franklin Assare*, Ghana director, oracle, Dr. Mima Nedelcovitch, Partner, Africa global , Ollowo-N'Djo Tchala, ceo, Alaffia, Albert Zeufack, chief economist, world bank, Salma Seetaroo-Bonnafoux, Ivoirienne de Nois de Cajou, H.E. Aisha Babaginda, Chairperson, Better Life for Rural Women, Rahama Wright, Shea Yeleen, Member U.S. Presidential Advisory Council on Doing Business in Africa, Shehnaz Rangwalla, President, Leadership Global, Dr. Sharon Freeman, President & ceo, Gems of wisdom consulting, Mariama Camara, mariam fashion production, Tebabu essefa, founder & ceo, blessed coffee, Dr. Gloria Herndon, GH Global, Andrew Gelfuso, Vice president, Ronald Reagan Building International Trade Center, Hope Sullivan, consultant, OIC of America, Dr. Malcolm Beech, Sr., President Africa Business League – America, Lledon Stokes, President, National Business League, Stanley L.Straughter, Chairman, African and Caribbean Business Council of Greater Philadelphia, Dr. Menna Menessi, secretary, Ethiopian diaspora trust fund, Awoke Semework, President, Ethio-American Chamber of commerce, Ambassador Robin Sanders, feeds, former Ambassador to Congo, Nigeria and Ecowas, Tumelo Ramaphosa, StudcCoin , Andrew Berkowitz, Crypto Media Company, Camilla Barungi, co-funder, Alliance 4 Development, Ed Thurlow, Bination, Alex de Bryn, Founder and CEO Doshex, Tamra Raye stevenson, CEO, Women Advancing Nutrition Dietetics and Agriculture, Kimberly Brown, phd, amethyst technologies, llc, Dr. Aunkh chanbalala, Director, Department of Science and Technology, South Africa, Adrian Gore, founder & ceo, discovery aid, Betty Adera, Betty Adera foundation
Believe in Africa (BIA) is an African Diaspora-led initiative founded by former U.S. congressional staffers and African leaders in the U.S., to empower young Africans, promote the role of the African private sector, harness the power of the African Diaspora, educate policy makers and the public about African economic growth and highlight the continent's gradual rise in the global community.
To learn more about BIA visit www.believeinafrica.org