Juba, Khartoum agree to stop wars in two nations
By Deng Machol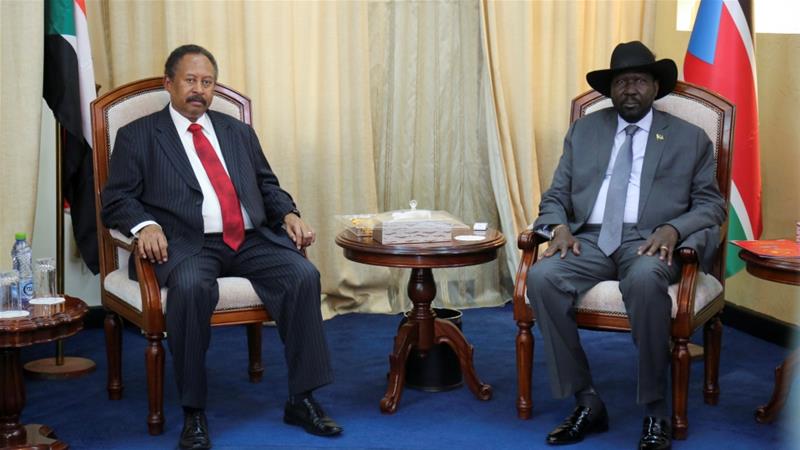 Juba – South Sudan President Salva Kiir and Sudan Prime Minister Abdallah Hamdok have agreed to work together to bring peace and stability in the two neighboring– countries after post – President Bashir's Sudan.
In the aftermath of the deposed of autocratic president Omar al-Bashir in April, this year and subsequent establishment of the new government, Juba and Khartoum relations has changed, and are now engaging in building new relations.
Sudan's new Prime Minister Abdalla Hamdok, who flew to South Sudan on Thursday September 12, 2019 on a two-day in his first foreign visit, met president Kiir at State House to cement a new plan for peace talks with many of the rebel groups fighting against the government, brokered the Juba government, and discussed bilateral relations between South Sudan and Sudan, including economic integration, border issue and settlement of outstanding issues in both countries.
Hamdok, a former U.N. diplomat, took office three weeks ago under an agreement between the military and civilian parties in Sudan after months of demonstrations against generals who seized power after toppling long-serving autocrat Omar al-Bashir.
The ruling Sovereign Council has set an aim to bring a swift end to insurgent conflicts that have plagued Sudan for years and made it a pariah under Bashir, wanted by the International Criminal Court for genocide in the Darfur region. It has installed a government of technocrats led by Hamdok.
On that, Juba is currently mediating peace talks between Sudanese armed groups and that government in an attempts to return peace and stability in country.
As the result, Sudan's newly appointed government and rebel leaders agreed Wednesday, September 11, 2019 in Juba on a roadmap aimed at ending war in the country by year end, following the military's deposed of despotic President Bashir.
The two sides signed an initial deal, known as Juba Declaration Pre – Negotiation Principles, and Trust Building Measures after three days of negotiations in Juba, capital of neighboring South Sudan.
Gen. Mohammed Hamadan Dagalo, better known as Hemedti, a member of the joint military-civilian sovereign council, signed the initial agreement on behalf of the government. He is the leader of the paramilitary Rapid Support Forces, which grew out of the notorious Janjaweed.
The deal was signed by the SRF, an umbrella group that includes three of the main rebel factions, among them rebels in Darfur, as well as by Abdelaziz Al-Hilu, leader of a wing of the SPLM-N, the main group fighting against the government in the southern provinces of Blue Nile and South Kordofan.
Sudan has been shaken by rebellions in its wide-ranging provinces for decades, resulting in tens of thousands of people being killed.
Fighting in the western Darfur province has largely died down in recent years, but rebels and militias are still active there as well as in the southern provinces of Blue Nile and South Kordofan.
The power-sharing deal between the military and the pro-democracy movement calls for the new government to make peace with rebel groups within six months. Talks are supposed to begin Oct. 14, with the goal of reaching a final peace deal within two months, according to the initial agreement.
The rebels include the Sudan Revolutionary Front, which is an alliance of Darfur rebel groups. It is part of the pro-democracy movement, and the Sudan People's Liberation Movement-North, which is active in South Kordofan and Blue Nile.
Juba, Khartoum relations
However, the political relationship between the two countries went sour immediately after South Sudan split out from Sudan in 2011 during the outer president Omar al Bashir's regime. Both leaders have been accusing each other of hosting and supporting rebel groups.
In the meeting, president Kiir assured his Sudanese counterpart of strong bilateral relations, saying cooperation between the two countries did not go well because former president Bashir's regime had intention to destroy South Sudan.
"The policy in Khartoum by then was that they must disturbed South Sudan so that we die naturally; to collapse but we survived," said president Kiir.
"The Sudanese people whether in Sudan or in South Sudan are one people in two [different] countries and that is what binds us together although we have not been staying good," he added.
President further assured his government support to Sudan to end its all forms of violence, promised his regime will reverse to the kind of relations both countries had during the president Bashir's regime.
"I must assure you that our relationship will change from where we ended with the former regime. [And] we hope, you will cooperate with us," said Kiir.
For his part, Sudanese prime minister, Hamdok promised that his government would work with Juba government to end all the grievances and mistrusts.
"I am looking for a very strategic, very distinguished relationship between our two nations and the sky is the limit," Hamdok said upon arrival in Juba. "I believe, there will be peace, stability, prosperity and development in our countries."
"He (Hamdok) is coming to cement the agreement as far as ending the war in Sudan," said James Wani Igga, South Sudan's vice president.
Meanwhile, South Sudanese Foreign Minister, Ms. Awut Deng Acuil, said the two leaders deliberated more on bilateral relations as well as outstanding issues concerning peace and stability in the two countries, including the issues of borders, economic and trade, cooperation and political matters.
"Time has come for us to stop the war in two Sudans," said Awut, while addressing the media at the state house with her Sudanese counterpart.
"We hope to have a very prosperous relationship that will address issues of trade, border, oil, free movement of our people between the two countries," Ms. Awut said.
She added that time is ripe for the two countries to silence a guns across the borders. "It is a high time for us to silent the guns in order to have sustainable peace in two countries – we should all agree to come out with a roadmap to work things together."
Sudanese Foreign Affairs Minister, Asma Mohamed Abdallah said all the pending or unresolved issues between the two sisterly countries had been touched so that the relationship would resume.
"The new government in Sudan will make sure that all the issues would be resolved, to move to the wider areas of [political] cooperation," said Asma.
The virtuous relations between the two sisterly countries are vital for trade and economic as well as the flow of oil from fields in South Sudan, which depend on pipelines that go through Sudan.
South Sudan seceded from Sudan in 2011 after decades of scorched – earth war, but descended into another war in 2013. The two sisterly countries have been since often accused each other of harbouring and assisting rebels fighting against their governments during the ousted president Bashir era.
South Sudan, which is also in conflict, is trying hard to bring a swift end to the five-year conflict that has killed nearly 400,000 people and uprooted 4 million people from their homes, through latest Khartoum – backing peace deal signed in 2018 by the government and key opposition groups.
The new transitional government is set to be formed on November 12, returned opposition leader Dr. Riek Machar as the president Kiir's first vice president.