Ivory Coast first lady Dominique Ouattara Talks Child Labor in Cocoa Sector
By Amos Fofung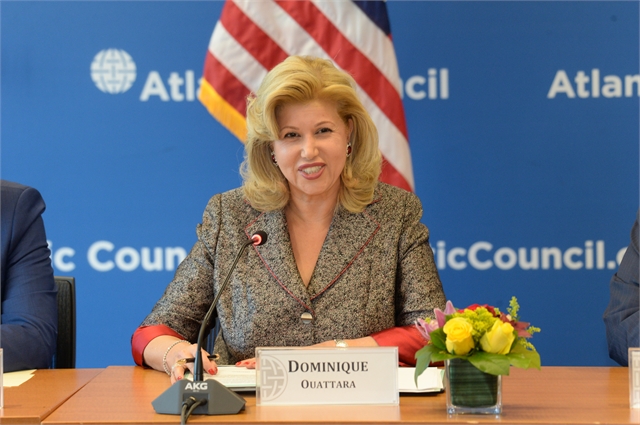 After a fierce rebuttal by the US administration with treats of sanctions and a possible ban on the importation of Ivorian cocoa due to allegations of child trafficking, exploitation and child labor in Ivorian cocoa farms, the first lady of Ivory Coast, Dominique Folloroux-Ouattara accompanied by a strong delegation from the West African nation, has presented the Atlantic Council with some stringent measures undertaken to fight child abuse in cocoa farms.
Speaking at the headquarters of the Atlantic Ocean, a think tank American organization that galvanizes US leadership and engagement in the world in the field of international affairs, the first lady asserted that they were deeply concerned by the letter written by Senators Ron WYDEN and Sherrod BROWN suggesting an embargo on Ivorian cocoa, because of child labor in cocoa production.
Recognising the fact that child labor plays a minute role in the Ivorian cocoa, a country ranked as the top producer of the beans worldwide, the first lady took out time to present measures implemented to fight the against child traffic which has adversely affected the cocoa sector in Ivory Coast.
"Since 2011, The National Oversight Committee, which I chair, and the Inter-ministerial Committee have carried out actions to curb child labor in cocoa farming, in collaboration with our partners. Since 2012, we have implemented three successive National Action Plans to combat child labor in Côte d'Ivoire. The third National Action Plan for 2019-2021 has just been launched, with a budget of 127 million dollars, to fight the root causes of child labor from a holistic approach."
+"Immediately in 2012 upon taking up my new role, I sought to understand: Who are these children who are working on cocoa farms? Where are they? Where do they come from? and do they go to school?" she said.
Citing research conducted by the US Department of Labor which revealed that 85 % of the children involved in cocoa farming attend school; live with their parents and occasionally accompany them to the fields after school hours and on weekends; and 15 %, they do not go to school and often don't live with their parents.
To her, these children are more at risk, and need all our attention.
"As regards forced labor, available research including recent studies undertaken by the American NGOs Vérité and the Walk Free Foundation estimate the number of children victims of forced labor in cocoa production at 0.17 % of the total population of children working in cocoa farming, she told attendees at the gathering.
She was accompanied to Washington DC by Patrick ACHI, Secretary General of the Presidency; Mamadou Haidara, Ambassador of Côte d'Ivoire to the United States of America; Patricia Sylvie YAO, Executive Secretary of CNS, the National Oversight Committee to Fight Child Trafficking, Exploitation, and Child Labor: Georges Koffi, Chief of Cabinet for the Secretary General of the Presidency; Nadine Sangare, Director of the Children of Africa Foundation; Tod Preston, Senior Vice President of GPG; Tessy Winkelman, CNS Consultant on Child Labor Issues and Brahima Coulibaly, Director of Communication.
Before forging ahead with her presentation, she took out time to thank Congressman Dight Evan; Chris Fomonyoh, Director for Africa at NDI; Connie Hamilton, Assistant US Trade representative for Africa; Ambassador Philipp Carter III; and Scoley, President of the World Cocoa Foundation, for their support and contributions towards bettering the cocoa production and marketing sector in Ivory Coast, stating that; "today's roundtable gives me the opportunity to present the progress made in the fight against child labor in Côte d'Ivoire."
On some of the implemented measures she said "We have launched extensive communication campaigns throughout the country. Changing mindsets and making farmers aware that child labor is strictly prohibited has proven to be the most important part of our work and it was difficult. We have explained that the children who help their parents on the farm after school should not be exposed to dangerous work, notably involving the use of machetes or pesticides."
"We have also hosted seminars and trained over 70,000 key players in the remediation chain, including cocoa farmers' cooperatives. In 2011, we realized that there were few schools near the cocoa-growing communities. To remedy this shortage, the Government of Côte d'Ivoire and its partners have invested massively in the construction of schools and canteens, health centers, and hydraulic wells, to improve the cocoa-producing communities' living conditions. 30,000 classrooms have thus been built in rural cocoa-producing areas."
All these actions, she said, enabled the Government to make schooling compulsory in Côte d'Ivoire, in 2016 thus increasing the number of children attending school from 59 % in 2008 to 90 % in 2019.
With poverty identified as the root cause of child labor, she explained the engagement of the President of the Republic who has undertaken reform of the coffee and cocoa sector that guarantees a fixed income for the farmers.
"For my part I am personally engaged in the fight against women's poverty, notably via FAFCI, a micro-credit program I have set up with the help of the President of the Republic; it has enabled more than 200,000 women to become autonomous and improve the living conditions of their families."
With Ivory Coast been the economic spearhead of French-speaking West Africa; with 40% of the French-speaking sub-region's GDP, many people from neighboring countries cross over for greener pastures and this leads to cross-border child trafficking.
As an offset to this, Dominique Folloroux-Ouattara stated that in 2017, she organized the conference of the First Ladies of West Africa and the Sahel on combating cross-border trafficking and child labor, with the participation of 14 West African and Sahelian countries.
"This conference allowed our different countries to sign cooperation agreements against child trafficking. As regards child protection and professional care, my Foundation Children of Africa has built three shelters for child victims inside the country to provide support and care for children victims of exploitation and to ensure their safe return to their families and their reintegration in society."
Citing laws put in place which has so far seen more than 220 traffickers have been sentenced to imprisonment, she beamed with smiles while saying their efforts have been acknowledged by the US Government.
"Indeed, the State Department has commended our initiatives on several occasions and has ranked Côte d'Ivoire among the countries that have made significant efforts toward the elimination of child labor. This has been the case every year since 2012."
"Furthermore, in May 2019 Côte d'Ivoire was recognized by the International Labor Organization as a pioneering country toward achieving Target 8.7 of the United Nations' sustainable development goal on the elimination of child labor."
Maintaining that over 6 million farmers rely on the cocoa sector to make a leaving, the first lady acknowledged the fact that the USA and Ivory Coast are both committed to eliminating the scourge of child labor in West Africa.