Guinea:Thin Skinned Ambassador Rains on Conde's Washington Parade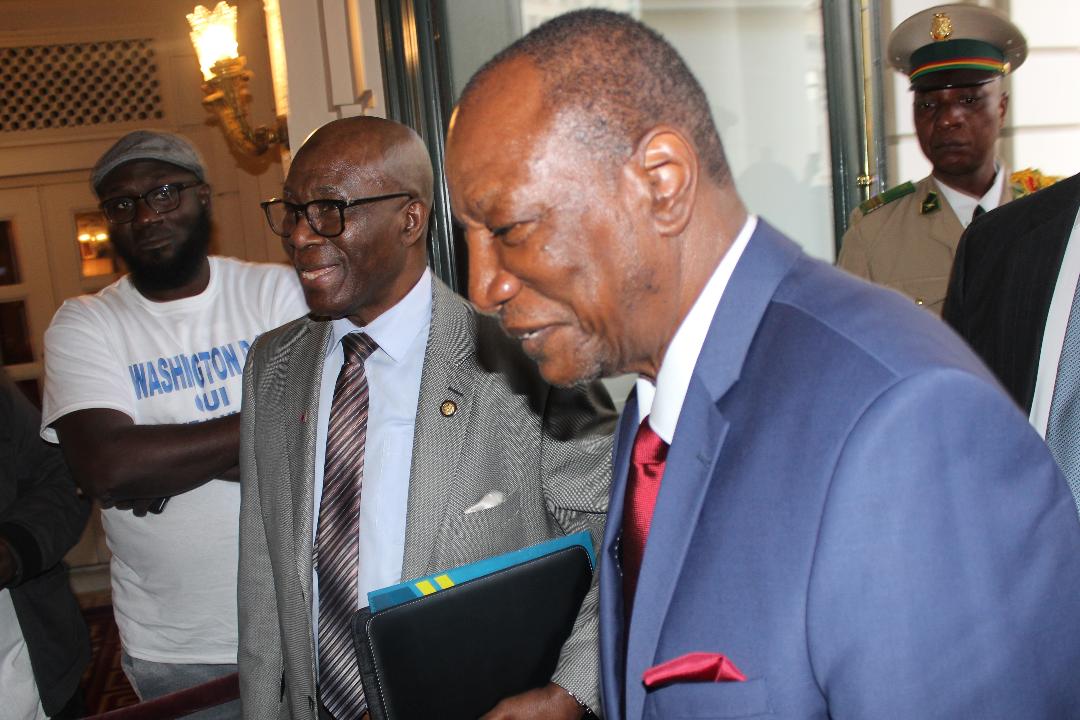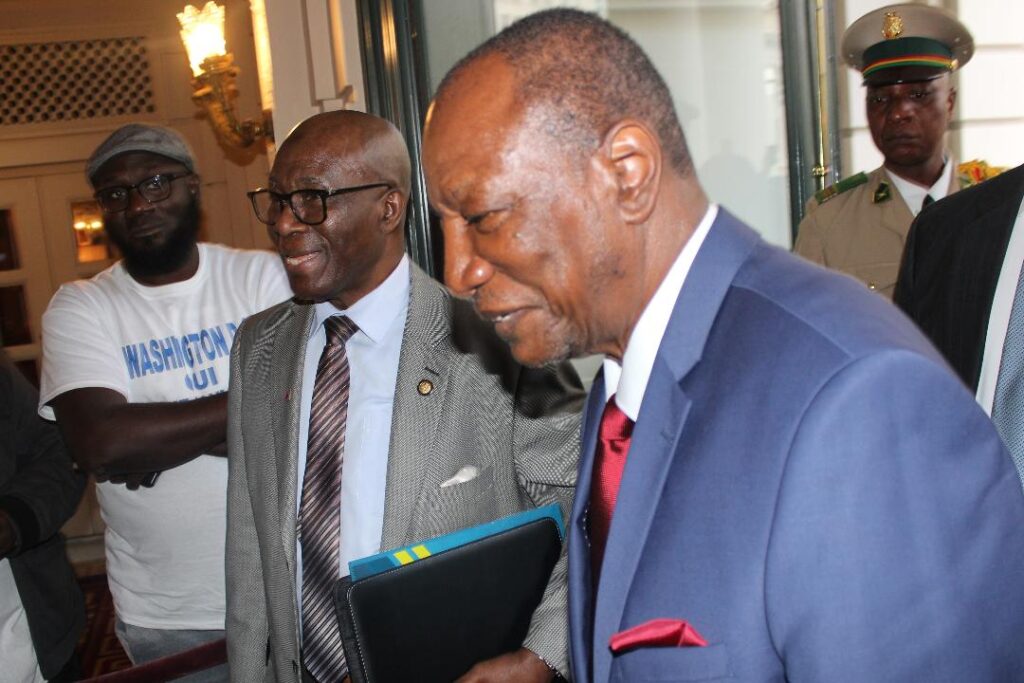 By Ajong Mbapndah L
A photo op to cement the signature of a mining accord with USAID for some mineral related research, a field visit to Pittsburgh, a trip to Houston for a business related event, meetings with former President Bush, Assistant Secretary of State for African Affairs Tibor Nagy, and Secretary of State Mike Pompeo, and dinner parties summed up what was supposed to be a charm offensive for Guinea's President Alpha to the USA.
While the President and his team tried to insist the trip was largely for business, and economic purposes, it was dogged by unanswered questions on the political future of President Conde, and the irrational actions of the Guinea Ambassador to Washington DC ,Kerfalla Yansane resulting in complains from some members of the delegation and frictions with a number of media organs.
Members of President Conde's delegation and his supporters accused Ambassador Yansane of refusing to share the President's itinerary with them, provide flags and effigies of the President, and doing all to discourage militants from adequate mobilization to add pomp to the visit. Ambassador Yansane was nowhere to be found when the President's convoy left for Pittsburg on 9 September.
On schedule to interview President Alpha Conde, Pan African Visions was barred twice, and sources eventually indicated that the reason was because the Ambassador did not appreciate an interview done with Journalist Ben Bangoura of AlloAfricaNews. Initially billed for Monday 9 September, this writer was told that Ben Bangoura who was accompanying him for the interview as a photographer will not be allowed anyone near the Presidential suite. Reasons? Non was advanced but it was indicated that instructions had been given to keep Ben Bangoura away from the presidential suite. While Bangoura left to avoid creating a scene, the interview was yanked despite the fact that this reporter had been cleared by security and asked to wait in the President's quarters at the Willard Hotel.
On Thursday 12 September, Pan African Visions was notified that the mix-up had been cleared and the interview was on schedule for 5pm. Again, this reporter made his way to the Presidential suite at Willard Hotel where he was warmly received and had good discussions with cabinet members and the President's communication team. Copies of PAV magazine were shared with them and it was agreed that the interview will be done in French. In wait to be ushered in for the interview, it was Ambassador Yansane himself who came out and announced the cancelation of the interview in a very unsavory manner. No explanations were offered for the cancelation.
From his election victories, the Ebola attack, to doing interviews with previous Ambassadors of Guinea to the USA, First Lady Djene Kaba Condé, Foreign Minister Lounceny Fall when he was still in office, and more, PAV has always provided significant coverage of Guinea in a fair and balanced way and it was puzzling to see this kind of highhandedness from Ambassador Yansane.
Sources told Pan African Visions that Ambassador Yansane was roiled by the interview of Ben Bangoura for the May Issue of PAV Magazine. Discussing developments in Guinea for the issue, Bangoura, one of the longest working African Journalists in Washington, DC, echoed the frustrations of Guineans on the third term agenda of President Conde. "It will be political suicide for President Conde to even remotely consider that possibility", Bangoura said in that interview. 
It was surreal to see Ambassador Yansane struggling to kick Bangoura out of reception organized by an independent entity for the Guinean delegation. In a move that embarrassed even cabinet Ministers who accompanied the President, Ambassador Yansane tried and failed to expel Ben Bangoura from covering the CFA stakeholders annual reception in Washington, DC His tyrannical behavior annoyed the organizers who invited journalist Ben Bangoura to cover their event. Amb Kerfalla Yansane must understand that unlike his country of Guinea, the United States values freedom of expression, and respects the press and no one should be pursued or harassed because of his views, one of the organizers fumed.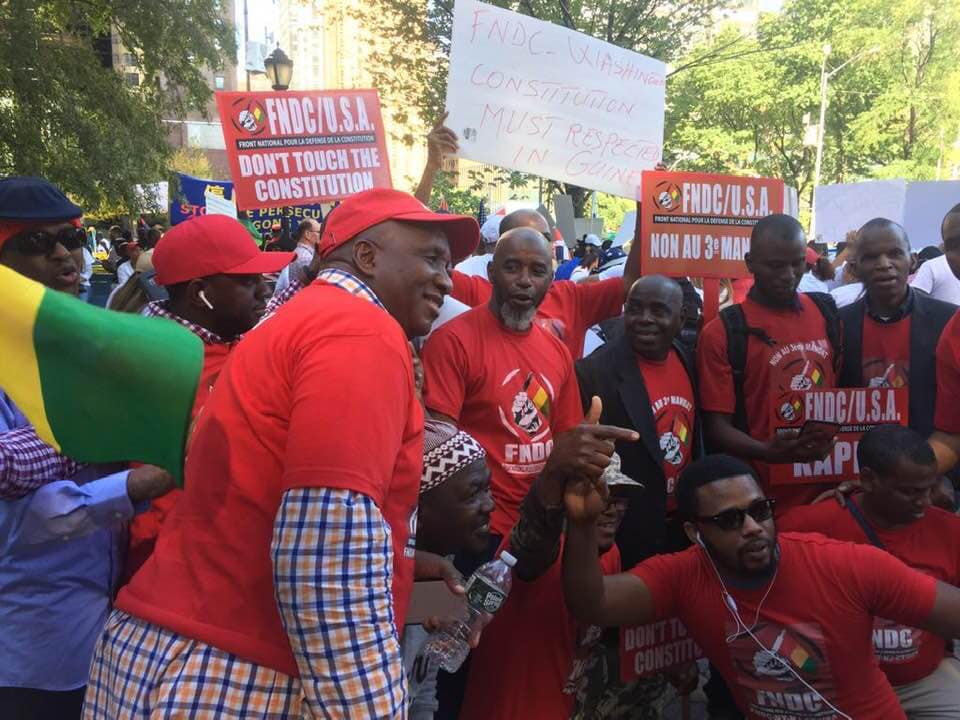 While he may be coy about the third term plans, the unprecedented pressure that President Conde faces at home trailed him throughout his unusually long stay in the USA. There were scenes of protests while the President was in Washington DC, and the protests accompanied him when he was in New York for the UN General Assembly.
"The Secretary discussed the upcoming elections in Guinea with President Conde, and conveyed the United States' strong support for regular, democratic transitions of power, which yield more accountability, stronger institutions, and less corruption," read a State Department released after President Conde's meeting with Secretary of State Mike Pompeo.
In a recent interview with PAV, Dr Christopher Fomunyoh Senior Associate for Africa and Regional Director at National Democratic Institute said "many Guineans remain hopeful that the day would come when a democratically elected president transfers power through the ballot box to his successor, something that has not happened since the country gained independence in 1958." 
Hailed in Guinea and across Africa for his historic fight for democracy and freedom, President Conde is one of the few opposition figures who succeeded in acceding to power through elections. It will be a big blow for democracy not just in Guinea, but the rest of Africa should President Conde of all people join the club of leaders who have decided to do away with constitutional term limits to remain in power.