Gambia:President Barrow says 2019 is a turning year for success, says economic grows
By Adama Makasuba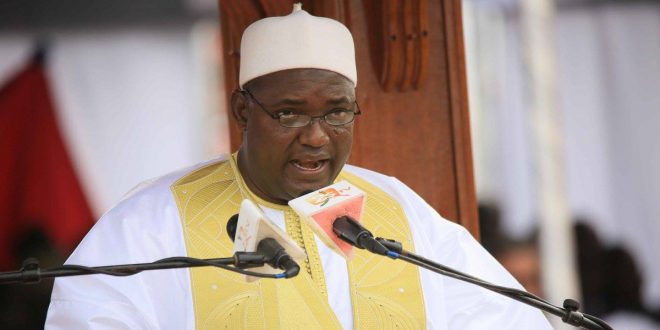 President Adama Barrow has described 2019 as a turning year of success for his government saying that the economy of the country has registered a significance improvement.
President Barrow was speaking during his third time of addressing the state of nation at the National Assembly in Banjul on Thursday where he spoke about quiet verities of issues regarding the development of the country.
"I am proud to report that the country economic growth has general strengthened while inflation has now moderated. For the past two years the economy grows by 4.8 per cent and improved to 6.5 per cent in 2018," he said.
According to him, estimates indicates that the current account deficit narrowed to 1.5 per cent of GDP in the first half of 2019 compare to a deficit of 1.7 per cent of GDP of the correspondent quota of 2018 in the balance of payments.
He added: "the improvement in the current account balance is attributed to the increase of foreign inflows related to the support of diaspora remittances and tourism."
He said the exchange rate of the country's dalasi (money) remains broadly stable which he said is supported by "market confidence in an increase
He said the total expenditure and net lending has declined from 11.5 per cent of the Gross Domestic Product last year to 10 per cent of the GDP in early part of 2019, adding "government physical operation for the first six months of 2019 indicated that total revenue and grants stood at 9.8 percent of GDP compare 8.6.of GDP in the same period last year."
Despite the government announcement of economic growth, many Gambians complaint that they are not feeling the growth of the economic and that living is increasingly getting harder and unbearable in the country.