Gambia:European Tour Wrap-Up, T. Smallz Tells Fans Thank You, Expect more Projects in 2020
By Bakary Ceesay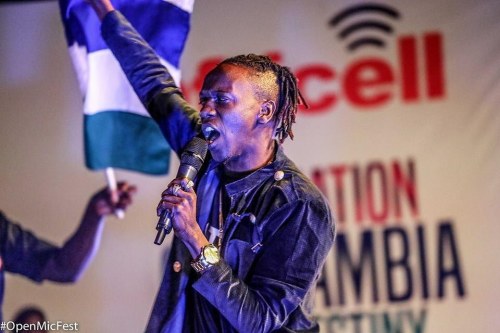 One of Gambia's finest singers and songwriter T. Smallz, has commended his fans across Europe for supporting him during his recent European tour in Germany, Italy, Sweden, Austria and Belgium was a huge success.
He also commended promoters, Djs, in Europe for having the trust and confidence in him in hiring his service in concerts across Europe, hoping that next year tour will be on fire again.
"You are the best keeping the fire blazing till me meet again let keep the vibes going,"
Katato, as widely called assured his fans across the globe to expect more projects in 2019 and the upcoming album 'Level Low'
The tour started on 20th July- 30th August, 2019, was organised by Warriors in a Dance and Katato Entertainment, paving the way for many. He is one of Gambian artistes who always tour Europe annually and returns home.
T Smallz performed at revered clubs and entertainment venues such as Pays Club, Club Casablanca, Karlsruhe, Club Calwer Stuttgart, Diamond Dance Café and Halle Saale all in Germany.
He performed at Austria, Vienna; in August entertain the Na Nang Club.
In Italy, he performed at the Playa Catania Lido Jolly Club and the Replay Club in Bologna, after moving to Sweden where he performed at the Styrso festival and then wrapping things up in Belgium.
He was speaking to journalists shortly before leaving the shores of The Gambia, telling them the objective of the tour is to reach out to fan-bases across the globe.
An international star singer, Smallz said the tour is necessary because not only Gambians listen to his golden voice over radio and podcasts. "It is prudent to do more shows in Europe to build a wider audience of followers and contacts, has a studio session with artistes, video shooting, sessions with deejays, producers and promoters across Europe."
According was huge people are loving the vibes in Europe, as his new 'Problem' featuring Lil Omz  was big in Europe and disclosed he shot a video for the song 'Elafta Elafta', the first single from his album in-making 'Level Low'.
"This is a big uplift for my music representing Gambia across the globe and at the same time educating and entertaining my global fans.  I commended all Gambian and non who come to attended the shows in their various cities," Smallz, also widely referred to as Katato -troublemaker for English, said.
"We commend them, however, we urge them to do more, and to do better for Gambia music to cross borders," the 2013 Nominated Male artiste of the year said.
He urged Gambian DJs to keep supporting and embracing Gambian music by playing it in their various concerts because a lot of good music is coming outta Gambia.