Banishing blinding trachoma in Egypt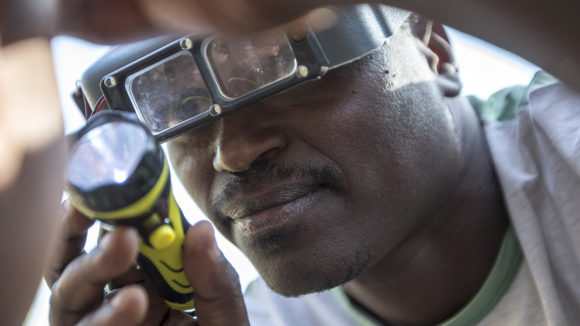 Antibiotics to treat the world's leading infectious cause of blindness have been delivered to nearly 300,000 people in Egypt.  It was the first mass drug administration (MDA) of its kind in the country for trachoma and is crucial in preventing children and adults from going needlessly blind.  It was delivered by the ministry of health and district level governates, with other organisations such as Sightsavers and other NGOs playing a vital role in distribution and facilitating its success.
Trachoma is an infectious and painful condition, which traps millions of people in a cycle of poverty because they are often unable to work. Over 1.7 million people in Egypt are at risk of trachoma, and a further 11 million live in areas where the disease is endemic, according to surveys taken in 2015.
To tackle the disease, community programmes have raised awareness and understanding of trachoma and how to prevent it, but until now no drugs had been mass distributed.
Egypt has a successful track-record in treating other neglected tropical diseases (NTDs). It was the first country in the Eastern Mediterranean to eliminate Lymphatic Filariasis (aka elephantiasis) and has made inroads to eliminating Schistosomiasis (snail fever). It is hoped this experience will help the country eliminate trachoma as a public health problem.
Philip Downs, Sightsavers' Technical Director for NTDs said:
"This is a real milestone for public health in Egypt. Blinding trachoma has been causing suffering in Egypt since the age of the Pharaohs – yet could very soon be banished to the history books if it is made a priority."
"This is the first time there has been such a large-scale distribution of antibiotics in the country. The Egyptian government, regional governments and other partners, have done a fantastic job to make this happen and proved that collaboration is key to overcoming challenges.
"But it's important to remember that this is just the first step – more work is needed before Egypt follows in the footsteps of other countries and eliminates trachoma."
The first trachoma MDA in Egypt happened in Matay, in the Menia region, at the end of July, where nearly 10 per cent of children aged one to nine had symptoms of the disease. Over the course of seven days health workers distributed doses of the antibiotic Zithromax®, donated by Pfizer, to 288,365 people aged six months and up.  Children under seven received their dose in the form of syrup. Teams issued medical advice as well as distributed the antibiotics, and included a nurse and a recorder. The teams went house to house in 24 villages and three suburban areas, travelling across difficult terrain, to villages nestled into the base of mountains, and even visited a Matay prison, where the director of health personally took a dose of the antibiotic in front of prisoners to encourage acceptance.
The 468 health workers also prepared communities for the drug distribution and shared information about trachoma through local media, social media, community leaders, policy makers, faith leaders, and other community organisations.
Dr Ahmed Mousa, Chairman of Nourseen, on the frontline of delivering the programme, said this community engagement was key to the success of the programme as it meant people knew what to expect and why it was important. He added: "The community was very receptive to receiving the drugs and the distribution went smoothly. Health education helps reduce a certain amount, but you need the drug to treat a big slice of the community all at once."
The treatment programme was delivered by the Egyptian Ministry of Health and district level governates, and was the result of a global collaboration with international organisations including Sightsavers, the World Health Organization (WHO), the Nourseen foundation, KCCO and the International Trachoma Initiative (ITI). Local government and NGOs played a vital role in distribution and facilitating the success of the treatment programme.
For more information about the global drive to eliminate trachoma please visit https://www.sightsavers.org/protecting-sight/ntds/towards-trachoma-elimination/
Ends
For images and/or more information please call 01444 446739 or email Katya Mira at kmira@sightsavers.org
Notes to Editors
Funders of the MDA in Egypt are the Egyptian Ministry of Health and Population and the Menia governorates in the Matay district, with Zithromax® provided by Pfizer and the International Trachoma Initiative (ITI). The project was made possible through a partnership with Sightsavers, the World Health Organisation, Nourseen Charity Foundation for Community Ophthalmology, Kilimanjaro Centre for Community Ophthalmology (KCCO) and ITI.
If momentum continues, trachoma could be just years away from elimination. In 2012 Oman became the first country WHO validated as having eliminated trachoma as a public health problem, followed by Morocco in 2016, then Mexico, Cambodia and Laos in 2017, and most recently Ghana, Iran and Nepal in 2018. China, Togo, The Gambia and Myanmar are also believed to be on the cusp of elimination.
About Sightsavers
Sightsavers is an international organisation that works in more than 30 developing countries to prevent blindness, restore sight and advocate for social inclusion and equal rights for people with disabilities. It is a registered UK charity (Registered charity numbers 207544 and SC038110) www.sightsavers.org
Sightsavers holds Independent Research Organisation (IRO) status, making us one of the only international non-governmental organisations to hold this status in the UK. We conduct high quality research to address global gaps in knowledge and put research findings into practice by feeding them back into the design of our programmes.
There are 36 million blind people in the world; 75% of all blindness can be prevented or cured.
In the six decades since its foundation, Sightsavers has:
Supported over 1.1 BILLION treatments for neglected tropical diseases
Carried out over 10.2 million operations to restore sight
Trained more than 795,427 primary eye care workers
Carried out rehabilitation training for 225,954 blind or low vision beneficiaries
Supported 62,908 blind or low vision children to gain a school education