World Humanitarian Day: UN SG Calls on the Protection of Humanitarian Workers in conflicts
By Boris Esono Nwenfor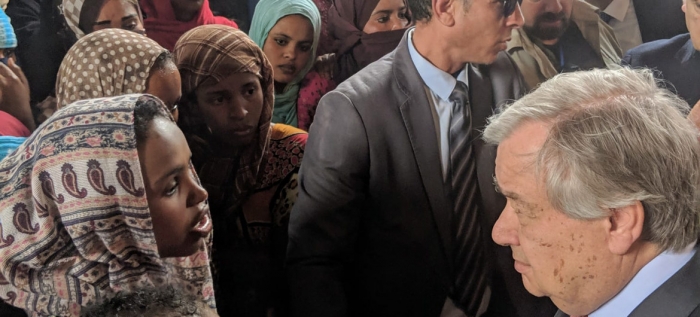 United Nations Secretary General Antonio Guterres says world leaders, and all parties to conflict must ensure that humanitarians are protected from harm as required under international law. The UN scribe was speaking as the world celebrates the International Humanitarian Day, with tributes being paid to women humanitarians around the world.
In his address, the UN SG said "World Humanitarian Day honors humanitarians around the world who risk their lives to help save and improve the lives of others. This year, we pay special tribute to women humanitarians and the huge difference they make for millions of women, men, and children in urgent need."
"From supporting civilians caught up in crisis, addressing disease outbreak, women humanitarians are on the front lines" while adding that "their presence makes aid operations effectively by increasing their reach. It also improves the humanitarians respond to gender-based violence which increases during crisis."
He added that serious violations of international humanitarian and human rights law continue around the world, and they must be investigated and prosecuted.
In a tweet, David Gressly, UN Ebola Emergency Response Coordinator saluted all the women humanitarian workers who have been at the battlefield against the dreaded Ebola virus. He said, "Each #Ebola crisis has its own challenges. I am Grateful for the amazing #WomenHumanitarians and partners addressing the current outbreak in #DRC."
He added "I stand with all the #WomenHumanitarians who relentlessly put their lives on the line in the fight against #Ebola. Let's honor their efforts by working together to ensure no more lives are taken by this terrible disease."
Allegra Baiocchi, UN Development and Humanitarian Coordinator in Cameroon on her part tweeted "It is #WorldHumanitarianDay! Stand up for humanitarian workers around the world. Honor their courage, their commitment, and their sacrifice.
As a part of this year's celebration, the UN and partners are launching the #WomenHumanitarians globe campaign to pay special tribute, and raise support for the work women do to save lives and alleviate human suffering.
The day celebrated every 19 August dates back to 2003 when the UN Headquarter in Bagdad was targeted by a large terrorist truck bomb, killing 22 people including Sergio Vieira de Mello, the UN's top representative in Iraq.
Across the globe, 250,000 aid workers are women-a figure that amounts to more than 40 per cent of the humanitarian workforce as aid work becomes increasingly difficult. Since August 2003, more than 4,500 aid workers of all genders have been killed, injured, detained, assaulted or kidnapped while carrying out their work, according to the UN. That averages five attacks per week. Women's aid workers are also high risk to being robbed, sexually assaulted and other violent attacks.
Last year was the second-worst on record, and the worst for the past five years concerning aid workers security, according to ReliefWeb. In 2018, there were 405 victims, with 131 aid workers killed, 144 wounded and 130 kidnapped across the world. ReliefWeb added that "So far in 2019, some 156 aid workers have been attacked on the job with 57 killed, 59 wounded and 40 kidnapped."