Sudan seeks president Kiir's succor in resolving its political crisis
By Deng Machol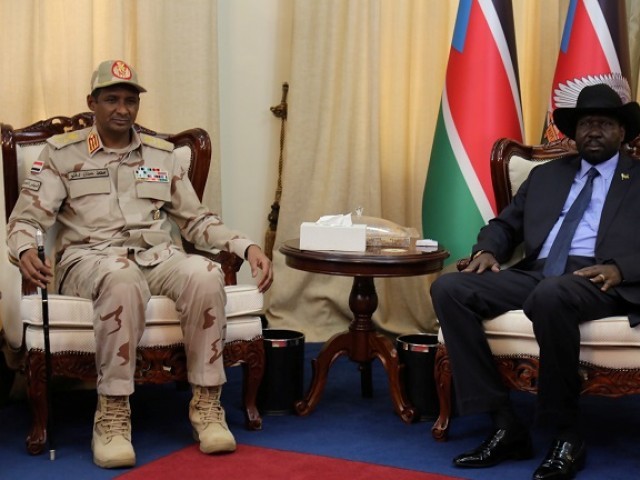 Juba – Sudan warring leaders convened in Juba over the weekend in a bid to seeks South Sudanese president Salva Kiir's assistance in resolving years of stalemates in its internal political crisis.
This comes after president Kiir's move to initiate peace between Sudan rival groups a month ago in an effort to bring peace and stability to his foe Sudan.
Sudan deputy chairman of the Transitional Military Council, Gen. Mohamed Hamdan Daglo, formerly known as Hemeti, led delegations to Juba on Saturday, discussed peace with the two Sudanese opposition leaders Gen. Abdel Aziz Al-Hilu of South Kordofan State and SPLM/A-N leader Malik Agar of Blue Nile State, in auspice of president Kiir in the presidential palace.
Gen. Hemeti, who also commands a paramilitary group known as the Rapid Support Forces, is on his first trip to Juba since his appointment as deputy head of Sudan's military council following the April ouster of president Bashir after months of protests.
The visit comes after members of Sudan's opposition coalitions reached what they call a 'political deal' in Addis Ababa, Ethiopia this month.
The peace talks were part of the implementation of the power sharing deal between the protest leaders and the transitional military council signed in Khartoum recently, aimed at establishing how to implement the deal reached by the rivalry parties in Sudan.
Gen. Hemeti is the one at the forefront of peace talks with opposition groups in Sudan, but the protest leaders and military council leaders are still yet to sign a 'constitutional declaration.'
Sudanese opposition groups has been fighting to topple the regime in Khartoum for years in the Darfur, Blue Nile and South Kordofan regions respectively during the deposed president Omar Hassan Al-Bashir
In the joint press, Sudan's rival groups say they agreed to extend a ceasefire to stop war, as coming together as one people and bring peace and stability.
Gen. Hemeti appreciated president Kiir Mayardit for initiating peace talks process between Sudan's rival groups.
"We are in our second home. We met with Malik Gar, our meeting went successful – we agreed on key things, [with] God willing, the war will come to end." "We welcome our brothers who have taken arms against the government of Sudan – their presence and views are very important to us in Sudan, and we really need them to come back home. It's their home, we really need them for stability," said Hemeti on Saturday in Juba.
SPLM/A – N leader Malik Agar, said the preliminary discussion had led to concrete decisions in future, as the two parties agreed to extend a ceasefire agreement and open humanitarian corridors to the war affected areas.
"We have reached consensus on humanitarian assistance and interventions in the areas that are affected by war. We have to renew cessation of hostilities and opening the humanitarian corridors," Agar said. "We have signed several agreements before but they have not been implemented but this time, I hope, everything will go on well."
The members of SPLM/A – N and other opposition groups are in Juba after forcibly expelled from Khartoum following the wake of a deadly raid on protest sit-in in Khartoum in earlier June, killing over 100 protesters
However, Sudan military council has also pardoned rebels fighting Khartoum regime, including all rebel leaders tried and convicted for treason in absentia.
In spite the separation in 2011 after the decades of scorched – earth conflict, South Sudan and Sudan are still held by pre and post – independence unfinished deals.
As the axiom say, "the birds of same feather flown together," Khartoum was recently seeing as instrumental mediator on the fragile revitalized peace deal, inked by Juba's warring parties last year, to ended five-year of civil war that has uprooted four million people from their homes and killed 400,000 people.