Sierra Leone:Former VP turns sod for the construction of Berewa Academy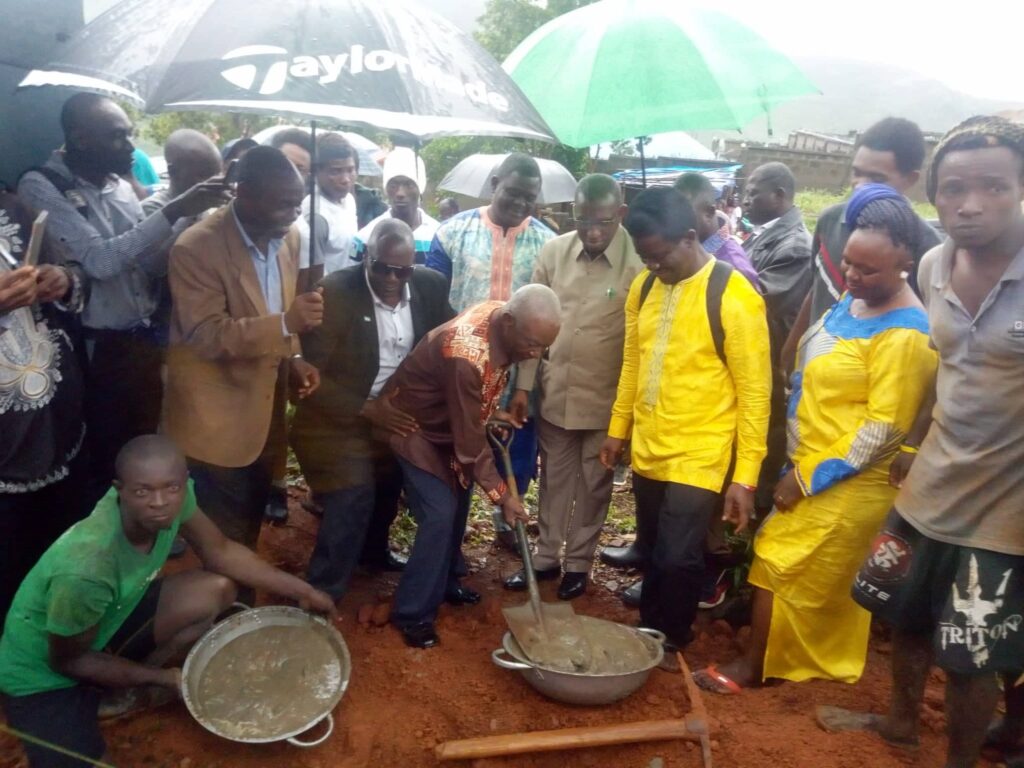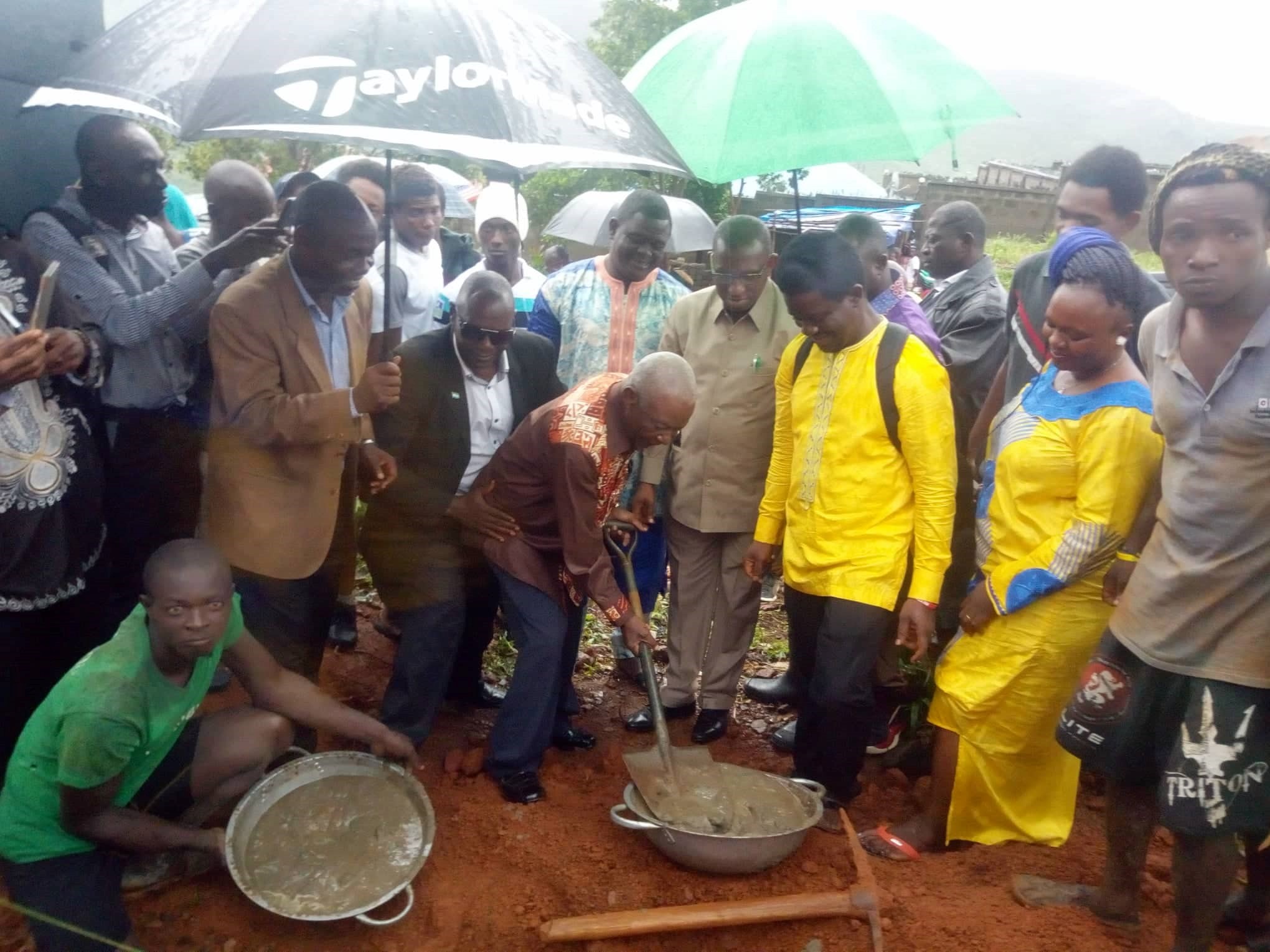 The former Vice President of Sierra Leone Republic of Sierra Leone together with the Minister of Basic and Senior Secondary Education (MBSSE) has on Tuesday  6th August, turned the sod for the construction of the Solomon Ekuma Berewa Academy at the Mogegba, Mothaim Community, Regent, Western Rural District.
Speaking at the Foundation Mass and turning of the Solomon Ekuma Berewa Academy, former Vice President of Sierra Leone, Solomon Ekuma Berewa said, he has only  met Moses Sesay the proprietor of the school for the second time adding that his son , a father in the Catholic Church have interacted a lot with Moses whom he  spoke that he wanted to use my name in his school he wanted to build.
''So, my son contacts me, and of course that very area that Moses has told you about, I have a school there already at the Charlotte, named Solomon Ekuma Berewa School if you go there, you will see it there.  So as Moses came to me, I didn't refuse and agreed instantly and told me that he wanted to turn the sod of the school on the 5th August and told him the 6th August will be my birthday and so he decided to do on my birthday.
He said he felt very proud that as a country, that we still have young people like Moses who chose to build a school instead of building a house for his family adding that he honestly admired him a lot and prayed that God help him.
'' Anywhere education is, I will go there, tomorrow, tomorrow, the only thing that will make this country develop is education. I travelled all over the world and I have seen it. This clique business won't help,'' Solomon Berewa said.
The former States man added that most young men and even some elder people that have money don't think of the poor and needy and therefore asked the people to   pray for him for his kind heart and good intention for his people.
'' Just last week Thursday, I went to my town, I spent long time talking to school children and parents. I told them what the President meant by the Free Quality Education. It is very important for us to do that, as he was going. Let's try and help the young ones''
The former states man also mentioned about the bad state of education in the country, referencing that the girl child isn't safe anymore.  Teachers are thieving, university lecturers sell questions, asking the crowd how long a country will as, be in this kind of state.
He however asked people to support the school and promised that from time to time he will be visiting the school and will see how best they will harness resources to develop the school.
Alpha Osman Timbo, Minister of Basic and Senior Secondary School (MBSSE) in his statement congratulated the Moses Sesay for his brilliant initiative as young person to see the need to invest in education.
'' Any thing that is done in honour of Solomon Berewa and some of us are around, we will be at the forefront to make sure that it is achieved,'' he said, adding that he is very proud of the former states man as his commitment to serve humanity is unparallel.
He said the President Julius Maada Bio introduced the Free Quality Education to see that the country develops to change the narrative adding to make it happened we must make sure that we promote quality education.
''We have to empower these children to make sure that we change the narratives that would take the country forward''
He added that the commitment that the President has made, that they have a responsibility they succeed in that area despite it has huge financial implication which he boasted they were very much prepared to make those priorities.
''With that I just I want to tell the community people to take the project as their own. stating that any body that will benefit from this school, this Mogegba, Mothaim community will be the first to benefit,'' Minister Timbo stressed.
The MBBSE Minster assured the proprietor for his links to help in the building of the school.
Proprietor of the Solomon Ekuma Berewa Academy, Moses E. N. Sesay said the school will be a four-story building comprising of over 12 class rooms adding that it would cover the Mogegba community and its environs.
He said he decided to name the school, the Solomon Ekuma Berewa because he believed that the former states man is a true father of democracy stating that he deserved a lot of respect and honour.
He further said that the children that would be attending the school will not pay a cent adding that it will help in the development of the country.
''This has been my long dream, and my long vision, the reason why I decided to open a school is that I come from a humble background. I used to break stones to pay my fees I struggled a lot and I promised myself if I made it in life I will build a school,'' Moses Sesay said.
He however called on the people to join him in the building of the school and to take ownership as this development will be a lasting considering the academy will be the first of its kind in that part of Freetown.
Head man Mogegba Village, Benjamin A. Sesay thanked Moses for bringing this development and promised that they will cooperate with him to see that the project become a reality.