Sierra Leone: NEC cancels Re-Run Parliamentary election in constituency 110
By Ishmael Sallieu Koroma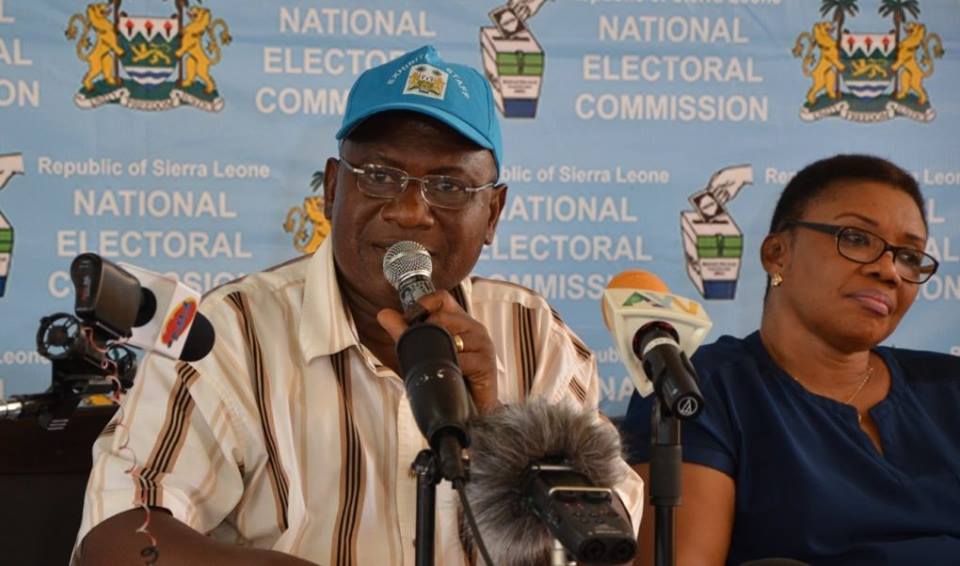 Sierra Leone's Electoral Body, the National Electoral Commission (NEC), has in a press statement today said it has cancelled Saturday's Parliamentary re-run elections in constituency 110, Western Rural District due to violence in the centre which led to the destruction of 10 ballot boxes containing used ballot papers and other electoral materials destroyed.
''As a result of this incidence, voting did not end peacefully at the said polling stations. This seriously undermines the integrity and credibility of the electoral process and adversely affects the outcome of the polls. In View of the foregoing, the National Electoral Commission regrets to inform contesting political parties and the general public that it has cancelled the polls for constituency 110 Re-Run Parliamentary Election in the Western Area Rural District. A new date for the conduct of the said election will be communicated in due course,'' the release said.
The press statement which was signed by the Chief Electoral Commissioner , Mohamed   Nfah Alie Conteh reads'' By the power vested in it under section 33 of the constitution of Sierra Leone ,1991 (Act No.6 of 1991 ) and pursuant to the provisions of section 39(1) of the said constitution , section 69(1) and 70(1) of the Public Elections  Act 2012 (Act no 4 of 2012) and the judgement of the High Court of Sierra Leone dated the 31st May , 2019 , a Re Run Parliamentary bye lections was conducted by the National Electoral Commission  (NEC) in constituency 110 Western Area , on the 24th Day of August 2019, in accordance with the relevant electoral legal frame work.
The Vacancy occurred as a result of a judgement passed on the 31st day of May 2019 , in the High Court which ordered inter alia that the parliamentary election conducted on the 7th March 2018 in constituency 110 in the Western Area Rural District be declared null and void; the seat be declared vacant and the National Electoral Commission to conduct elections ''not later than three months from the date of this order' in the said constituency.
''Tallying was done at the NEC National Data Centre at Wellington Industrial Estate Freetown on 24th August 2019. Accredited political parties' agents and observers witnessed both the lections and the tallying processes. A total of 135 polling stations results were entered into the result data base representing 93% of the total number of polling stations in constituency 110. After entering results of the 135 polling stations, the difference between the two candidates with the highest valid votes is 174 excluding results from 10 affected polling stations, which materially affect the status of the result,'' the NEC release further stated.
Four (4) political parties contested the parliamentary Re-Run elections, the All People Congress party, (APC) the National Grand Coalition (NGC), the Sierra Leone Peoples Party (SLPP) and the Unity Party UP)
''The Commission wishes to assure the public of its continued commitment to conduct transparent and credible elections in Sierra Leone, 'the release ended.
Meanwhile, the main opposition APC party has in a strong worded statement said '' The APC wishes to emphatically make it known that we shall not accept the verdict of NEC to illegally cancel the results that we have been able to win at huge costs to our party , and we call on the international community and all peace -loving and patriotic     Sierra Leoneans to bring pressure to bear on NEC to reverse their arbitrary decision in the best interest of peace and stability in our beloved Sierra Leone''