Rachid Taha leaves us Je Suis Africain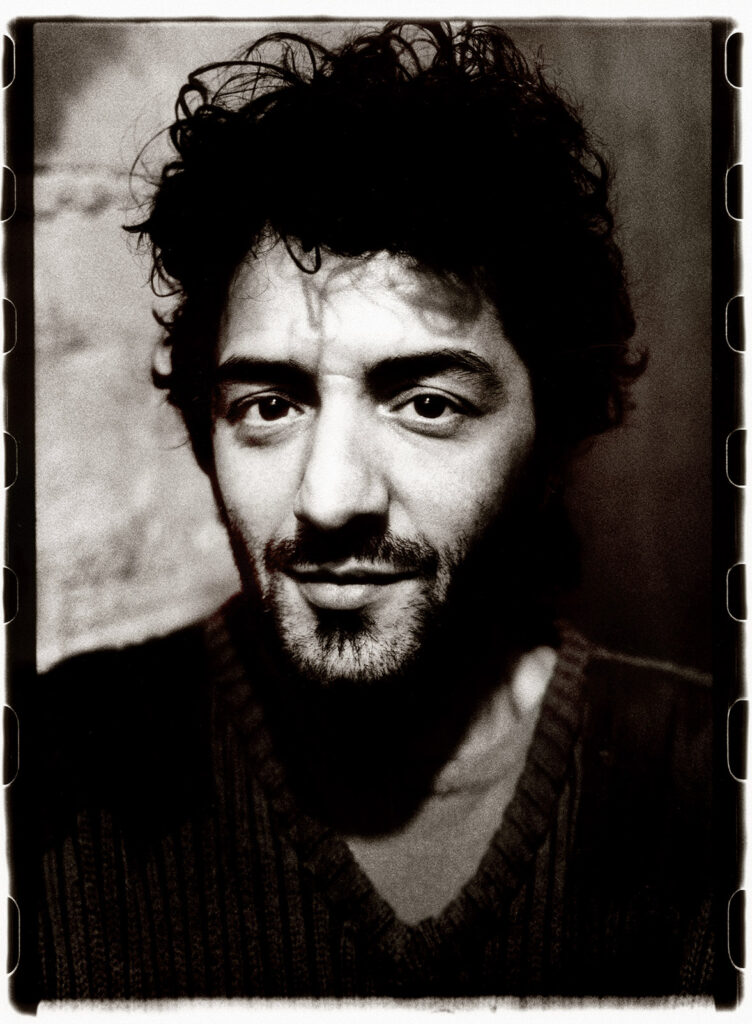 A posthumous record? "Nothing to declare!" as Rachid would have said, leaning on the bar counter, with messy hair, bright eyes, and a raspy voice. He's there, you can't miss him. He may be laid to rest in Algeria, but he hasn't left us. He knew that those who are allegedly missing are well and alive: "Do you really know the others?" the master of rock-Chaâbi once asked, quoting the greats Johnny Cash, Oum Kalthoum, and Andy Warhol in a prophetic song titled Andy Walhoo. He wrote this arabic-punk-electro piece with guitars, balafon, and mouth harp before succumbing to a heart attack on September 12, 2018. "I was there with you last night, you told me to come. Every week you tell me, I'm waiting for you in my slum, there's a Picasso exhibition, go see him. What a bastard, he had a nice mirror, I saw Jean Cocteau kissing Jean Marais," he sings, ending with a big laugh. So nobody is gone, they live on in us.
With boundless energy, Taha wrote eleven songs together with Toma Feterman for his eleventh solo album, diving deep into his roots as usual. First, Algerian Chaâbi, so subtle, yet so complex. Then rock, which took the world by storm during the postwar period, and punk, its offshoot, in the style of The Clash. Finally, electronica, the musical revolution of the late twentieth century, as hypnotic as the Gnawas guembris or Sufi trance sounds. Rachid was influenced by all of it.
Youyous, flutes, women's choirs, metal riffs: the French-Algerian, however weakened by the paralyzing effects of Chiari malformation, which he suffered from, created whirlpools, deluges, torrents. He invited us to dance with Andy Walhoo, and also with Like a Dervish, his "first song in English, I know I'm cheating, my English is not so rich." His plays on words were irresistible: English, backich, dervish, merlich… The troublemaker of the "alternative Koran" also used to speak francarabe, a mix of French and Arabic, which he used to both celebrate and mock the Jewish masters (Lili Boniche, Reinette l'Oranaise, Line Monty…), humming their oriental boleros, such as Chérie je t'aime, chérie je t'adore and Bambino.
That's why his new record, which he had been working on for two years before he was buried in the Sidi Benziane cemetery, had to be in mandoline-embellished French. One of the songs is called Minouche: "Minouche ma minouche, pourquoi tu te fâches, ne prends pas la mouche, ma jolie peau de vache… Minouche, donne-moi ta bouche" (Minouche, my little Minouche, why are you upset, don't get into a huff, my pretty vixen… Minouche, let me kiss you). A popular dance tune for sure, with words sculpted by Jean Fauque, who worked closely with Bashung and Erwan Séguillon.
The rough voice and wild blend of styles don't give an accurate description of this son of immigrants (born near Oran, Algeria, he was raised in eastern France and later settled down in Lyon). Rachid the rebel built bridges, "introducing beautiful people to the world" by singing Charles Trenet's Douce France with his first band, Carte de séjour (French for "resident permit"), in 1986 to mock French integration while the Marche des Beurs (March of the French Arabs) was being broken up and François Mitterrand was celebrating the creation of SOS-Racisme (a movement of anti-racist NGOs founded in France in 1984). In 1998, he created a transgenerational hit with the album Diwân, which included a cover of Ya Rayah, the anthem of Algerian immigrants composed by the Chaâbi idol Dahmane El-Harrachi (1925-1980).
Throughout these years of experience—which also marked the rise of Oranian Rai music, which Rachid sang the traditional way, following in the footsteps of the great Cheikha Rimitti—he worked with Steve Hillage, whom he met in 1984. The former Gong guitarist was a lover of looped electronic rhythms, and starting in 1997, he infused his energy into the creation of Voilà, voilà, an anti–Front National, anti-xenophobic song that Rachid would never stop singing.
And ever since this sensory overload, Rachid continued to speak to us, and jostle us, in Arabic, French, Franglish, and even Spanish, through the limpid voice of the young Flèche Love (Amina Cadelli, born in Geneva of an Algerian mother), whom he discovered on YouTube after finally being introduced to the digital tablet. This extraordinary tattooed and esoteric artist accompanied him on Wahdi, a song with Gnawa rhythms, to which he added a Mexican trumpet, evoking Ennio Morricone.
The album was produced and co-written by Toma Feterman, a gifted multi-instrumentalist and founder of La Caravane Passe, a band that mixes rap, gypsy jazz, Balkan fanfare, alternative rock, and electro.
Toma and Rachid hung out at the same bars and clubs in the north of Paris (Bellevilloise, Cabaret Sauvage), following their friend Remy Kolpa Kopoul of Radio Nova (a French radio station created in 1981, which played non-mainstream and underground artists of various musical genres), whose death in 2015 left Rachid feeling orphaned.
Toma then asked him to sing Baba, a song that he had just written for Canis Carmina, his band's next album. Over the course of one night, the two friends recorded a dozen tracks. "I used the recordings from this first session," Toma said, "without needing to make him sing again, because there was nothing to change." They improvised, and it was the beginning of a frenetic, productive adventure, of nights partying at Toma's or Rachid's, or spent in the studio. Hours of creation and surprises shared with his son Lyes, his friend Toufik, his mandolin player Hakim Hamadouche, and his former keyboard player Yves Fredj Aouizerate, who was also his last manager.
It was a club, a family, a community, a trip. The adventure even passed through studios in Bamako, because Rachid is African, having been born in Algeria, bordering Mali, the Mandingo musical empire. Je suis africain(I am African), the song that gives its name to the album, is an homage to the sounds of this great continent, that weaves together soukouss guitars, an Arab-Andalusian orchestra, Middle Eastern violins, balafon, and talking drums. "I am African, from Paris to Bamako, from New York to Congo"—the magnificent joker is having fun, playing with elegance. He takes the accent of a "fantastical" Africa and quotes Marley and Malcom X, Kateb Yacine, Franz Fanon, Patrice Lumumba, Angela Davis—all of them "African."