Mozambican President Filipe Nyusi holds talks with Vladimir Putin in Russia
By Arnaldo Cuamba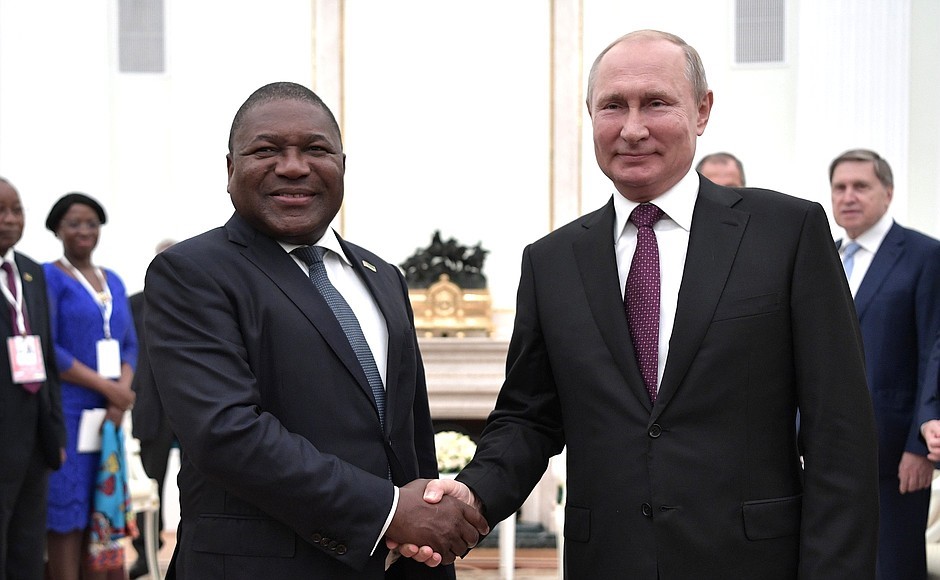 Russian President Vladimir Putin held talks with the Mozambican President Filipe Nyusi, who is in Russia on an official visit since Tuesday until friday. The leaders discussed issues related to the further development of Russian-Mozambican cooperation in various areas, as well as current international and regional issues, according to a press release seen by Pan African Visions.
Following the talks, Putin and Nyusi witnessed the exchange of documents signed during the a meeting at the Kremlin, Moscow.
The list of signed documents includes an intergovernmental agreement on mutual protection of classified information and an agreement on cooperation between the interior ministries of the Russian Federation and the Republic of Mozambique; as well as documents related to technical cooperation in geology and minerals' extraction, as well as cooperation between Rosneft, the Mozambican National Institute of Oil and the Mozambican National Hydrocarbons Company, including on the development of natural gas deposits on the shelf of Mozambique. Inter RAO-Export and EdM (Mozambique) also signed a memorandum of understanding in power generation.
Putin told Nyusi that its government is ready to develop relations between both countries in all areas. "I am sure that your visit, Mr President, will give a boost to the ties between our countries" he said adding that "we are very happy to see you"
On April when Mozambique was severely affected by destructive Cyclone Idai, Russia has delivered 30 tonnes of humanitarian aid, following the the country appeal to the international community for help.
On Tuesday Nyusi thanked Putin for the help.
"I would also like to thank you for the material and moral support you have been providing us" Nyusi said, "We would like to thank all Russian people for this"
On wedsneday Russia has pardoned 95% of Mozambique's debt, according to an announcement made by the President of the Republic, Filipe Nyusi at a meeting with Russian and Mozambican businesspeople.
Nyusi's visit is the first by a Mozambican head of state to Russia since the dissolution of the Union of Soviet Socialist Republics (USSR) in 1991. The last Mozambican statesman to visit Moscow was Joaquim Chissano, in 1987.