By Omar Arouna*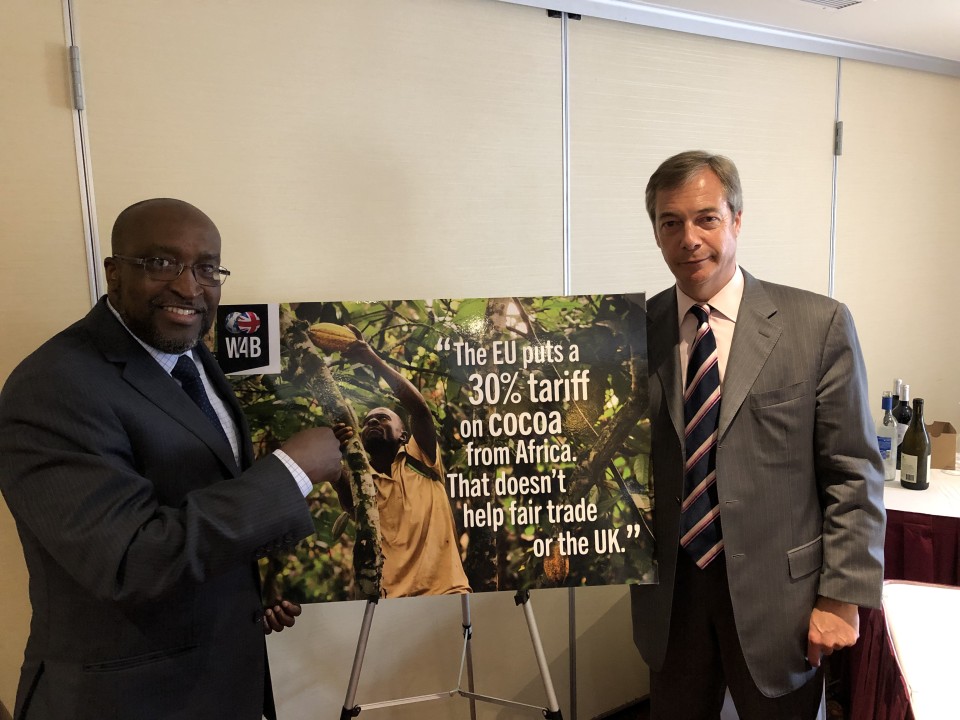 I was introduced to Nigel Farage in January 2017 by a friend and a business partner shortly after he pulled off the Brexit win. –For those who don't know him, Nigel Paul Farage is a British politician, broadcaster, and political analyst serving as Leader of the Brexit Party since 2019 and has served as Member of the European Parliament for South East England since 1999— We will connect at events time permitting whenever he is in Washington DC.
At tonight reception honoring him, Nigel directed my attention to the picture below and asked, "Ambassador do you approve?" I guess Nigel wanted me to reach beyond the noise and grasp a deeper meaning of his fight for Brexit. I read the message on the picture and it got me thinking.  Think about it as well…
It is well documented that EU policies affect Africa's ability to address its agricultural and food challenges: Tariff escalation; technological innovation and food export preferences are major challenge that the continent needs to overcome. African shouldn't be viewed simply as raw material exporters. However, adding value to the exports out of the continent continue to be frustrated by existing EU policies.
According to Calestous Juma a professor of the practice of international development at Harvard Kennedy School "EU charges (a tariff) of 30 per cent for processed cocoa products like chocolate bars or cocoa powder, and 60 per cent for some other refined products containing cocoa." The impact of such charges goes well beyond lost export opportunities. They suppress technological innovation and industrial development among African countries. The practice denies the continent the ability to acquire, adopt and diffuse technologies used in food processing. It explains to some extent the low level of investment in Africa's food processing enterprises.
Such High import duties keep products from developing countries out of Europe. Highly processed products are taxed more heavily than raw products. Import tariffs increase the more processed a product becomes. This measure ensures that most imports to the EU are raw products like coffee, cocoa or pineapples which cannot be cultivated in Europe.
MAYBE BREXIT MIGHT NOT BE A BAD THING FOR AFRICA AFTER ALL…just a thought
*Omar Arouna is a Cybersecurity Technologist, Diplomat, International Relations and Africa market entry strategist