Cameroon: Sisiku Ayuk Tabe, 9 others handed life sentences
By Boris Esono Nwenfor
The Yaounde Military court has handed life sentences to leaders of the Ambazonia separatist movement. He and nine others were convicted of charges including "terrorism and secession", government lawyer Martin Luther Achet told AFP news agency on Tuesday. They were equally ordered to pay in FCFA 250 billion to the court
In a press release from the Communication and Media Committee of the Defense Team of Sessekou Ayuk Julius Tabe and others, Media and Communication Chairman Amungwa Tanyi Nicodemous stated, "Let the entire world be informed that at exactly 5:38 am this Tuesday the 20th day of August 2019, the President of the Federal Republic of Ambazonia and the nine (9) others have been slammed the life sentence by the Yaounde Military Tribunal in gross violation of their rights as accused persons."
Ayuk Tabe was the first self-proclaimed president of "Ambazonia", a breakaway state declared in October 2017 in two English-speaking Regions of Cameroon. The verdict brings to an end a case that has been dragging for more than a year now. Observers say this decision has killed all hopes of an effective back to school in the South West and North West Regions.
InJanuary 2018, Ayuk Tabe was arrested with 46 other separatistsin the Nigerian capital Abuja. They were then handed over to Cameroon in a move that was ruled illegal by a Nigerian court in March this year. In late May, Ayuk Tabe said he was willing to take part in talks with the government, provided this took place abroad and the government released all who had been detained since the start of the Anglophone crisis.
Renowned Human Rights Lawyer Barrister Felix Agbor Balla in a Facebook post categorically stated, "The sentencing of Sisiku and Co. to life imprisonment is an affront to due process and the rule of law". "The right to fai trial is a fundermental human right. The sham process is a reflection of the sham management of the country."
Is Mancho Bibixy next to get life imprisonment?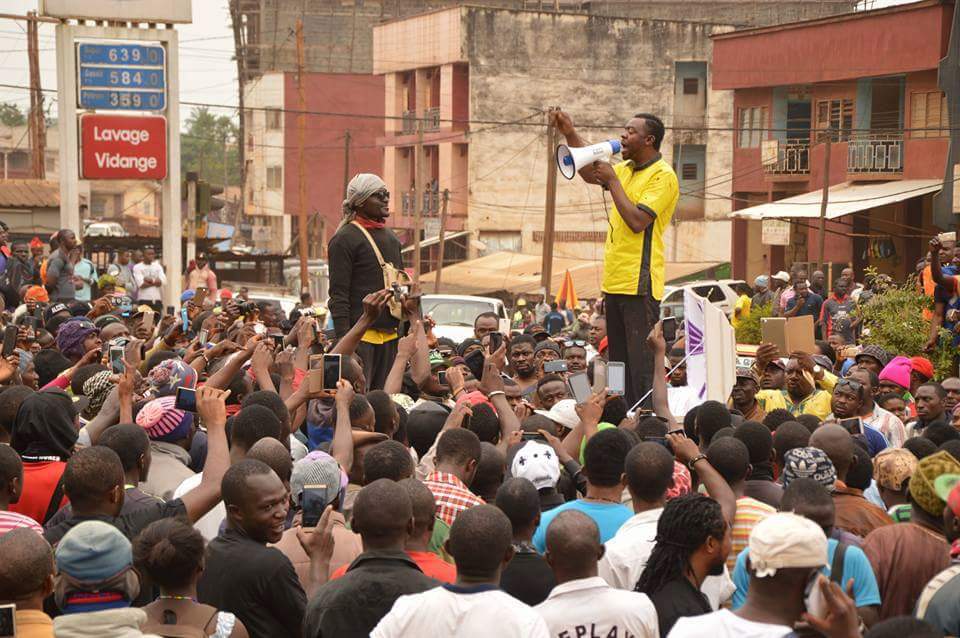 The Cameroon government is accusing Mancho Bibixy of tampering with the integrity of the nation by "demanding the partition of Cameroon through the creation of the State of Ambazonia."He is also charged with trying to use violence to demand a return to Federation and for not being in possession of his Identity card
Mancho is being detained at the Kondengui Prison in Yaounde since his arrest in Bamenda on January 19, 2017. The detention of Mancho for thinking about a federal state and at the same time independence of the Southern Cameroons is an indication that he is a prisoner of conscience. "He was abducted and bundled to Yaounde, without being given time to take anything along. It is surprising that he is being accused of not having an identity card," one of Mancho's friends explained in anger.
Described as very courageous, 'liberation spirit', He is said to have also made close contacts with other Southern Cameroons liberation activists worldwide. "It was so until 21 Nov 2016 when God commanded me to take the struggle to another level," Mancho is quoted as saying. "I expect Southern Cameroonians to hold on to this struggle as if that's the only thing they have remaining in this world.
The crisis which has been going on for more than 2 years now has seen many killed, displaced or become refugees in neighboring Nigeria. Attacks by both sides have left 1,850 dead, according to the International Crisis Group (ICG) think tank, while the UN says 530,000 people have fled their homes. According to UN aid officials, more than one in six people in Cameroon-4.3 million need humanitarian aid, an increase of 30 percent from 2018.