After Steve Harvey, Hollywood star Danny Glover visits Ghana, advocating "Go Back Home"
By Amos Fofung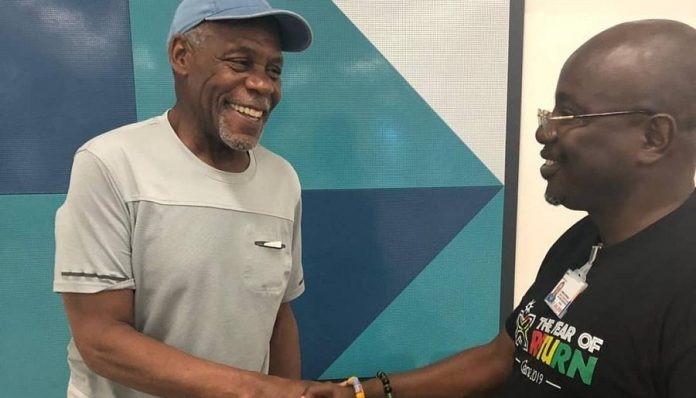 Days after US famous comedian and host of The Steve Harvey Show, alongside his family visited Ghana urging Africans in the diaspora to return home, another American TV star, Danny Glover, a legend in Hollywood is advocating "Go Back Home" as he visits Ghana in commemoration of the year of return.
Speaking at the airport in Ghana, the movie director, producer and acclaimed humanitarian said it is important for the "African diaspora to reconnect with Africa" reason why he's advocating the Go Back Home".
"It was important for me to be part of this trip because I think it is important for all African Americans to build a strong relationship with the wider African diaspora and the continent of Africa itself," he said in a tweet about his visit.
Launched last year in Washington, D.C., by Ghana's President Nana Akufo-Addo, for Africans in the diaspora to visit the West African country as part of the commemoration 400th year since the first African slaves landed in Virginia, the initiative has gain commendation with several celebrities and Africans in across the globe make their way into Ghana to learn more about their root.
Arriving Ghana alongside officials of the National Association for the Advancement of Colored People (NAACP) Danny Glover and his team travelled from Jamestown, Virginia in the United States of America to Jamestown, Accra, Ghana to commemorate Jamestown to Jamestown, on the same route the first slave travelled on.
'Jamestown to Jamestown' kicked off on August 18 in Washington, D.C. where participants travelled via bus to Jamestown, Virginia, for a prayer vigil and candle-lighting ceremony.
The ceremony marked the African "Maafa," a term that describes the suffering embedded in the past four centuries related to enslavement.
"Jamestown to Jamestown represents one of the most powerful moments in the history of the Black Experience," says NAACP President and CEO Derrick Johnson. "We are now able to actualize the healing and collective unity so many generations have worked to achieve in ways which bring power to our communities in America, Africa and throughout our Diaspora."