Accor accelerates Nigeria expansion plan as first Novotel in Lagos signed
Group inks management agreement for Novotel Victoria Island, one of seven new properties pipelined for the country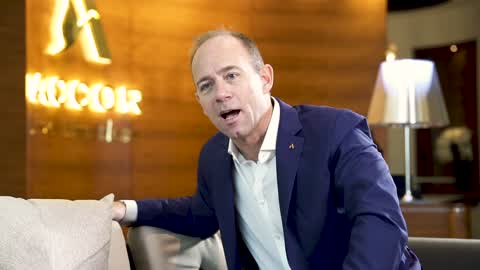 Accor, a world-leading augmented hospitality group, is cementing its stronghold in Nigeria having signed its first Novotel property in the country's largest city, Lagos.
The Group has inked a management agreement with Nigerian conglomerate, the Ekulo Group of Companies, to manage the 170-key Novotel Victoria Island Lagos, a modern hotel with a prime location in the city's commercial and financial hub.
The debut of Novotel Victoria Island Lagos , scheduled for 2023, will expand Accor's presence in Nigeria to 1,642 keys across 14 properties by that date, with seven properties currently in operation and seven additional hotels in the development pipeline  across the MGallery, Mantis, Grand Mercure and Pullman brands.
"We are delighted to sign this agreement with Ekulo, which marks another milestone in Accor's Africa growth story and builds on the success of the Novotel brand in Nigeria and other key destinations across the region," said Mark Willis, CEO, Accor Middle East & Africa.
"We have identified Nigeria as one of the continent's most important development markets, with Lagos and other strategic locations, including Abuja, presenting huge growth potential for Accor's unrivalled portfolio of hospitality brands."
With a prime location on Ahmadu Bello Road, close to the headquarters of major banks and multinational corporations, Novotel Victoria Island Lagos will feature 170 rooms and suites, 400 sqm of meeting space, a swimming pool and gym and three dining venues, including an all-day dining restaurant, lobby bar and a pool bar.
Novotel Victoria Island Lagos will make its mark as a stylish, sociable and comfortable location in the Victoria Island district, providing guests and local residents with a place to dine, meet and relax or stage a corporate meeting or event.
This latest Novotel signing builds on the momentum of Accor's development progress in Nigeria in 2018, when agreements to manage the MGallery Ikoyi and Pullman Ikoyi were signed.
In addition to the Novotel Victoria Island Lagos, six additional properties are in the development pipeline, including the 125-key Art Hotel, which will be operated under the Mantis brand, in which Accor has a 50% stake, plus Grand Mercure Abuja and Mantis ARM Lakowe Lakes.
Accor, which was the first international hotel company to enter the African market in 1975 with the opening of Mercure Ismalia Forsan Island, Egypt, commands the largest market share of any hospitality group on the continent in terms of keys, with more than 24,566 rooms across 157 properties in 22 countries and a pipeline of 10,882 rooms in 52 hotels.
As the leading and longest-serving hotel operator in Africa, the Group's blueprint for long-term growth focuses on balancing its footprint by establishing a presence in key gateway cities and identifying gaps in the market for its portfolio of 30-plus brands.
In line with Accor's Planet 21 ethos, Accor is also committed to conservation-led projects that promote the sustainable development of African communities and in partnership with Mantis, the South African hospitality company in which it purchased a 50% stake in April 2018, more than 28 eco-resorts and hotels are planned for the continent.
ABOUT ACCOR
Accor is a world-leading augmented hospitality group offering unique experiences in 4,900 hotels and residences across 110 countries. The Group has been acquiring hospitality expertise for more than 50 years, resulting in an unrivaled portfolio of brands, from luxury to economy, supported by one of the most attractive loyalty programs in the world.
Beyond accommodation, Accor enables new ways to live, work, and play, by blending food and beverage with nightlife, wellbeing, and co-working. It also offers digital solutions that maximize distribution, optimize hotel operations and enhance the customer experience.
Accor is deeply committed to sustainable value creation and plays an active role in giving back to planet and community via its Planet 21 – Acting Here program and the Accor Solidarity endowment fund, which gives disadvantaged groups access to employment through professional training.
Accor SA is publicly listed on the Euronext Paris Stock Exchange (ISIN code: FR0000120404) and on the OTC Market (Ticker: ACRFY) in the United States. For more information visit accor.com. Or become a fan and follow us on Twitter and Facebook.
 ABOUT NOVOTEL
With Novotel, Accor offers every guest the freedom to fully enjoy their stay. Novotel Hotels, Suites & Resorts provide a multi-service offer for both business and leisure guests, with spacious, modular rooms, 24/7 catering offers with balanced meals, meeting rooms, attentive and proactive staff, kid areas, a multi-purpose lobby and fitness centers. Through PLANET 21, Accor's sustainable development program, Novotel commits to Man and the Planet. Novotel has over 520 hotels and resorts in 60 countries, ideally located in the heart of major international cities, business districts and tourist destinations. Accor is a world-leading augmented hospitality group offering unique experiences in 4,900 hotels and residences across 110 countries. novotel.com | group.accor.com
*ACCOR