Kenya:Collymore cremated at a Nairobi crematorium
By Samuel Ouma | @journalist_27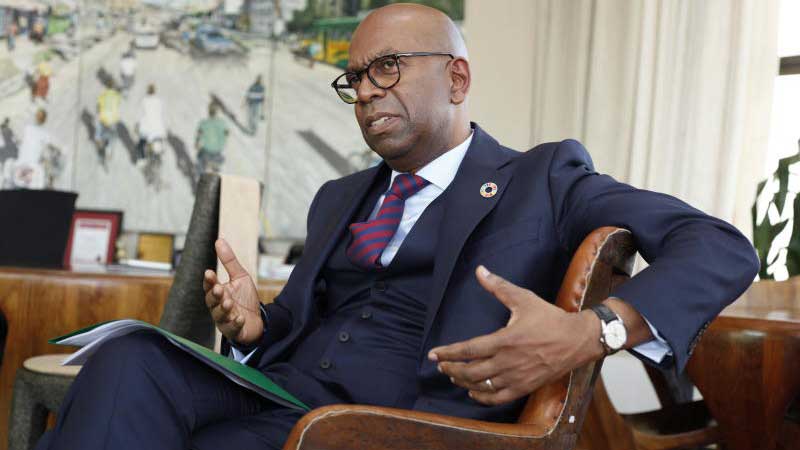 Ex-Safaricom CEO Bob Collymore's body was cremated on Tuesday, July 2, in a private ceremony attended by family members and a few of his friends.
His body left a Nairobi Morgue in the morning and was taken to a crematorium where he was burnt at a temperature between 1, 000 and 2, 000 degree Celsius in the watch of his wife, children, mum, sister and a handful of family members.
The 61-year-old CEO succumbed to Acute Myeloid Leukemia yesterday, Monday, July 1 after battling the disease for almost two years.
The deceased was diagnosed with the cancer in October 2017 in the United Kingdom. He stayed in UK for nine months while receiving treatment before he resumed his duties last year July.
He continued seeking medication in various hospitals in the country until he departed according to the telco giant's leadership. The dominant mobile operator in East and Central Africa fraternity expressed their sadness about his death and lauded his visionary leadership.
"It is a very sad day for us, it is not what we have been expecting but we have to accept the reality," said Safaricom Board Chairman Nicholas Ng'ang'a.
"For nine years since he joined Safaricom, Bob has provided the company with visionary leadership and he was always passionate at whatever he did," added Ng'ang'a.
President Uhuru Kenyatta led Kenyans in eulogizing the CEO. He said that Collymore's outstanding corporate leadership will be missed in the country.
"It is with a deep sense of loss that I have received the sad news of the death of Safaricom CEO Robert William Collymore this morning. In the moment of great sorrow, my thoughts and prayers go out to his family, relatives, friends and the staff of Safaricom," said the President.
The deceased was born in 1958 in Guyana. He lived with his grandmother until he was 16 when he relocated to UK to stay with His mother.
The businessman schooled at Selhurst High School in London and He worked with a number of companies around the in Japan, South Africa and United Kingdom before joining Safaricom in 2010.
He also served on a UN commission on life saving commodities for women and children, board of Acumen, Kenya Vision 2030 board, the United Nations Global Compact Board and a Founder Trustee in the Kenya's National Road Safety.
He was a member of the B TEAM, a non-profit initiative established by a global group of business leaders to provide a better way of doing business, for the well-being of people and the whole world.
Meanwhile, Michael Joseph has been appointed as interim CEO until the right candidate is found.
Joseph is the current chairman of Kenya Airways and the former outfit's CEO.
"Following the passing of the company's CEO, at a special board meeting of the directors, the board resolved to appoint Michael Joseph, a board member of the company as the intericm CEO with immediate effect," read the statement issued by Karthryne Maundu, the company's secretary.
Collymore left behind a wife and four children.