Gambia:Ex- President Jammeh Ordered us to Killed Deyda Hydra, Jatta Tells TRRC
By Bakary Ceesay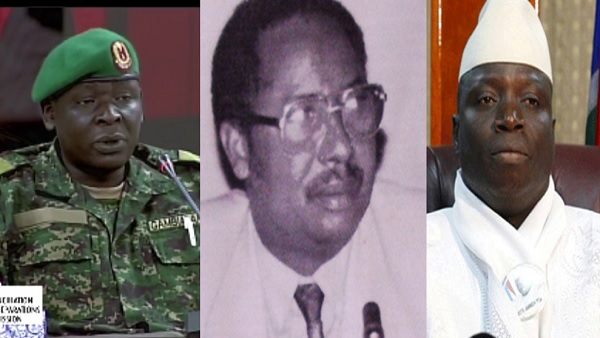 Malick Jatta, an ex-member of former President Yahya Jammeh's hit squad has revealed that Jammeh ordered them to killed Deyda Hydara, co- founder and managing editor of The Point newspaper.
Hydra, co-founder and managing editor of The Point newspaper was shot by security personnel's on 16 December, 2004.
On Monday, Jatta, a native of Tujereng village in the West Coast Region of The Gambia who was a member of the Junglers, Truth Reconciliation and Reparation Commission (TRRC) they were sent to kill Deyda on December 16 of 2004.
Jatta at the time of Hydara's killing had already taken part in 2 executions all of which were led by Tumbul Tamba, the head of the patrol team.
He said the Patrol Team was a team of 4 officers who were carrying out the killings he categorized as "abnormal orders".
"In 2004, we were told were going for the Magic Pen… At that point I did not know who the Magic Pen was. It was Malick Jatta, Tunbul Tamba, Sanna Manjang and Alieu Jeng in this operations… We took a taxi, benz 200… This taxi used to be parked at Yahya Jammeh's garage in Kanifing. Tumbul who took the taxi sat at the Driver's seat. I heard him talking to the former President and he was saying "yes sir, your excellency"," said Jatta, who is a serving army officer of The Gambia Armed Forces.
He said as Deyda's vehicle approached, Tumbul said "gentlemen the driver is the idiot…"
"I shot, Sanna Manjang fired and Alieu Jeng also fired… I shot one. For my colleagues, I can't tell how many fire they shot. On route to Kanilai home village of ex- president Jammeh home village, nobody spoke… Tumbul the following day came with some envelope containing some dollars and said gentlemen, this is a token of appreciation from the Big Man (President Jammeh). When I changed mine, it was over D50, 000," said Jatta.
In his reaction Saikou Jammeh, Secretary General of Gambia Press Union lamented that: "The TRRC is discovering the bitter truth! 15 years on, we've today learnt from a Truth Commission witness how a former Gambia Press Union president and prominent journalist, Deyda Hydara, was shot and killed by members of the Gambia military under the directive of exiled ex-president Yaya Jammeh"
"The witness was a participant in the murder. He confessed to shooting 'the magic pen' – the name used by the leader of his group, Tumbul Tamba, to describe Deyda. This is an important piece of truth coming out of the TRRC,"
About Deyda Hydra, co-founder and managing editor of The Point newspaper was shot by security personnel's on 16 December, 2004.
A few minutes before he met his end, Deyda left his office where he and his staff had gathered to celebrate the 13th anniversary of The Point, a private bi-weekly newspaper he co-founded.
He was dropping of two of his employees when he was gunned down. The two staff sustained severe injuries and were flown to Senegal for treatment.
He was killed just days after the Parliament endorsed significantly tighter and more restrictive media laws, an attempt Deyda fought through his popular newspaper column 'Good Morning Mr. President'. Almost 15 years after Deyda's murder, the killers have not yet been brought to book.