Detainees arrested in relation to Cameroon's Anglophone crisis stage protest in Kondengui prison, demand their immediate release
By Amos Fofung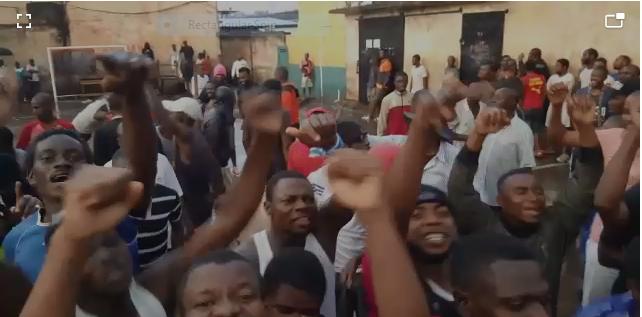 Calm has been restored to the Kondengui Central Prison in Cameroon's capital city of Yaounde after Monday's uproar by Anglophone detainees who protested against inhumane detention conditions, demanding to be immediately released and sent home
The courtyard of the prison witnessed a not-so-common scenario during the early hours of Monday when English-speaking Cameroonians detained in connection with the crisis in North West and South West regions staged a protest, calling for their release by the government.
Numerous reports hold that security elements used tear gas and bullets to clamp down on the protesting detainees who in retaliation rage havoc and set fire on some structure at the facility.
This reporter is yet to confirm reports on casualties and possible deaths during Monday's protest which forced the minister of defense and other top security officials to rush to the prison.
In a video circulated by the detainees online, they demanded their liberation so they could go home and reunite with their families insisting that their arrest was base-less, tagging themselves as prisoners of conscience.
One of the detainees had on him a blue and white stripped plastic paper, depicting the flag of their Ambazonia, a yet to exist nation which some English-speaking Cameroonians want to establish after seceding from Cameroon.
Voicing their frustrations on the facilities deplorable living situation, the protesting detainees complained of poor feeding conditions, near absence of medical care and maltreatment in the detention center.
Requesting their unconditional release, they called on "the international community to intervene and stop the ongoing genocide in Southern Cameroons". The prisoners most of whom have been in jailed since 2016 held placards with messages calling on the United Nations, U.S and European Union to intervene in the armed conflict ongoing in the Southern Cameroons.
In an opened letter to the Prime Minister, Joseph Dion Ngute, the protesting detainees outline a number of conditions they say if meet will bring an end to the simmering conflict that has rocked the country for over three years.
Among others, the requested total ceasefire, release of all prisoners, grant amnesty to all those in exile, prepare a suitable condition for back to school and organized a dialogue mediated by a third party.
Also spotted in one of the videos in Mancho Bibixy, radio animator and initiator of the famous "Coffin Revolution" that ushered in a new dawn to the Anglophone crisis in 2016.
Mancho Bibixy was in 2018 sentenced to 15 years in prison and a fine of 268 million francs CFA (approximatively 408 564 Euros) as damages requested by the civil party and 204 million as damages requested by the State, on charges of "acts of terrorism", "hostility against the homeland", "secession", "revolution", "propagation of false information", "contempt of public bodies and public servants", "resistance", "depredation by band", "failure to hold his national ID card" and "insurrection" under the Law on the Suppression of Acts of Terrorism No. 28 of 2014 and Cameroonian Criminal Code.