Cameroon: Internally Displaced Persons receive Humanitarian aids
By Boris Esono Nwenfor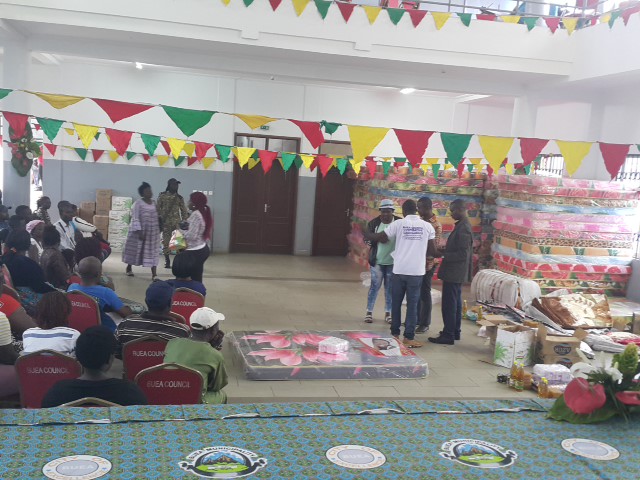 Some 200 internally displaced persons residing in Buea, Fako Division have been handed humanitarian relief materials. The materials are part of the Head of State's Humanitarian assistance plan for victims of the on-going crisis in the South West and North West Regions of Cameroon. The materials which consisted of toiletries, groundnut oil, bags of rice, washing soap, blankets, mattresses and others were handed to the IDPs, July 23, at the Buea council chamber.
Speaking to the press, Mayor Ekema Patrick Esunge said he is more concerned with the community he has put in place to distribute the items. Discipline beings from within. We have cautioned that no council staff should be part of this distribution because their salaries are already ready.
The fourth consignment sent by the Minister of Territorial Administration Paul Atanga Nji was destined to 100 displaced persons but according to Mayor Ekema Patrick, they decided to raise the number to 200. "We have a sharing culture and we think it is important to share and that's why the number has been increased with the little input put in place by the council, Mayor Ekema indicated"
To the recipients, Mayor Ekema Patrick said "the main advice is that these materials should serve the purpose for which they have been intended. Nobody should exchange the items for money or any form of exchange. We appeal to the population to remain calm, vigilant and be very corporative with the council and the state as a whole."
To 37 years-old Simon Otta, for the past three years, things have not been easy. "I had to leave Bamuka, Ndop, North West Region, to Buea and with the academic level I had, no job. I have been working in the construction site to keep myself engaged.
"I have a family under me and the situation we are in is not easy. I had to be sleeping on the floor, while my wife, kids and sister sleep on the bed. It has really not been easy. With these materials, it will go a long way in alleviating our situation but more needs to be done, while not the additional part of finance".
On going back to school, he pleaded with the government to provide not only money but mattresses which will help some of them who have kids to go back to school. There is hope while we live so I can't say there is no hope".
33 year-old Njembe Theresia Limunga, mother of 3 children said she has been surviving through other people or the church. "I had to leave my area, Muyuka as where I was leaving had continuous gunshots. I could not stay there with my kids as when the shooting starts, everyone will be on the floor which was disturbing the children. There were numerous houses burnt around my area and when you see such things you become scared".
"Presently life is not easy here in Buea couple with the cold. In my area in Muyuka is not that cold as Buea which makes my children to get sick. The means is not there to survive but when we were in Muyuka, it was better. "These materials will be helpful as before they were sleeping on the floor but now they can sleep on the mattress."
My situation has been very dire since I left my parents in Tombel to come to Buea in 2016, said Esange Donald. "There is basically no hope for me to go back to my village at the moment as no one is safe. If I go back to the village I would be force to join the fight. We were presented with bag of rice, sardines and mattresses and I had to chose the mattress since I have a room and my younger one, it will be very good than the rice and other materials."