Amidst Mass Protest in Gambia, Police Chief Calls Calm
By Bakary Ceesay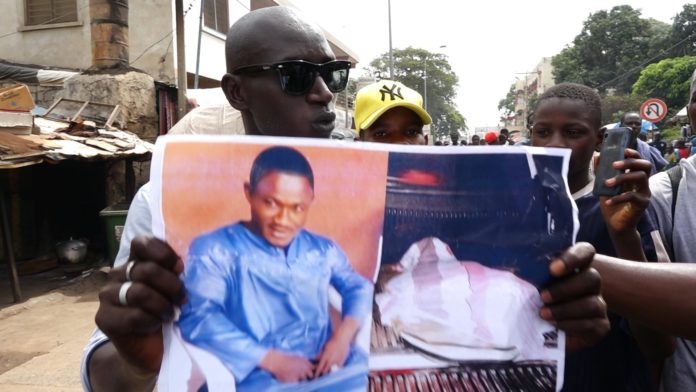 The office of the Inspector General of Police (IGP) received disturbing information about a mob of angry youth marching towards the Anti Crime Unit to protest the demise of Ousman Darboe. The Office of the IGP is calling on the youth to observe calm and restraint.
On Wednesday, dozens of young people gathered at the Serekunda Police Station to protest against the death of a Sierra Leonean national Ousman Darboe who they claimed was severely beaten by the police anti-crime unit.
Darboe, a shop owner at Serekunda Black Market was reportedly arrested by police anti-crime unit about 13 days ago and released on Friday. He passed away on Tuesday at 9: 30 according to Muhammed. His friends from the Black Market gathered at the police station near the Serekunda market demanding justice for Darboe.
In a press signed by Assistant superintendent, of Police Lamin Njie, Public Relations Officer of Gambia Police Force explained that Ousman Darboe's name came up during investigations into a Breaking and Stealing incident that occurred at Kerr Serign on 11th July 2019. Suspects in the said case confessed selling items stolen from the Kerr Serign incident to Ousman Darboe.
"Investigators visited his shop at Serekunda market where a Flat Screen television, part of the stolen items was recovered in his possession," Njie indicated.
Police spokesperson added that on 12th July 2019, he was arrested and charged with receiving of stolen properties contrary to the laws of the Gambia. On Monday the 15th of July 2019, he was granted bail within 72hours as specified by law and was subsequently reporting on bail.
"Ousman Darboe during his detention was said to be an Asthma patient as shown by medical papers tendered by his family which prompted his bail,"
The Inspector General's Office assures the public that it will continue a probe into the death of Ousman Darboe and the outcome will be duly communicated to ascertain the cause of death.