Zimbabwean Lecturers Decide to take Industrial Action Midway Through Exam Marking
By Prince Kurupati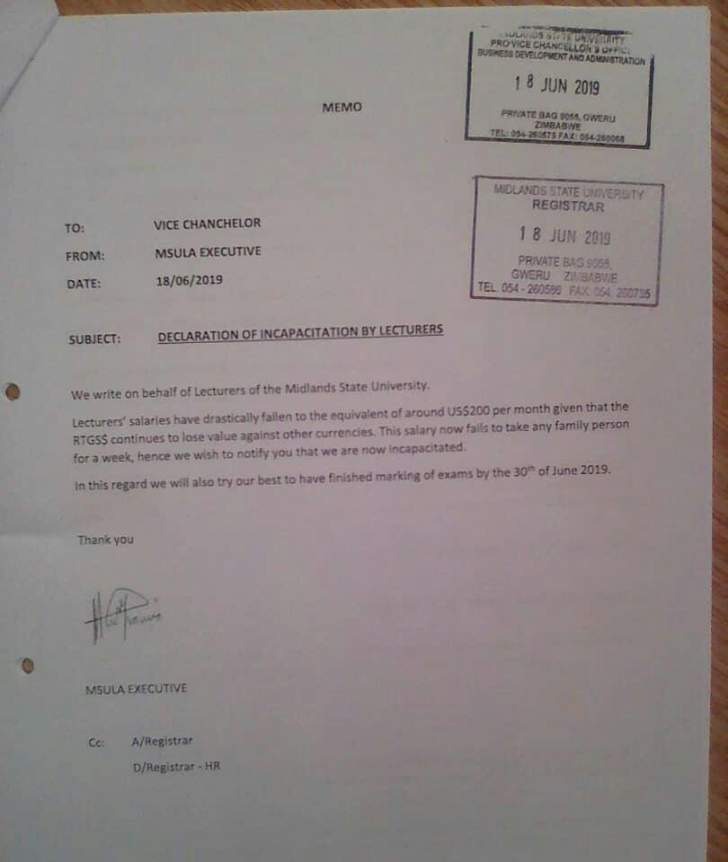 Zimbabwean university lecturers have declared incapacitation due to poor salaries which have largely been eroded by inflation and sky-rocketing prices in the process embarking on a go slow.
In written notices to university administration, bodies representing lecturers at Zimbabwe's two biggest institutions, the University of Zimbabwe (UZ) and Midlands State University (MSU) said their salaries were no longer enough to last a month.
The notice from the MSU lecturers' representative body read "Lecturers' salaries have drastically fallen to the equivalent of around US$200 per month given that the RTGS (dollar) continues to lose value against other currencies. This salary now fails to take any family person for a week hence we wish to notify you that we are now incapacitated."
Conveying more of the same message, the notice from the UZ lecturers' representative body read "Having realized the criticalness of our work, we are now requesting the following on behalf of the workforce, student accommodation be used by employees who are no longer affording transport fares to and from work. Our members are at crossroads and we hope the above requests will be granted by June 21, 2019, to avoid disruption of smooth running of university business."
The news comes just a couple of weeks after the universities closed for the first semester. With results yet to be released for the 2019 first semester students, many students are worried that they will have to wait for long before they can see their results. This is particularly worrying for graduating classes at MSU that are set to graduate early next month.
No response as of yet (at least with regards to a publicized official response) been issued by either UZ or MSU administration nor the government which is a key stakeholder in state universities.
The decision to embark on industrial action by lecturers comes at a time when teachers represented under the Progressive Teachers' Union of Zimbabwe (PTUZ) were threatening to embark on a nationwide strike.
In a notice addressed to Public Service Commission chairperson Vincent Hungwe, PTUZ secretary-general Raymond Majongwe said "Kindly note after extensive consultation of our membership and having exhausted all channels of communication with the authorities, from, Monday, July 24, 2019, our incapacitated members will not be able to normally report for duty for the whole week as they ought to, but will start with a three day (Monday, Tuesday and Wednesday) working week during the first week, which means on Thursday and Friday they will not report for duty due to incapacitation."
Majongwe's notice went further to state that "Our legitimate labour demands include non-payment of tuition fees for at least three of a teacher's children and free and transparent allocation of land for accommodation purposes with clear time frames. Please note this non-monetary incentive item has been dangled in our face whenever the government wants to pacify us. We want this settled once and for all."
Teachers are demanding a US$200 rescue package over and above their RTGS dollar-denominated salaries as well as an upward review of the remuneration in line with the purchasing power parity.