Two Southern African Presidents Meet USA Top African Envoy
By Nevson Mpofu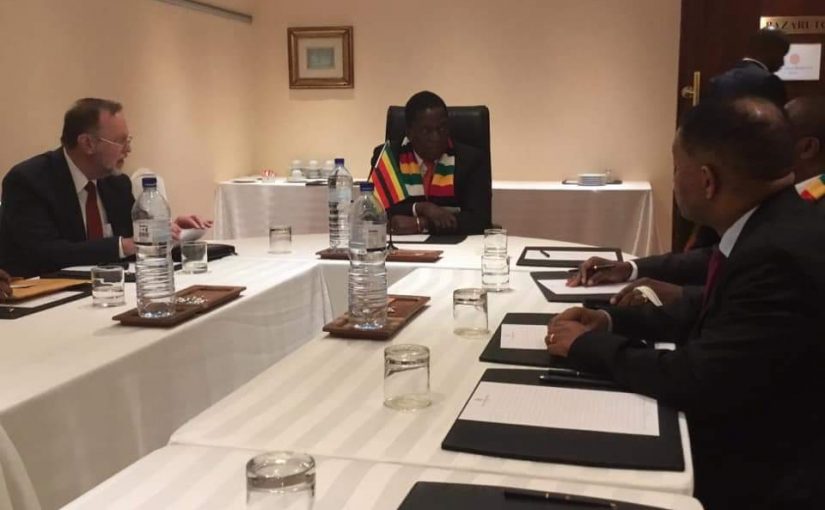 Harare -Two Presidents, Emmerson Mnangagwa of Zimbabwe and Fillipe Nyusi of Mozambique met a vising USA Plenipotentiary Tibor Nagy two days ago in Harare . Mr Nagy is the USA- Assistant Secretary of State of African Affairs.
''Our relations with USA must be cherished. As a country we are moving towards achieving goals. We are open for business, therefore we welcome those who want to be close to us in Business.
''We are in real challenges. Our biggest ones now being Electricity which has cut down by 50 % . Mozambique must give us help using the Cabora-Bassa Dam potential ''.
According to Professor Muthuli Ncube , Minister of Finance and Economic Planning who was part of the meeting , USA and  Zimbabwe are on a fast track to way-forward good relations ahead of the US-Africa Business Summit .
''We have received an invite to attend the USA-Africa Business Summit. We are moving at a steady pace to economic reforms and legislative reforms. These are meant to cement open business, lure investors and foster economic growth and development.
Last Year President Donald Trump of USA launched the Prosper Africa Policy. This he said is a linear pattern of ideas Zimbabwe has as a framework to develop the country.
''We take praise and advantage to develop the country using this policy. This is meant to push us forward in terms of economic growth and development.
President Fillipe said the two countries, Zimbabwe and Mozambique are just sisters with a similar, and goal and vision .This is meant for us to work towards Economic Development. Secondly, to see development in the eyes of the people.
''There is light and hope. The two countries shall harvest from the by-products of the US20 billion Gas Project. This is between Anadarko Petroleum and Mozambique Government.
The last discussion dwells on the effects of Cyclone Idai . The two countries thanked the USA State Department for the strongest support it gave to the two countries.