Top Gambia General Accepts Beating Soldiers in Prison
By Adama Makasuba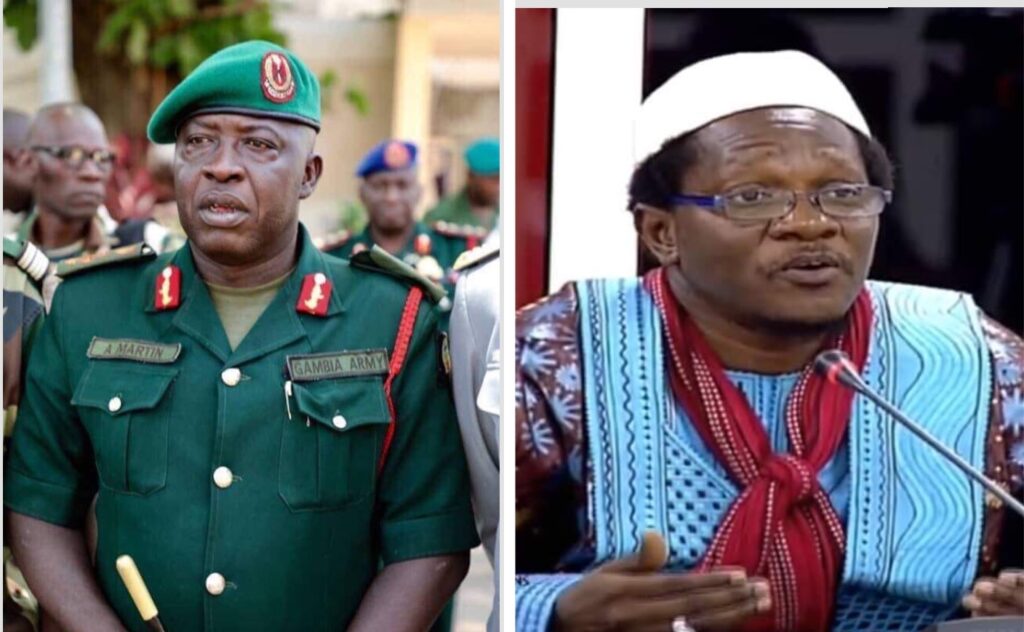 Top Army General of the Gambia Armed Forces has confessed to torturing the former vice chairman Sanna B Sabally, late junta member Sadibu Hydara and a serving Lieutenant Colonel Baboucarr Sanyang during their detention at Mile Two but refused using harmer and electrocute on them.
Brigadier General, Alhagie Martin was testifying before the Truth Reconciliation and Reparation Commission on Thursday after his name had been mentioned by many witnesses whom told the Commission that 'he (Martin) tortured them.'
"Beating was the status quo at that time because that time the November 11 had happened and coups and counter coups were the order of the day," he said.
On the case of Sanna Sabally, he said "he was beaten butt stroked, kicked, he was beaten mercilessly"
"When we ask you at that time and you refused to talk you will be beaten until you prove to be innocent," he added.
However, he asked for forgiveness from the family of Sanna Sabally, Lt Colonel Baboucarr Sanyang and the late Sadibu Hydara, and the entire nation to forgive him.
"I regret all we were going by order because at that time you have to do it otherwise you will go…. I apologise to the family of Sanna Sabally, Lt Colonel Baboucarr Sanyang, RSM Jeng and Sadibu Hydara," he asked for forgiveness.
On the 2006 coup, he said his team was sent to the National Intelligent Agency headquarters in 2006 to observe the case of the alleged coupis for Jammeh.
"We were there to observe Yahya Jammeh and 'Jugulars' were responsible for arresting especially during Ndure Cham's era to Mile Two and take you back to NIA," he said.
He said if a person refused to answer questions the 'jugulars' will took that person out and tortured and be brought you back, adding that the team of investigators would knew that the person had been 'well taken care of.'
He told the Commission that "no one dare was there to stop the jugulars from touring, coup attempt you must say something failing to say something you will dance to the tune."
"They will beat you to confirm whether you are part of the coup and write a statement," he said.
He named people in the panel to had included Hydara from the NIA, from the State House I was there and Lt Almamo and Lt Musa Jammeh, Tombul Tamba was with the jugulars Mustapha Sanneh, Nuha Badjie, Modou Lamin Jarju alias Rambo, Correa.