Seven soldiers to stand trial over alleged extrajudicial killings in Cameroon's Far North region
By Amos Fofung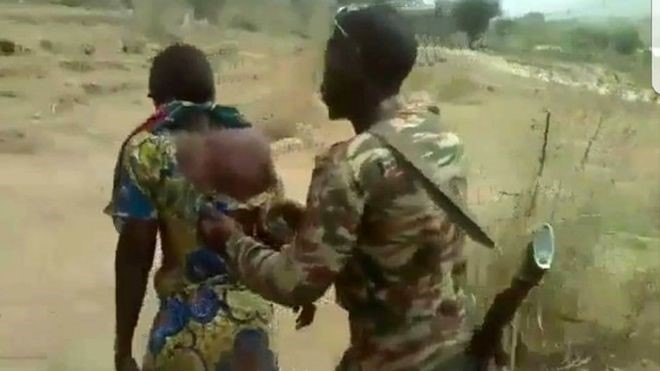 some seven Cameroonian soldiers suspected of summarily killing two women and their two children in the Far North region in July 2018 in a video that went viral on social media will soon stand trial at the military tribunal.
The gruesome video that drew worldwide condemnation showed the victims being shot at close range by military officers. Not even the toddlers were spared.
Speaking this week, Cyrille Serge Atonfack Guemo, communication official at the Defense Ministry said; "Cameroon does not compromise over behavior that is incompatible with law relating to war, human rights and the protection of people and their belongings."
The soldiers are being charged with joint participation in murder, breach of regulations and conspiracy to commit these crimes, he said.
The killings occurred in a region plagued by cross-border raids by Boko Haram fighters from neighboring Nigeria.
The Cameroon government, had initially branded the video as "fake news" and a "horrible montage" but however promise it will investigate the issue.
We gathered that the seven soldiers alleged to be linked with the killings were arrested in August 2018 after Amnesty International had insisted they had "credible evidence" that the men in the video were Cameroonian soldiers.
The United States and Britain were among countries that called for a probe and the need to hold those responsible to account.
This is not the first time Cameroon's armed forces are been accused of human rights abuses and targeted extrajudicial killings.
In the North West and South West regions where Anglophone separatists have launched an armed campaign in push for the establishment of a separate country, they call Ambazonia, numerous accounts of violence, killings, and burning of property have been blamed on uniform soldiers by those advocating for secession.
According to the International Crisis Group, 1,850 people have been killed so far, while more than 530,000 people have been forced from their homes, citing UN figures. The group blames the atrocities on both uniformed officers and separatist rebels.