Malema Bashes Oprah Winfrey; Berates Ramaphosa for Soft Stance on Land Issue
By Prince Kurupati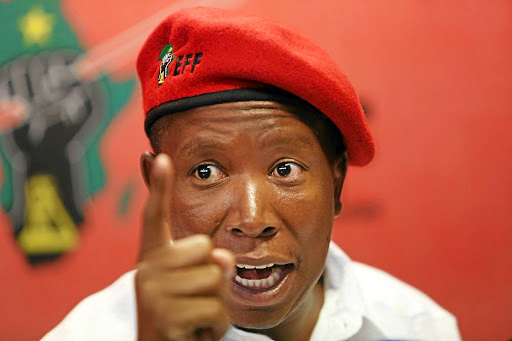 Outspoken South African opposition figure Julius Malema in a State of the Nation (SONA) Debate took aim at Oprah Winfrey for supporting South African president Cyril Ramaphosa.
Malema took to the podium in the South African Parliament as the leader of the Economic Freedom Fighters (EFF), the third largest political party in the country reacting to the president's State of the Nation address. In his speech, Malema said that there was nothing worth celebrating from what had been delivered by the president. Rather, he said SONA demonstrated how Ramaphosa was reneging from his election promises as well as the ruling party African National Congress (ANC)'s 2018 national conference resolutions.
By reneging from his election promises, Malema said that the president was distancing himself from his supporters and that those who voted for him were now beginning to realize the 'folly of their ways'. "If anything, those who voted for you are now regretting it, because they wasted their vote on a president without a plan. You have no plan to systematically address poverty, landlessness and unemployment," Malema said.
Malema went further stating "We urge you (Ramaphosa) to recall that (ANC) conference resolutions are binding. Even Mandela recognized these as a mandate which must be implemented." In reference to the above statement, political analysts said Malema was specifically talking about the land expropriation without compensation issue.
At the last ANC Conference, the party resolved to adopt and expedite the land expropriation without compensation policy. This resolution was welcomed by Malema and his EFF political party. For so long, EFF viewed the land expropriation without compensation policy as the perfect policy to address poverty, landlessness and unemployment among South Africans especially black South Africans. With the ANC resolving to adopt the policy, the EFF had erstwhile found allies to work with in expediting the policy. However, soon after his inauguration as the country's president, Ramaphosa has shown a reluctance to move forward and implement the land expropriation without compensation policy. This has since angered Malema and the EFF.
From Malema's speech, it's evident that Malema's anger at Ramaphosa is not directed at him alone but even those who sympathize and like him. This evidenced by the fact that Malema found time to hit out at Oprah Winfrey for supporting Cyril Ramaphosa.
At the end of last year, South Africa hosted the Global Citizen Festival in honour of the late Nelson Mandela, the first black president in South Africa. Oprah Winfrey was invited to the Festival and given the honour to introduce Cyril Ramaphosa. In her introductory remarks, Oprah introduced Ramaphosa as Mandela's "hand-picked successor."
Oprah's introductory remarks at the Festival certainly did not go down well with Malema who in his speech stated, "We were abused here during the election campaign that saw people like Oprah Winfrey rented and sneaked into the country in the name of the Global Citizen Festival, to tell us how Madiba wanted you to be President. We now ask ourselves: "What did Madiba see in you that we can't?"
Malema also took the opportunity to threaten Ramaphosa with impeachment stating "We don't want to do this now, but if you carry on as a constitutional delinquent, we will impeach you. You must take full responsibility for your mistakes and tell us the steps you will take. We don't see anyone who can replace you in this party, and that is a disaster…Now help South Africa by taking it into your confidence. You're human, you've made a mistake, you must confess. Don't be the most honest dishonest person since the man who came before you (Jacob Zuma). We want an honest president."
The above was in relation to the Bosasa-gate. Bosasa is a firm found guilty of engaging in corrupt practices. News broke out during the election campaign late last year that Bosasa had 'donated' R500 000 to the Ramaphosa campaign. Ramaphosa denied the allegations at the time but it has since been proven to be true.