Kenya:Murathe brands DP a thief, says he won't become the President
By Samuel Ouma |@journalist_27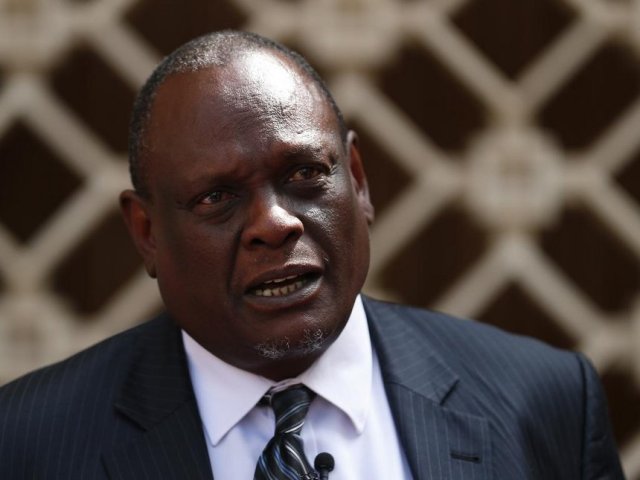 Former Jubilee party vice chairperson David Murathe has once again launched a scathing attack at the deputy president Dr. William Ruto over his presidential quest.
Controversial Murathe labeled Ruto a thief hinting that his bid to succeed President Uhuru Kenya as the firth President of Kenya is a misplaced priority.
"I know one thing for a fact that Uhuru will not leave the country to thieves and a thief will not rule after him because Uhuru is not a thief," he said.
Speaking on Sunday at a church's fundraising in Kiambu County, central Kenya, Murathe accused Ruto and his bigwigs of premature campaigns saying it is time for development.
"You were given by Kenyan five years and another five years to work for them. Jubilee leaders are in government, but they have stopped doing development and are now telling us what they will do in 2023. Tell me, if you are in your right senses, can you be given work by Kenyans in 2017 and two years down the line you tell them no let's stop now we will deliver in 2022 once you make me President.
Ruto's countrywide tours and his inability to stop early campaigns spearheaded by his lieutenants are facing stiff opposition from a number of leaders including the president.
A week ago President Uhuru Kenyatta took a swipe at politicians engaging in 2022 election campaigns promising that they will not undermine his leadership under his watch.
The Head of State read the Riot Act Right to the said leaders and vowed to crush those who are derailing his agenda of unity and progress.
"These thugs that we elected are busy politicking. They should not think I am their boy; they will not stop me from constructing roads. They did not look for votes on my behalf. I went looking for my votes. This rubbish should stop bothering me," said the irate President.
He told leaders to go back to the electorates and deliver the promises they issued during campaigns.
"If you are an elected leader go to the grassroots construct schools, install electricity for your people. Stop going round telling us how you shall rise to power. You will go nowhere without these people," he added.
Murathe quit his position early this year over his bid to block Ruto from vying for presidency in 2022. He had gone to an extent of quashing claims that there was an agreement during the formation of Jubilee party that DP Ruto would succeed President Uhuru Kenyatta.
He has ever maintained that Ruto should retire alongside President Kenya upon the completion of their term.