In AGOA Forum Cote d'Ivoire Seeks To Cement Role As Regional Economic Hub
By Ajong Mbapndah L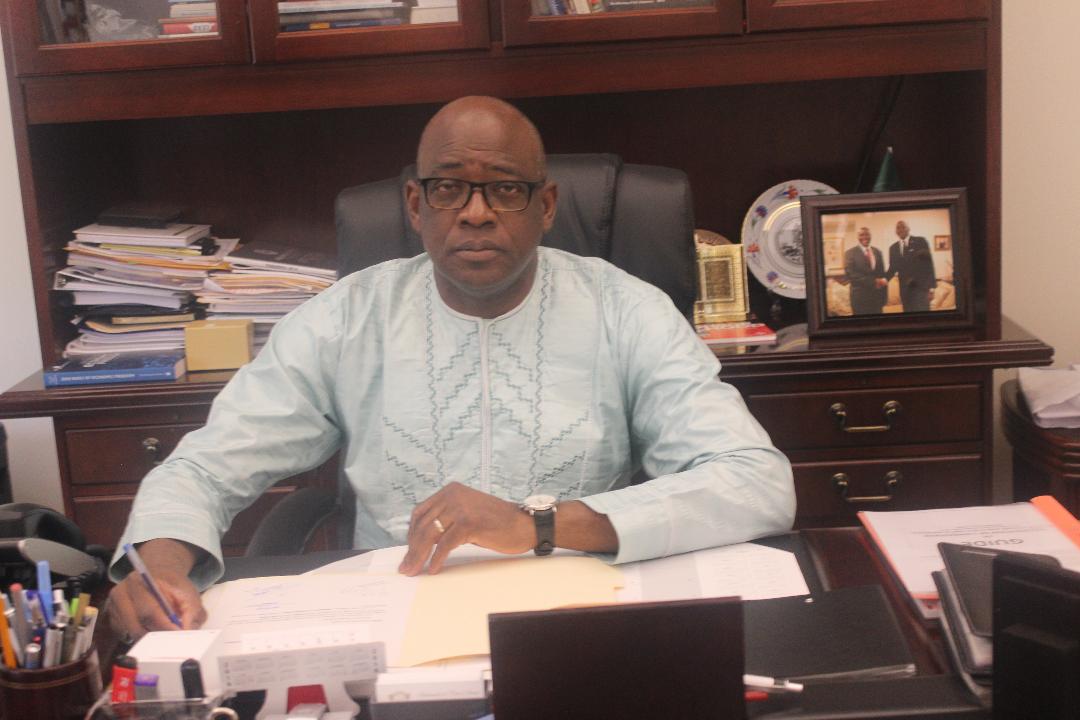 Delegates and visitors to Cote d'Ivoire for the AGOA Forum will be pleasantly surprised at the progress his country has made under President Ouattara says Ambassador Haidara Mamadou. Speaking in an interview with Pan African Visions, the Ivorian Ambassador to Washington DC said there was a general air of excitement and positive energy in his country in the build up to the AGOA Forum coming up soon.
In addition to the vast tourism potentials of his country, Ambassador Haidara touted the enormous opportunities opened to investors. Located at the heart of West Africa, with easy access to neighboring countries, Ambassador Haidara said, the positive economic indicators, infrastructure, enormous potentials are an open invitation for investors to consider Cote d'Ivoire as a priority destination.
 Pan African Visions: Ambassador Haidara Mamadou good afternoon sir and thank you for receiving us at the Ivory Coast Embassy.
Ambassador Haidara: Good afternoon and you are welcome.
Pan African Visions: First, we would like to start by getting the developments in your country, Cote d'Ivoire. How is the country doing economically, politically and socially?
Ambassador Haidara: I will say the country is doing well. Economically, you know the president elected in 2010, has instituted an economic policy that is working well. Since then we have been experiencing growth and this is an indicator of the country. If we want to appreciate the economy, we have to take the growth rate which  is around 8 or 9 per cent. One can say growth rate is in the average of 7 per cent per year for the past eight years. It is a tremendous achievement for the country because we are in the top five of growth rate worldwide. This has been consistent and stable.
Socially, the President has put a lot in improving our social environment as more than one hundred schools have been built, 200 high schools built by the state, infrastructure, healthcare has been taken care of, roads and port development has all been taken care of under this new economic era. This is why some people are trying to tag it as the second miracle of Ivory Coast. The government is also taking care of some disparities, cost of living. From this indicator of growth, we did not experience any inflation; the rate of inflation in Cote d'Ivoire has been around 1 per cent per year. This means that we are handling the pricing and the cost of living well, and it has been stable, and affordable for people.
Politically I think the different political parties are doing their own businesses. I think there is a long way to go with reconciliation, but we are very optimistic about the direction of the country.
Pan African Visions: Currently, the country is led by Alassane Ouattara, how has he fared as president; if you were to cite some of the achievements he has recorded, what will some of them be?
Ambassador Haidara: I think there are a lot of achievements that one can talk about. In terms of infrastructure, I can say Cote d'Ivoire is one of the most powerful energy producers of the continent, and we are efficient in energy in terms of power. We supply energy to Ghana, Togo, Mali, Nigeria and we are helping these surrounding countries with our surplus. This is one of the biggest achievements.
For roads, we have been putting almost 600 km in terms of new paved roads, 2000 roads have been rehabilitated and this programme is going on and people are surprised how the infrastructure network has been developed.
Investment has been done in the domain of education. Each major district of Ivory Coast now has a state university. From 5 state universities we are now heading to 10 state universities. It is a big achievement. Also in terms of health, each major district also has a major health infrastructure. These, and many others are some of the big achievements of the country with the president.
Pan African Visions: You have been Ambassador to Washington for a while now, how will you describe the state of relations between Ivory Coast and United States?
Ambassador Haidara: Not for a while, I was appointed in March 2018 for almost one year now. From that point to now, I can say we have been experiencing a very good bilateral relationship. First of all, we began by signing an MoU with the U.S. Under this MoU, Ivory Coast has put on the table of U.S investors a four billion dollars project that the U.S investors are very excited about this offer and they are doing their best to take advantage of this offer. It was signed by our Minister of foreign affairs and secretary of commerce of the USA in December 2018. We have been beneficiary of the MCC; almost 524.7 million dollars have been granted to Ivory Coast to recognize its big political, social and economic achievements. MCC is not granted but come like an award to recognize your achievement.
We have also a good political relationship with the U.S. we are working together on the Security council; as we are one of the non-permanent members of the security council. We are very happy about the state of our relationship with the U.S.
Pan African Visions: As you rightly pointed out, the AGOA forum is coming up in Ivory Coast. What does this event mean for your country and how is Ivory Coast preparing for the forum?
Ambassador Haidara: This event means a lot for our country because this is an opportunity for our country to introduce itself to the world. This is because in the AGOA forum you have many African countries coming to Ivory Coast, and you have the leading country in the world, USA also coming. Ivory Coast will highlight its achievements, and it is a also big opportunity for Ivory Coast to promote itself as a big destination for tourism, economy, social matters and others. We are going to take advantage of this to attract more visitors, tourists and investments.
Pan African Visions: Talking about preparations, what is the mood like in Ivory Coast? Are the people very excited about this and if you have to give a word to the people who will be coming to Ivory Coast for the first time, what should they expect?
Ambassador Haidara: They will be very surprised, and I cannot have enough words to talk about what have been done so far. I put some figures in terms of economic indicators. They will see for themselves what has been done in terms of infrastructure, social matters, and political matters. Being far from the country you can hear of different things but being on the ground is a different thing. I had a chance to talk to some investors and what I noticed is that all of them were surprised of what has been achieved. This is a country doing its way and Africa can be proud if you have good governance. It's is a matter of leadership; responsibility and a lot will be done. This country has come a long way. 10 years ago, everything was almost lost. Coming from that point and what has been achieved in a short time, any African country would be proud of what has been done.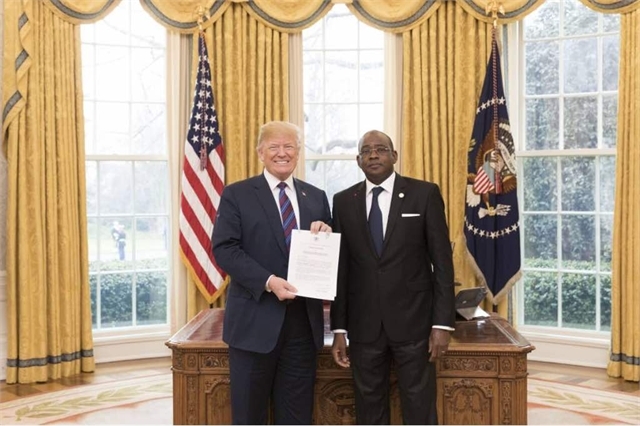 Pan African Visions: Let's talk a little now about investment opportunities in your country. What are some of the exciting sectors that you think investors should take a look at?
Ambassador Haidara: Agriculture is very important. We are a big agribusiness country. We are a big producer and first producer of cocoa beans in the world and we produce almost four per cent of the world supply of cocoa beans. We produce around two million tons, while Ghana is produces one million tons. We are the first producer of the world in cash nuts. We produce more than 750 000 tons per year. 5 to 10 years ago, we were producing almost 100, 000 tons. There are opportunities for investors to come and take advantage of the availability of the processing of the products. In cocoa we are only processing 30 per cent of our output; we need to process more as there are rooms to improve the processing. In cashew, we are only processing 10 per cent of this output. There is room also in terms of investment. There are lots of things that can be done in Ivory Coast.
Ivory Coast wants to be a major player in the world. We have a goal to become an emerging country by 2020 and we are one year from there now. The need for investment is huge and there is also room for investment in terms of infrastructure. Investors do not need to be afraid because our debt to growth ratio is one of the lowest in the continent. We are only 47 per cent of debt to GDP. That's a very a good figure. In the U.S, they are more than a hundred per cent of debt to ratio.
Pan African Visions: When we talk about investment in Africa, there are a number of complaints we hear from investors. We hear about corruption, administrative bottleneck, insecurity, infrastructure problems and many others. So how is the investment climate like in Ivory Coast?
Ambassador Haidara: We have been tagged to be one of the top 10 reformers of investment climate for two or three previous years now. That's a lot as work has been done to improve the investment climate. There is no perfect investment climate as you have to work and we are working on it. I think the investors are very comfortable with the investment climate. Good policies attract investors to come to your country and I think we have been lucky to have that.
Pan African Visions: Before Mr. Ouattara became president, he had this image of a good financial reformer with his background in the IMF, how much of credit does he get for the development that has taken place in Ivory Coast in the last ten years?
Ambassador Haidara: I have had a chance to be at the place he came from such as the IMF and the World Bank and they are very respectful of his achievements. I think there was a very big expectation for him to deliver and I think he did that and they way we have had investment opportunities and support from these institutions means a lot. Working with these institutions is an indicator that means you are running your country well. It is not like you have a good relationship or personal relationship with them but it is a matter of judgment of your economic health. That's important and I think they (World Bank and IMF) are very proud of him and we too are proud of what he has been doing.
Pan African Visions:  Ambassador Haidara thank you very much and as we wrap up this interview, can you make a last speech to investors. Why should they pick Ivory Coast as their investment destination?
Ambassador Haidara: I think Ivory Coast is a hub; the investment climate is very good. The asset of Ivory is located in the regions and Ivory Coast belongs to an economic zone such as WAEMU, ECOWAS. In ECOWAS, Ivory Coast is a leading country in terms of economic structure. So it is easy to do business with Ivory Coast, and it is easy to move in and out to all the surrounding countries. It means you have access to other markets. From Ivory Coast you can have a 2-hour flight to Nigeria, 45 minutes to Ghana, 2 hours to Senegal and 1 hour to Mali. It is easy for investors to come to Ivory Coast and take advantage of the investment climate, take advantage of the good infrastructure, and the good living conditions. It is also an opportunity to expand your business from Ivory Coast to other countries; we are talking about more than 100 million inhabitants in the WAEMU, and 300 million for ECOWAS market. We want to invite the investors to come and see for themselves and especially during the AGOA forum.
Pan African Visions: Ambassador Haidara, thanks for granting this interview.
Ambassador Haidara: Thank you. Merci
*Interview Published in June Issue of PAV Magazine.