Cameroon's football striker, Christian Bassogog, donates 20Million FCFA to promote entrepreneurship in school
By Amos Fofung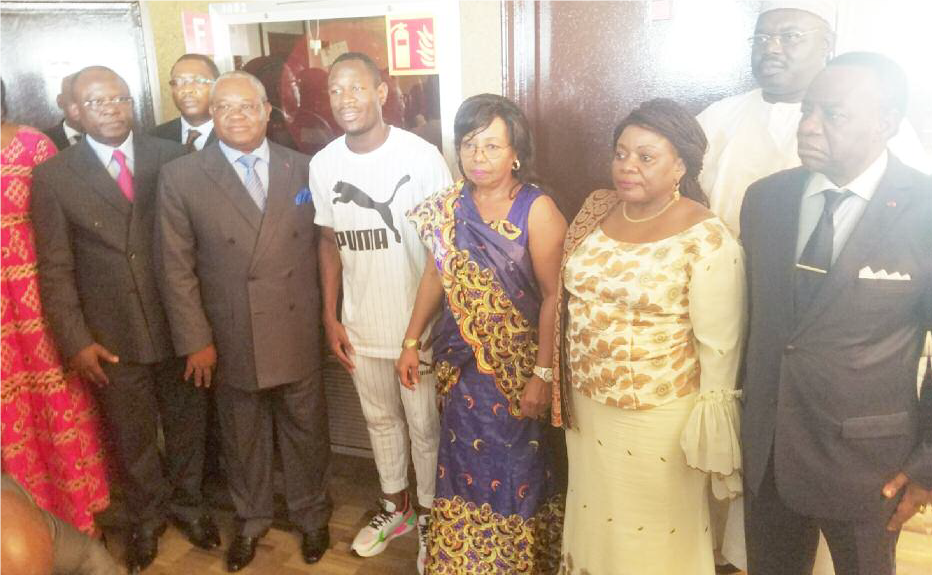 Cameroon international footballer, Christian Mougang Bassogog, has made a donation of 20 million FCFA to help promote entrepreneurship at the Government Technical and Vocational High School of Agriculture in Yabassi in the Littoral region. Bassogog who currently plays for Henan Jianye in the Chinese Super League presented the donation during a brief ceremony chaired Wednesday in Yaounde by the Minister of Secondary Education, Professor Nalova Lyonga.
The event was equally witnessed by Minister of State, Minister of Higher Education, Professor Jacques Fame Ndongo and his colleague of Public Service and Administrative Reforms, Joseph Le. Speaking during the donation exercise, Secondary Education minister, Professor Nalova Lyonga, said assistance from Bassogog to the Government Technical and Vocational High School of Agriculture in Yabassi is part of the promotion of entrepreneurship or business in the pioneer government technical and vocational high school of agriculture in the country.
She said: "Today is a very special day because we are on the eve of the African Nations Cup which Cameroonians are waiting for. We are so glad to have Bassogog with us today who just arrived in Cameroon only yesterday. We are very happy to see him here; we were supposed to have had him when we started FENASSCO but knowing the jammed timetable of footballers, he was unable to come. But he has made it a point not to miss this opportunity for him to come and give his donation in person rather than be represented".
"…his ambition for Cameroon is what makes him special…For him to be able to give something to the young people, I think it's great statesmanship and we thank him so much," the minister said before adding: "…we are already celebrating the football jamboree.
We are here to tell him, go and bring back the goals. We hope he will continue to be the best player and that he and his fellow footballers should ensure Cameroon remains the champion of Africa".
Meanwhile, speaking at the close of the event, Bassogog who emerged best player of the 2017 Africa Cup of Nations said the gesture offered was his own small contribution to the promotion of education in general and entrepreneurship in particular.
He said he was pleased to be home and to share the little he has with his "brothers and sisters". "…yes, it's true I didn't school to a certain level but that doesn't stop me from assisting others…," Bassogog said before requesting, through the Minister of Secondary Education, that the Chinese language be taught in schools across the country.
"The Chinese language is amongst the most important languages in the world. To me living in China, I think it will be a good thing to have the language taught in our schools" he recommended.