Cameroon: Unidentified gunmen kidnap SDF's Fru Ndi
By Boris Esono Nwenfor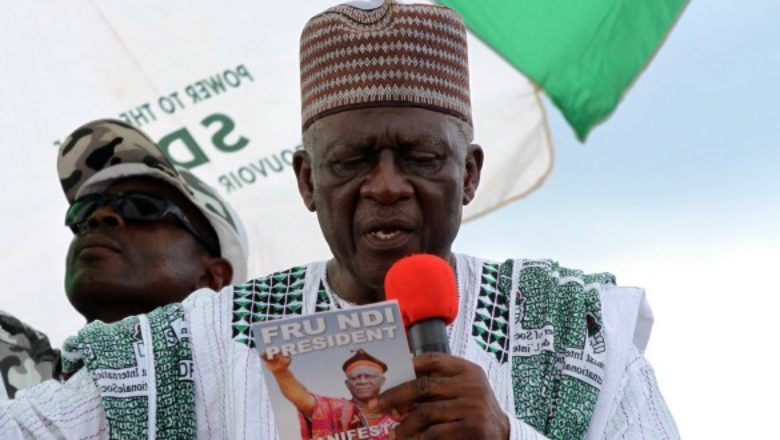 The National chairman of the Social Democratic Party, SDF Ni John Fru Ndi has reportedly been kidnapped by unidentified gunmen in Bamenda, North West Region of Cameroon. The incident took place in the early hours of June 28. It is still unclear as to who is behind that latest attack or the motive behind the kidnapped.
His body guard was reportedly shot on the leg by the armed men before making away with the Chairman.
This is the second time the SDF chairman has been reportedly kidnapped. Ni John Fru Ndi's first kidnapped was on April 27 at Wainama as he was leading a delegation to bury Honourable Joseph Banadzem in Kumbo. He was briefly questioned before he was later released, sources said.
However, party sources had dismissed the notion the Chairman was kidnapped, rather saying it was a 'misunderstanding' between the Chairman and the armed men which was immediately sorted out.
In a press release, Jean Robert Wafo Minister of SDF shadow cabinet in charge of information and media said "The national president of Sdf, the chairman Ni John Fru Ndi was the victim of an abduction by unidentified kidnappers this afternoon around 15h30mn. They entered his residence in Ntarikon with Bamenda with guns and fired point-blank at his bodyguard, and then multiplied the shots warning." "The chairman who was inside the house went out to inquire about the situation and it was then that the attackers removed him to an unknown destination."
"The SDF will advise as necessary the national and international opinion on this new kidnapping which takes place almost two months to the day after that of April 27th" He added.
The SDF national chairman has been a strong critic of the separatist fighters who are clamoring for separation. The SDF chairman has called on the separatist fighters to go back to their main aim when they stated the fight that they have lost their way. Family members of Ni John Fru Ndi have been kidnapped in the past.
The crisis in the North West and South West Regions of the country has caused many to flee their homes into bushes or neighboring regions. Kidnappings, killings is the other of the day in the regions. More than 200 houses have been partly or completely destroyed, forcing hundreds of thousands of people to flee. The rate of attacks on villages have increased steadily, usually causing significant damage.  Some 450,000 and 550,000 people have been displaced as a result of the crisis, representing about 10 percent of the regions' population. An additional 30,000 to 35,000 people have sought asylum in neighboring countries.
This is a developing story…..