Cameroon can function without development aid-Experts Say
By Boris Esono Nwenfor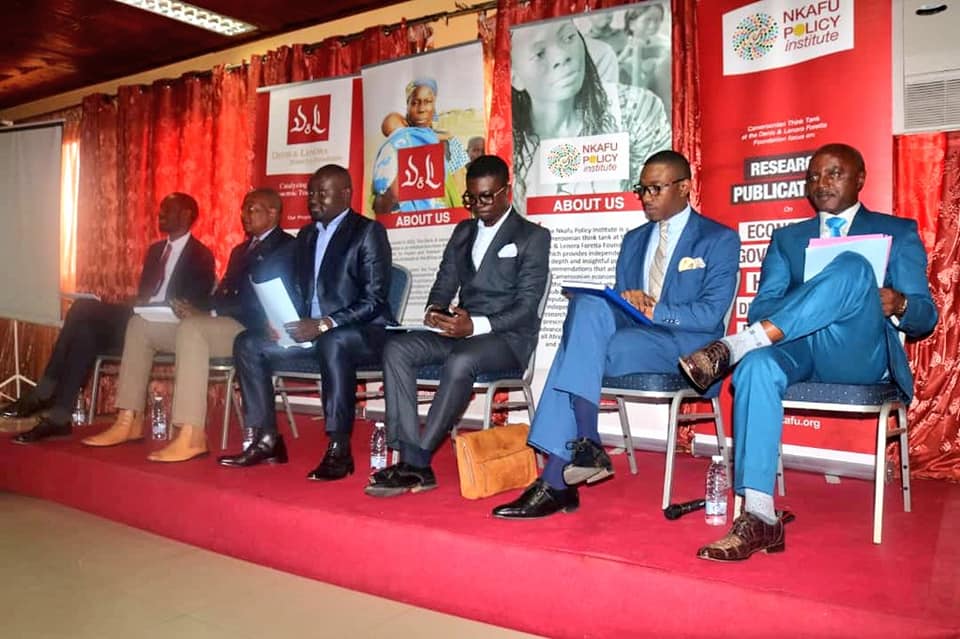 The first series of #Nkafudebates has been organized by the Denis and Lenora Foretia Foundation. The event took place June 20, 2019 at Mansel Hotel, Quartier Fouda-Yaoundé. The live-stream public debate on the subject "Economic Freedom ought to be valued over Development Aid" brought together some 60 participants consisting of government officials, students, researchers, CSOs, and NGOs.
Prof. Alain Ndedi, founder of Economic Freedom, Former Senior Consultant at the World Bank categorically said that there is no free offer. If the West says they have been giving money to African countries but they are badly used, it therefore begs the question why they are not stopping it? "Aid is there to push us to remain dependent. The aid must have a beginning and an end. We cannot say it is bad but it must be time bound".
"…I am actually astonished to see people thinking that we can develop or change our destiny with aid. One cannot say aid is good when you count the number of people living under the poverty line. There are many countries that have refused aid and are prospering".
"Once you start taking money from these people, any problem in your country will attract these people who will want to dictate on you. In Cameroon, we can function without aid and the day we are going to take that decision, we are going to see how much potential we have and with the resources we have, we can change our standard of living" Prof. Ndedi added.
Prof. Ndedi further indicated that when countries get these development aids coming from European countries, they are not going to use them effectively. "These development aids has a hidden agenda which is to make the receiving countries to privatize their companies. They (Western countries) make money from these companies and leave them dry. Economic freedom is essential because it means a country taken ownership and the development of its country."
According to the concept note, the unfavorable business climate in Cameroon is trigger by frequent administrative bottlenecks and red tape- and prevalence of public enterprises limits foreign investment. Prices remain heavily regulated and enforcement of contracts is neither timely nor efficient. Cronyism is systemic and corruption is endemic in all sectors
Mr. Emmanuel Chesami (Development Aid)-Director of Communication, Promotion and Capacity Development- Standards and Quality Agency (ANOR) says we need to change our mindset in Cameroon and Africa in general. The issue of development aid and economic freedom is complex as one is a panacea over the other. Developed countries and developing countries depend on each other in terms of aid and aid should not be interpreted from the micro perspective such as finance like most people look at it".
He added "African countries have and are still benefiting from it; each and every country has in its history benefited from development aid". "How economic aid is efficient all depends on the policies, checks and balances and what that development aid does and in the case of Cameroon, we will always depend on economic aid until we change our governance structure and also put checks and balances".
According to Dr. Hugue, economic freedom is better because we can have a situation where qualities of services are improved and prices are reduced. "Economic freedom favours private ownership of property. For example a policy that favours the economy is to make it easy for Cameroonians to own land property".
He added "you should not implement one side of the economic freedom. It is a combination and you should implement every part. You should not increase corporate tax without having a sound justice system. Also you should not just conduct privatization without having a sound justice system because after you carry out the privatization, you must look for a good governance team to manage it".
Sub-Saharan Africa is an aid magnet and more than $400 billion has flowed into this sub-region since 1970. If foreign aid worked, then Africa would be booming in prosperity. Contrarily, countries that was once poorer than much of Africa (South Korea, Singapore, Taiwan and Hong Kong) but adopted free markets and globalism in trade developed much more than Africa. This prompts one to insinuate that economic freedom- and not development aid- is the proven escape hatch from an otherwise never-ending loop of intergenerational poverty.
There are several state-owned enterprises operating on deficits and sometimes depending on bailout money and subsidies from the state. The country continues to suffer from endemic corruption, weak rule of law, poor infrastructure, top-heavy civil service and a large inefficient parastatal system. Cameroon has a bloated government (66 ministers and state secretaries) for an economy with a GDP of $35 billion, while South Africa with a GDP of $350 billion has 33 ministerial portfolios. There exists several regulations and it ranks 166th out of 190 countries in The Doing Business Index for 2017.