AU Envoy meets African Business Association to drum up support for building "Wakanda" in Africa
By Ben Bangoura*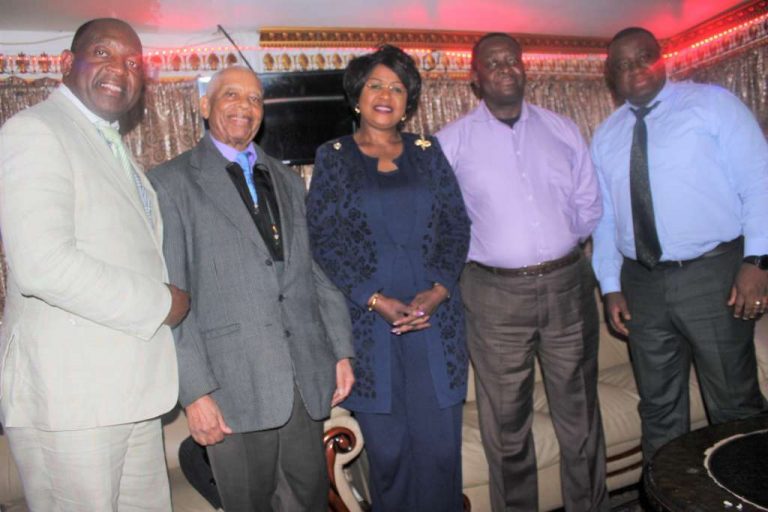 On Wednesday April 3, 2019, the African Union Envoy to the United States, Dr. Arikana Chihombori -Quao, met for several hours with the African Business Association in Washington, DC. They discussed efforts to mobilize African diaspora in order to invest in the continent, to create jobs and opportunities for all.Over lunch in an African restaurant in Hyattsville, outside the nation's capital, talks began with a crucial question from a representative of African Business Association who wanted to know how African Union plans on connecting its 54 member countries to each other, building infrastructure and addressing the youth unemployment.
Ambassador Arikana began her remarks on this question by recalling a long and painful period in history, dating back to the 19th century.
"In Addis Abeba,1963, our leaders got together to create what was then OAU. This was an effort to repudiate the Berlin Conference in 1884 that divided Africa in small countries among colonizers from Europe," Arikana said. However, she indicated that she does not believe that objective was completely achieved because the disagreement between the Casablanca Group and that of Monrovia, at the time, doomed the prospect of a United States of Africa.
She insisted that Africa will "never be free" as long as the continental body of AU's operating budgets were being funded by donor nations.
To address that, Arikana said extra resources are to be raised through a 0.2 per cent levy on "all eligible" goods imported to the continent, a reform put forward by AU.
"When all the countries have started contributing, we are going to realize 1.2 billion dollars a year. With that African Union will be able to fund itself."
Indeed, that projected figure is actually higher then the current 900 millions dollars budget, mostly donated by the majority European nations.
She also pointed out a number of reforms being implemented on the continent, including the African Continental Free Trade Agreement, with the goal of creating a single market followed by free movement of people and a single currency union. "This will open up the sky", she commented.
Moving forward, AU Ambassador stated that Africa needs capacity to grow. That capacity, she said, is in the diaspora, harboring substantial expertise in areas such as healthcare, at the time when hospitals in Africa are empty.
She specifically mentioned Ghana, the country of her husband. In recent years, Ghana has improved its Health infrastructure, building new hospitals and renovating others.
But "guess what. Half of those hospitals are sitting empty. There are no doctors. There are more Ghanaian doctors in New York City alone then the entire country of Ghana", she lamented.
Part of solution to this "we have to organize ourselves. I am dividing this country in 8 regions which would have 7 states. This saturday, we are having a retreat, where we are going to be finalizing, strategizing ,and having volunteers to be Chairs within the regions states."
As she talked about one of the most important projects of her mission in US aimed at building "Wakanda" in five regions of Africa, Arikana said the future infrastructure will serve as nerve centers for development delivering state-of-the-art healthcare facilities, hotels, industrial homes, shopping centers and other amenities for Africans. The Wakanda project requires a 5 billion dollars investment that must com from Africans living outside the continent.
Following Ambassador's remarks, the President of African Business Association, Joe Mubang, took the stage to praise Dr. Arikana for her basic authenticity, and her shared vision for a "free and better Africa". He expressed full support to all initiatives presented during the meeting which, Arikana said, is the longest so far with any organization since she became AU Representative in 2017.
The recently created African Business Association is the first of its kind in the Washington DC region. The organization consists of all business owners including real estate agents, healthcare professionals, lawyers, farmers and other business professionals.
According to its founding President Joe Mubang, a business tycoon of Cameroonian descent, one of the main goals of the African Business Association is to bring private capital inflows to Africa, improve Agricultural Sector to Boost Food Security, and Nutrition.
"Part of our strategy is to increase African products in the United States and to promote those products on market here", says the 60 year-old health professional Mubang who was elected last month by acclamation as President of the ABA.
*Courtesy of AlloAfricaNews