Top UN adviser calls for Cameroon investigation
By Emmanuel Igunza*
The UN special adviser on prevention of genocide has called for immediate investigations into a wave of killings in Cameroon's English-speaking regions.
Adama Dieng described the atrocities being committed in the country as "concerning" and said both sides of the conflict should "sit around the table and dialogue to end the conflict".
"The crimes committed by both parties need to be properly and independently investigated and perpetrators of those crimes need to be brought urgently to justice so that people know that no-one is above the law – that all Cameroonians are equal," he said.
Groups calling for independence of the region they call Ambazonia have been staging attacks against government forces, which have responded with what has been condemned as a brutal crackdown.
The separatists are riding on long-held complaints by residents of the South-West and North-West region over what they see as marginalisation by the French-speaking majority.
They say they are forced to use French in schools and courts.
Both sides have been accused of kidnappings, extra-judicial killings and the burning of villages.
"My worry is that we still have many people being killed, so far more than 400 people. We have seen atrocious crimes being committed. We need to have political dialogue but also demand for justice," he told me.
Cameroon is to hold presidential elections on 7 October. "It is true that one could not exclude some form of violence [around the polls] but for the time being things seem to be under control," Mr Dieng said.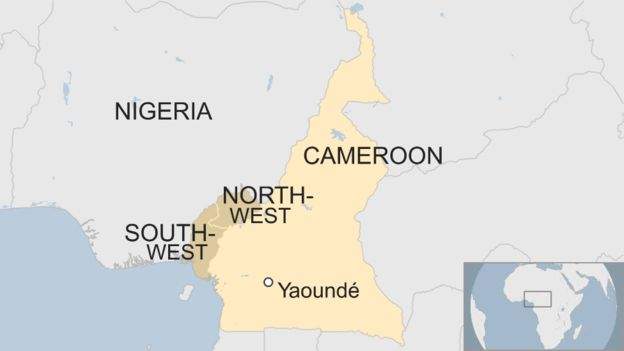 Cameroon government forces have also been accused of human rights crimes against civilians in their fight against Islamist militant group Boko Haram in the far north of the country.
Recently, a BBC investigative report analysed a horrifying video that showed two women and children being blindfolded and shot multiple times by Cameroonian soldiers.
The Cameroon government has since arrested some of the soldiers shown in the video despite initially dismissing the footage, which was widely shared on social media.
Mr Dieng also defended the role of the International Criminal Court (ICC) after US President Donald Trump made scathing attacks against the Hague-based court, saying it lacked legitimacy and jurisdiction.
Some African countries have also threatened to withdraw from the Rome Statute that set up the institution.
"It is very unfortunate that there is today this perception that the ICC is selective. That's not true," Mr Dieng said.
He said the court was an important deterrent to war crimes being committed in the world.
"History has shown that the ICC is an independent court governed by the law. We saw the case against Kenya's current President Uhuru Kenyatta being closed, and we also saw what happened with the case of [ex-Democratic Republic of Congo warlord] Jean-Pierre Bemba, who on appeal was also acquitted."
"I supported African leaders when they said they wanted to have their own court, but since they adopted the protocol to set it up, how many Africa states have ratified the protocol? Not more than five. It's very unfortunate," he added.
*BBC