Christopher Katongo: Zambia must do more for crash families
By Stanley Kwenda*
Christopher Katongo, who captained Zambia to the 2012 Africa Cup of Nations, says his country should do more to recognise the players and officials who died in 1993 in a plane crash off the coast of Gabon.
The exact cause of the fatal crash on the night of 27 into 28 April has never been fully established.
All 25 members of the Chipolopolo squad, including coaches, as well as five crew members died as they were travelling for a World Cup qualifier against Senegal in Dakar.
"The Zambian people will respect you when you are at the level they want you at, but when you are not they don't want to cherish what you have done," he told BBC Sport.
"Zambia's attitude is different from Europe's. In my country they can have meetings at the stadium saying 'We are remembering blah blah blah…' – they will talk about it for sure but won't do anything with it.
"We have to remember in a way that the family actually has to feel it. We are not doing enough for the family to really feel we had a hero.
"I know the government is doing something – there's a heroes stadium – but these people died in battle and we need to remember them in a way that the families will feel appreciated."
As well as the US$4 million allocated to the families in 2002, those who died are all buried at Heroes Acre, which is also home to a monument in their memory.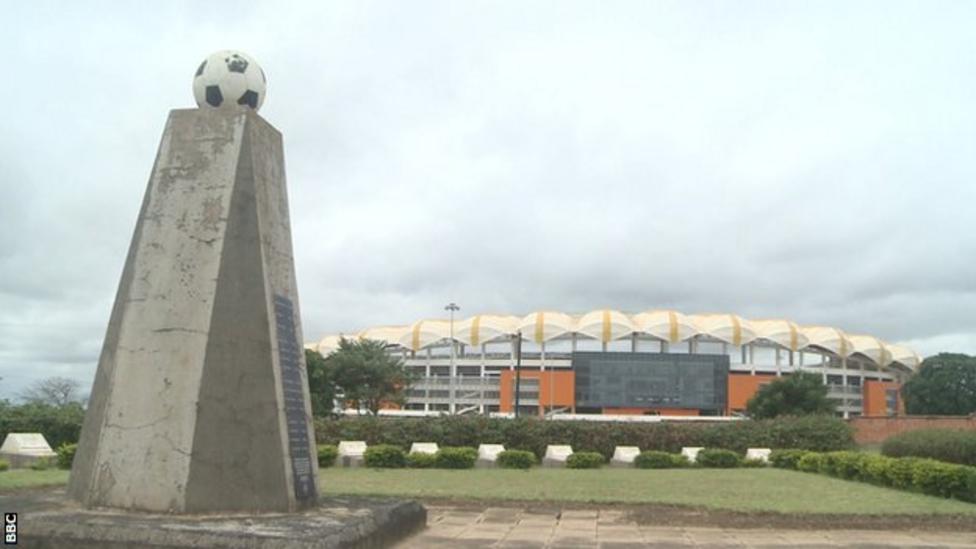 The main stadium in Lusaka is called the National Heroes Stadium in their honour, while an area in the capital has streets named after all those who died.
Nonetheless, Katongo insists more can be done.
"When I look at Europe they will remember in such a way that you actually start grieving again and the tears come again and people feel 'Yes, yes I think my son did well.'
"The presidents of our country are always supportive but you can't do anything alone. We need the whole country to recognise someone who has done so much for their country."
On the eve of the 2012 Nations Cup final, Katongo lead his team in a tribute to the 1993 squad on the Libreville beach close to where the crash happened.
The BBC African Footballer of 2012 says he will spend the anniversary at home in Lusaka, Zambia, reflecting on the events leading up to the crash.
"I am not going anywhere. I will be at home reflecting on my life and remember these players," he added.
Katongo also looked back at what he as doing on the day he heard about the crash.
"I remember I was in grade six. I was thinking it was a joke. There were different groups here and there talking about the players," he recalled.
"Other people were saying it's not true, that the players had been captured because the Gabonese don't have good players so they want this team to start playing for Gabon.
"The whole country was quiet. Nobody was shouting, it was only whispering. I had never seen the country quiet like that.
"No one was listening to music, everybody was listening to the radio and every hour there was news of the crash."
Katongo, who played for clubs at home as well as in South Africa, Denmark, Germany, Greece and China, is now working as a coach in Zambia.
He added that his dream is to coach Zambia to another Nations Cup title and qualify for the World Cup as a tribute to the 1993 squad.
*BBC