José Filomeno dos Santos named suspect in $500m fraud case
The son of Angola's ex-President José Eduardo dos Santos has been formally accused of fraud over the alleged illegal transfer of $500m (£350m) from the central bank to the UK.
José Filomeno dos Santos is also barred from leaving the country, deputy Attorney General Luis Benza Zanga said.
Mr Dos Santos is the highest profile person targeted in new President João Lourenço's anti-corruption drive.
He had led oil-rich Angola's sovereign wealth fund during his father's rule.
However, he was removed from this role in January, months after a BBC investigation into Angola's $5bn fund and following an internal governance review.
The allegations against him relate to the $500m transferred to a British bank, which was then frozen by authorities in the UK. The UK say the money can now be returned.
Mr Dos Santos was formally named a suspect in the investigation, along with the former governor of Angola's central bank, Valter Filipe da Silva.
Neither were immediately available to comment.
Mr Zanga said there was no chance of the case falling under any sort of amnesty currently being offered by the government.
"A pardon will not work… this case will run to its final outcome," he said.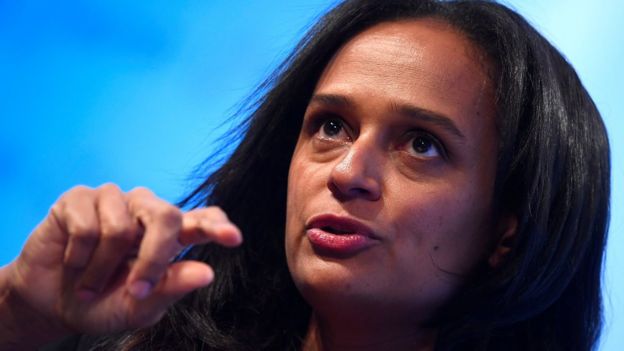 Mr Dos Santos was the second of the former president's children to be dismissed by Mr Lourenço.
His sister Isabel was removed as head of the state oil company Sonangol last year.
Billionaire Ms Dos Santos is Africa's richest woman; it is not known how much her brother is worth. Many of the former president's children have government-linked roles.
Mr Dos Santos stepped down after 38 years in power last year. Mr Lourenço, also known as JLo, succeeded him with a promise of cracking down on corruption.
He has also developed a reputation for pushing aside powerful figures associated with his predecessor.
Angola is Africa's second-biggest oil producer.
*BBC