Cyril Ramaphosa succeeds Zuma as South African president
Cyril Ramaphosa has become South Africa's president a day after embattled leader Jacob Zuma resigned.
He was the only candidate nominated by parliament, which is dominated by his African National Congress. MPs broke into song at the announcement.
In his first presidential speech, Mr Ramaphosa, 65, said he would tackle the corruption which allegedly became widespread under Mr Zuma.
The ANC had told Mr Zuma to step down or face a vote of no-confidence.
Mr Zuma faces numerous corruption allegations but denies any wrongdoing.
One allegation is that he allowed the wealthy Gupta family, who whom he has personal ties, to wield influence over policy, in an example of "state capture".
An arrest warrant has been issued for Ajay Gupta, one of the three most prominent Gupta brothers, officials said on Thursday.
This follows a raid by the Hawks, an elite police unit, on their home on Wednesday. The family has denied corruption allegations.
President Ramaphosa told parliament that corruption and state capture were "on our radar screen".
He is due to deliver a State of the Nation address on Friday. This was delayed last week amid uncertainty about who should deliver it and Mr Zuma's reluctance to step down.
One opposition party, the Economic Freedom Fighters, walked out of the parliamentary debate. It wants new elections, rather than the ANC deciding on the identity of the new president.

Dream finally realised
Analysis: Lebo Diseko, BBC News, Johannesburg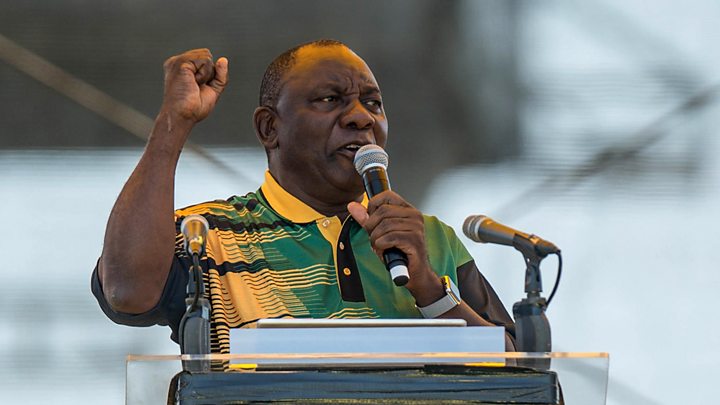 It is often said that Mr Ramaphosa has had his eye on the position of president since the ANC came to power in 1994.
The story goes that he was so upset at not having been chosen by Nelson Mandela as his successor that he left politics and went into business.
But Mr Ramaphosa has now finally realised that dream.
He has said his priority is reviving South Africa's battered economy. But it won't be easy: Unemployment is currently at almost 30%, a rate which rises to nearly 40% for young people.
Low growth rates and dwindling investor confidence were compounded by two credit agencies downgrading the economy to junk status.
One of the first steps in improving that investor confidence is addressing the persistent claims of corruption at the heart of government.
New hope for the economy
There is a renewed sense of hope as Mr Ramaphosa is taking over the reins of Africa's most industrialised economy.
The markets appeared to welcome Mr Zuma's resignation. The South African currency, the rand, reaching its strongest levels in three years – at 11.6570 rand for $1 in early trading.
Some will miss him though, pointing to achievements like announcing the abolition of fees for higher education, says the BBC's Milton Nkosi in Johannesburg.
Mr Zuma, a former member of the ANC's military wing in the days of apartheid, rose through the ranks of the party to become president. He led the country for more than a third of its time after apartheid.
But he leaves office with several scandals hanging over him, and with South Africa's economy in dire straits.
Money laundering charges
Shaun Abrahams, head of the National Prosecuting Authority, told Reuters news agency: "I've been advised by my prosecuting team that Mr. Ajay Gupta is a fugitive from justice."
But eight other suspects did appear in court on Thursday on fraud and money laundering charges, local media report.
The only member of the Gupta family to appear was Varun, who was Chief Operating Officer of the Gupta-owned mining firm Oakbay Resources and Energy. All eight told the court they had done nothing wrong.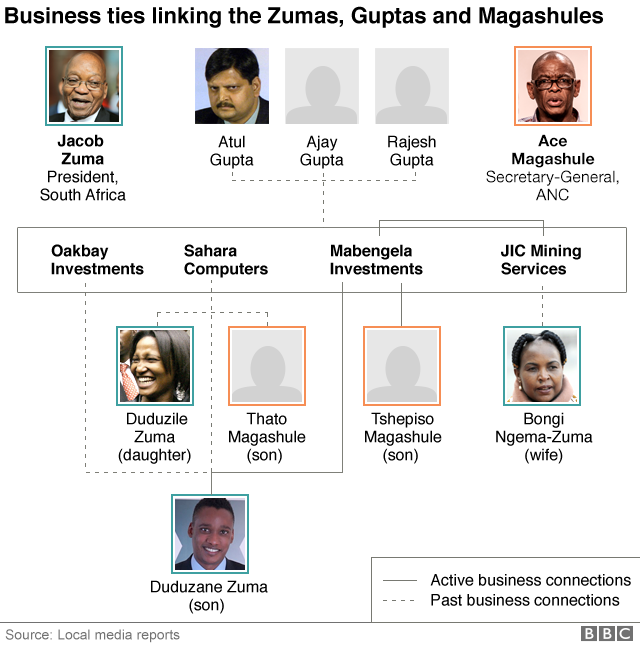 *BBC