Zimbabwe's New Leaders Are None Other Than Mugabe's Former 'Enforcers'
Jubilant crowds filled the streets of Zimbabwe's cities on Tuesday, after the country's speaker of parliament announced that President Robert Mugabe had resigned after decades in power.
Just shy of a week ago, Zimbabwe's military took power in the capital and detained Mugabe in his home. Since then, the military and the ruling ZANU-PF party steadily increased pressure on the longtime ruler to leave office until it seems he finally relented.
But while Zimbabweans express their joy and relief over what appears to be the end of Mugabe's 37-year authoritarian rule, the nature of his downfall and the ruthless past of his successor are troubling signs for a country that has seen years of repression.
'These People Were Mugabe's Enforcers'
The military and ZANU-PF will soon install Mugabe's former deputy, Emmerson Mnangagwa, as Zimbabwe's new president. The development has human rights groups deeply worried, as both Mnangagwa and the military that backs him have been key players in the country's past abuses.
"These people were Mugabe's enforcers for the last 37 years," said Dewa Mavhinga, the Southern Africa director at Human Rights Watch.
In the 1980s, Mnangagwa served as national security minister and controlled the Central Intelligence Organization under Mugabe. Mnangagwa has long-standing ties to the army as a result, including sharing culpability for some of the government's worst atrocities.
"The military has been implicated in some of the most serious human rights abuses in Zimbabwe's past," Mavhinga said.
Mnangagwa was security minister at the time of Mugabe's "Gukurahundi" campaign that, from 1983 to 1987, saw security forces kill thousands of people whom the ruling government perceived as political opponents or accused of fostering dissent.
In 2008, the military launched yet another crackdown in which armed forces killed or disappeared at least 200 opposition supporters during the country's election. Mnangagwa is reported to have been a key go-between for the military and ZANU-PF in orchestrating those attacks.
There has been no accountability for these abuses, according to Mavhinga, and since many of the officials active or complicit in carrying them out now stand to rule Zimbabwe, it seems extremely unlikely that they will answer for their actions anytime soon.
"It's a change in leadership of individuals, but the authoritarian system remains intact," Mavhinga said.
Fears For The Future Of Zimbabwe
The army's takeover has so far seen a reshuffling of the country's elite power brokers, but massive reforms are needed to change a political system with an entrenched history of human rights abuses and authoritarianism.
Rights groups fear that there's no guarantee the military coup will lead to much-needed transition toward free and fair elections, and could instead further deteriorate democracy and the rule of law in the country.
The ruling ZANU-PF party's chief whip, Lovemore Matuke, said on Tuesday that Mnangagwa would stay on as leader until elections in 2018, but it remains to be seen whether that vote is conducted fairly and without a crackdown on political opposition as there has been in the past.
"Zimbabwean elections for many years have relied on limiting the number of people who are allowed to participate," said Piers Pigou, senior consultant for Southern Africa for the International Crisis Group think tank.
The progression of events that led to the president's ouster also contained numerous red flags for the country's future, as Mugabe's last years saw the nation's politics decline in parallel with its leader's health. Mugabe's repressive policies and economic mismanagement had wreaked havoc on the country, and at 93 years old he had lost the ability to perform even some basic ceremonial duties ― leading to bitter infighting over who would succeed him.
After Mugabe removed Mnangagwa from office earlier this month, which seemingly paved the way for Mugabe's wife, Grace, to assume power, the military and Mnangagwa moved to pre-empt such a transition. In seizing power and detaining Mugabe, the military proved it was willing to go to great lengths and violate democratic norms.
"This is a major overreach by the military in terms of a direct violation of the constitution," Pigou said.
"There is a huge danger associated with this military intervention."
The takeover could potentially set a poor precedent for future military action against the government, as research has found coups often create an unstable political climate that leads to more coups in the future.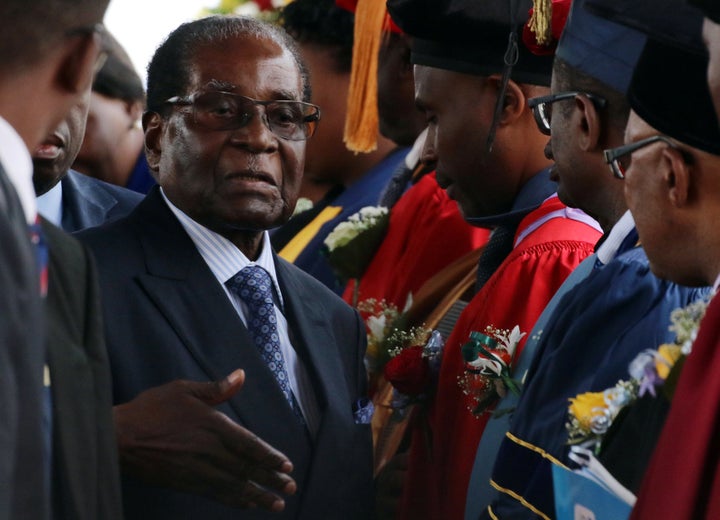 The Need For Reform
It's possible the removal of Mugabe could pave the way for necessary economic and political changes that are needed to save Zimbabwe, Pigou said, as Mugabe's presence prevented any sort of reform. But although there is optimism in Zimbabwe over the potential for change after so many years, there is also cause for caution.
There's still an abundance of uncertainty surrounding the military takeover and Zimbabwe's political future. Even Mnangagwa, the supposed future leader of the country, has been largely publicly absent during the crisis ― leaving it unclear what kind of president he intends to be.
In recent years Mnangagwa has attempted to play the role of economic reformer, and worked closely with the country's finance minister to secure loans from the International Monetary Fund.
Mnangagwa issued a statement on Monday night from an undisclosed location, saying he would return to Zimbabwe once he could be assured that it was safe  to do so.
Mnangagwa and the new government in Zimbabwe will soon face the immense task of dealing with the effects of Mugabe's mismanagement, which has ruined the country's economy and caused its gross domestic product to plummet. There has been a downturn in purchasing power for ordinary Zimbabweans, as well as runs on banks as cash reserves have dried up.
*Courtesy of Huffington Post