Zimbabwe latest: Mugabe 'resisting calls to resign'
Zimbabwe's long-time President Robert Mugabe is reportedly refusing to step down immediately, despite growing calls for his resignation.
The 93-year-old was put under house arrest during a military takeover on Wednesday, amid a power struggle over who would succeed him.
There has been no official word on the outcome of talks he had with regional envoys and the army chief earlier.
But sources say he has so far refused to agree to move aside.
Opposition leader Morgan Tsvangirai said earlier it was "in the interests of the people" that Mr Mugabe "resign… immediately".
The army moved in after Mr Mugabe last week sacked Vice-President Emmerson Mnangagwa, signalling that he favoured his wife Grace Mugabe to take over his Zanu-PF party and thus the presidency.
The BBC's Andrew Harding, in Zimbabwe, says that if President Mugabe can be persuaded to step down officially it could help legitimise the military's dramatic intervention.
On the streets, it is hard to find anyone who wants Mr Mugabe to stay on, our correspondent adds, but negotiating the manner of his departure and some sort of transitional agreement to follow could take some time.
So what's going on in Harare now?
It's very unclear.
Photos in the Zimbabwe Herald earlier showed Mr Mugabe meeting army chief Gen Constantino Chiwenga and the two envoys from the Southern African Development Community (Sadc) at State House in Harare.
Alongside them was Father Fidelis Mukonori, a Roman Catholic priest known to Mr Mugabe for years, who has been brought in to mediate.
Sources close to the talks say Mr Mugabe – who has been in control of Zimbabwe since it threw off white minority rule in 1980 – is refusing to stand down voluntarily before next year's planned elections.
"I think he is trying to buy time," one source close to the army leadership told the AFP news agency.
Some observers suggest that Mr Mugabe may be trying to seek guarantees of safety for himself and his family before stepping aside.
Zanu-PF officials had earlier suggested Mr Mugabe could remain nominally in power until the party congress in December, when Mr Mnangagwa would be formally installed as party and national leader.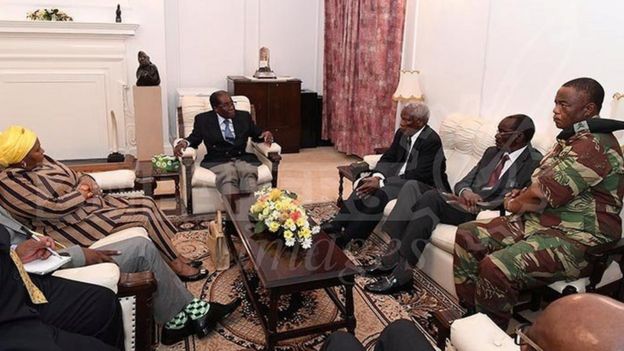 What is the view among Zimbabweans?
By Anne Soy in Zimbabwe
Many Zimbabweans almost instantly warmed to the military's move to take control of the country, and confine President Mugabe to his official residence.
"The military has done a good thing," says one bookseller. "They will ensure we get a transitional government."
He is firmly convinced that Mr Mugabe's 37-year rule is coming to an end.
There has been a sudden change of tone in the country, and the sense is that many Zimbabweans have been yearning for change.
Any change, it seems, would do.

What do South Africa and the region want?
South Africa is hosting millions of Zimbabweans who fled after the country's economy crashed in 2008. It has a special interest in seeing stability restored.
South African Defence Minister Nosiviwe Maphisa-Nqakula and State Security Minister Bongani Bongo are the envoys meeting Mr Mugabe on behalf of Sadc, which South Africa currently leads.